Groups Challenge Government's Grisly Grizzly Bear Decision
Federal agencies recently approved the killing of four grizzly bears in connection with an elk hunt in western Wyoming's Grand Teton National Park. This is no way to manage grizzly bears or national parks, says Earthjustice attorney Tim Preso.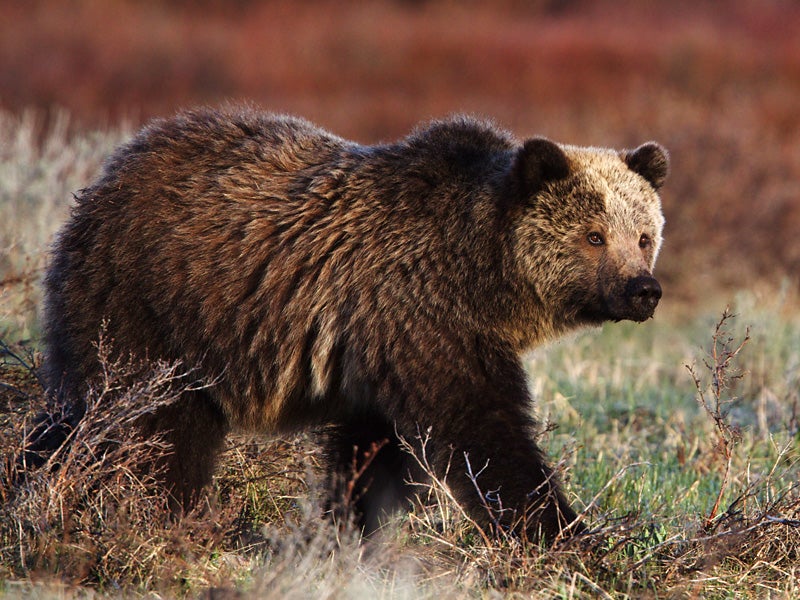 Rising up from the Snake River Valley, the craggy peaks of the towering Teton Range command your attention.  Imagine yourself standing in the shadow of these giants, within the boundaries of western Wyoming's Grand Teton National Park.  Awestruck, you look out over some our nation's most treasured and wild country.  Suddenly, a gunshot breaks the silence, and a grizzly bear—one of the world's most noble, revered, and magnificent animals—falls dead to the ground.
This scenario could become all the more common thanks to the U.S. Fish & Wildlife Service and National Park Service's recent approval of the lethal "taking" of four grizzlies in connection with an elk hunt in Grand Teton National Park, which is located just south of Yellowstone.
Earthjustice is going to court to stop these "takings." On behalf of the Sierra Club and Western Watersheds Projects, we are challenging the agencies' 2013 decision to allow the killings of four grizzlies over the next seven years. Administering a "license to kill" is not how we should be managing threatened grizzly populations in national parks; instead, the government should be working actively to protect the bears.
In giving the green light to these grizzly bear killings in Grand Teton National Park, federal officials failed to consider the cumulative impacts of these killings along with other threats to grizzly bears. Specifically, grizzly bear "taking" in the Greater Yellowstone region, when added to the number of other similar grizzly "take" determinations issued by the Fish & Wildlife Service, could result in the death of as many as 65 female grizzly bears in a single year. This level of mortality exceeds sustainable mortality levels for female bears set by government biologists by more than three times.
In this case, the root of the problem lies in the Grand Teton National Park elk hunt. This hunt is the consequence of a misguided winter feeding program for elk in the region.  While the feeding program began with the altruistic purpose of providing hungry elk with a meal during the Northern Rockies' harsh winters, it has caused an artificial explosion of the elk population. This overpopulation problem is extreme enough that the extraordinary step of hunting wildlife within a national park has been deemed necessary to control the population.  Unfortunately, the annual park elk hunt has increased chances for humans and bears to, quite literally, run into each other—with potentially lethal consequences.
The recent authorization of four grizzly takings by the agencies is a response to an incident that happened in Grand Teton Park on Thanksgiving Day, 2012. Three hunters participating in the annual elk hunt shot and killed an adult male grizzly bear after the animal charged them. They were hiking in forested terrain near a parking area shortly after dawn. Biologists investigating the incident discovered a partially consumed elk carcass 50 yards away leading them to believe that the bear was defending its food source.
Grizzly bears increasingly are turning to elk as a food source as two of the species' primary food resources disappear from the region. The seeds of the whitebark pine tree, a historically critical food source for grizzlies, are becoming harder to find thanks to climate change, which has triggered an explosion of mountain pine beetles that kill the trees that produce the seeds. Cutthroat trout are harder than ever to find due to an invasion of lake trout. With these traditional food sources disappearing, scientists have documented the bears' transition to a more meat-based diet. Unfortunately, this shift is leading to a greater potential for conflict with human activities like elk hunting, which, in turn, leads to more grizzly bear mortalities.
As bears search far and wide for new food sources, conflicts between grizzlies and humans will continue to occur. The solution to this problem is not to kill bears within national parks. Rather, the government agencies charged with protecting the grizzly bear must be called to task to address  and mitigate the threats facing this threatened species. This case is a call not to arms, but to put down arms, to protect one of this nation's most iconic species.
An Ohio native, Kristin first ventured out West for college—and fell in love with the mountains, wildlife, and sense of wonder instilled by western landscapes. She has worked with the Earthjustice team in Bozeman, Montana, to protect the majestic landscapes and critters of the Northern Rockies, first as a project attorney from 2012–2015, and also during 2017, as a staff scientist for the Public Lands, Wildlife, and Oceans program.
Established in 1993, Earthjustice's Northern Rockies Office, located in Bozeman, Mont., protects the region's irreplaceable natural resources by safeguarding sensitive wildlife species and their habitats and challenging harmful coal and industrial gas developments.