How Community Solar Empowers All of Us to Participate in the Clean Energy Revolution
A growing trend aims to give anyone who pays a utility bill access to solar electricity.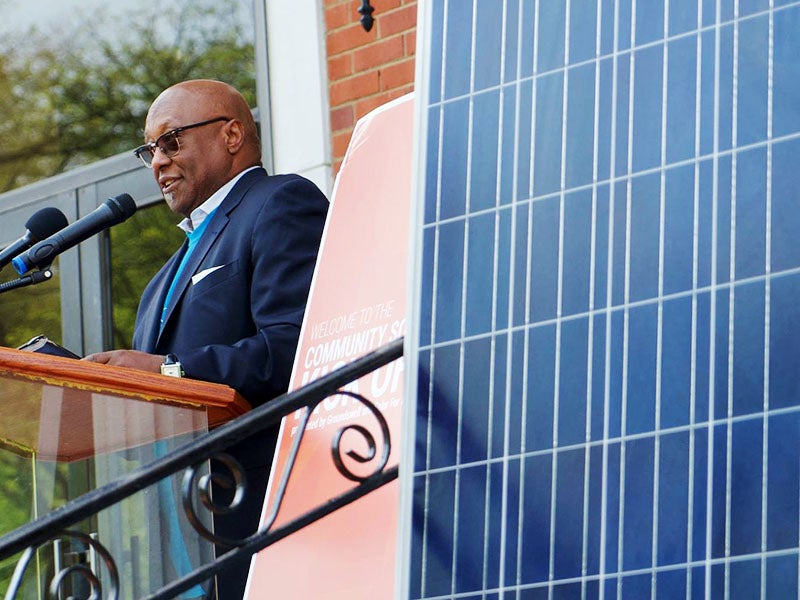 Just east of the Anacostia River in southeast Washington, D.C., the Dupont Park Seventh-Day Adventist Church recently began attaching 168 kilowatts worth of solar panels to its sun-dappled roof. The electricity generated by this new solar array will not only power the church — it will also help 47 local low-income families cut their utility bills in half.
This project is part of a growing trend called community solar, or shared solar, which aims to give anyone who pays a utility bill access to solar electricity. Families who live near the Dupont Park Church will subscribe to receive power generated by the panels on the church roof, and they will receive credit on their electricity bills for the share of the power that's produced.
This particular project, managed by Groundswell, a local nonprofit community solar developer, with construction funding provided by the DC government's Solar for All program, will deliver electricity to low-income households at no cost to them for the next 20 years.
"Community solar is a tool to allow everyone to participate in our growing renewable energy economy," says Jessica Ennis, Earthjustice's Legislative Director for Climate & Energy, who has been leading state-by-state efforts to clear a pathway for community solar. "These programs are a win-win for consumers and our climate."
A total of 1,387 megawatts of community solar have been installed in 43 states through 2018, which is enough to power close to 300,000 homes. At least 19 states, as well as D.C., have policies and programs on the books that encourage shared solar.
In 2019, legislation has already been introduced in Pennsylvania and Florida to launch statewide community solar programs. In an era of political polarization, community solar has broad bipartisan appeal. The Pennsylvania bill, for example, has been spearheaded by two Republicans and two Democrats from different parts of the state.
"Access to clean energy is important to everyone," says Ennis.
Community solar began as a way to give people who rent, live in multi-tenant buildings or have roofs that are too shaded or otherwise inhospitable to solar systems, a way to tap into solar energy. Historically, the majority of community solar subscribers have been those with significant financial resources, who can pay project enrollment fees or meet other financial requirements. But nonprofits like Groundswell and Solar United Neighbors are working to increase community solar participation by less affluent people.
In Maryland, Earthjustice and our partners worked to ensure that the implementation rules for community solar pilot program that passed in 2015 included a provision to set aside 30 percent of community solar capacity for low to moderate income subscribers. Efforts are ongoing to make sure Marylanders of all income levels can take advantage of this innovative program. 
"Right now, developers are only able to offer low to moderate income individuals a 10 percent discount on community solar subscriptions, unless they have special incentives or grants in place," says Lauren Barchi, program director for Solar United Neighbors of Maryland. "We need to find a better financing model that allows developers to give real savings to low to moderate income subscribers."
The Maryland legislature recently passed a bill to extend the state's pilot program another four years, giving elected officials and advocates more time to ensure the program works for all Marylanders. Governor Larry Hogan signed the community solar extension bill on May 13.
"Community solar is a relatively new policy. If people hear about it, they get excited about it," says Ennis. "With Maryland extending its pilot, we hope to see awareness rise throughout the state and many new subscribers take advantage of this opportunity to choose solar energy."
Additional information about how to participate in Maryland's community solar program is available here.
Emilie has spent the past two decades as a journalist, speechwriter and communications strategist in Washington, D.C. At Earthjustice, she shares the stories of the people and issues at the heart of our clean energy litigation and policy work.
Earthjustice's Clean Energy Program uses the power of the law and the strength of partnership to accelerate the transition to 100% clean energy.