In Memoriam of Zeke Grader
Zeke Grader, an environmental leader who served as executive director of the Pacific Coast Federation of Fishermen's Association for nearly 40 years, passed away on Labor Day.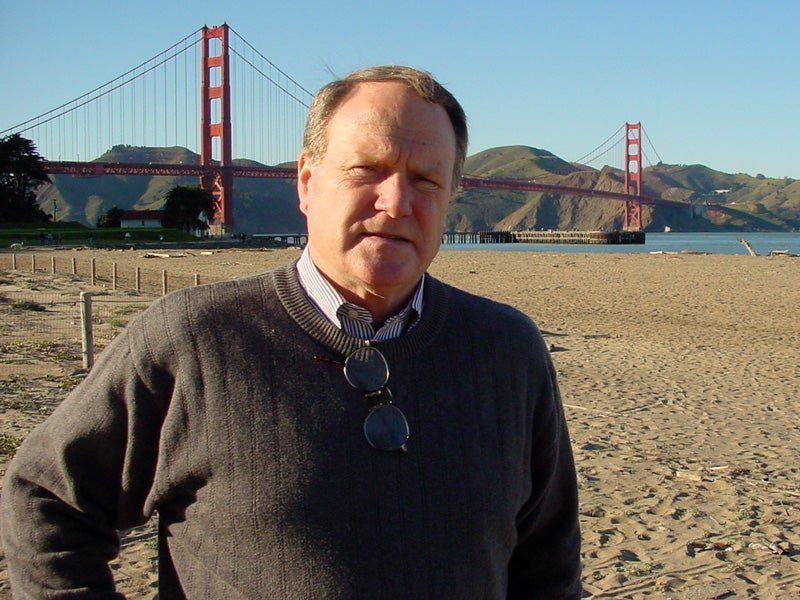 The environmental movement; the wild salmon and the rivers, estuaries, and ocean that they depend upon for their survival; and independent fishing families all along the West Coast lost one of their staunchest champions on Labor Day. Zeke Grader, for nearly 40 years the executive director of the Pacific Coast Federation of Fishermen's Associations (PCFFA), died that day of pancreatic cancer, having fought his illness and continued working at the job he loved far longer than his doctors had predicted he could. None of his friends were surprised at his tenacity; he confronted death as resolutely as he had lived his life. 
I met Zeke in the early 80s, when working as part of an environmental coalition to prevent further federal oil leasing off the California coast, in the wake of a disastrous 1969 offshore oil spill in the Santa Barbara Channel. Zeke was a wonderful ally (and, at key junctures, client), personifying small commercial fishing interests. His father had been a fish broker in Fort Bragg, California, where Zeke grew up, spending much of his youth on the docks helping to unload the day's catch. His love of fish and fishing never waned, and, after graduating from law school, his strongest desire was to use his credentials and his many talents to help small fishing businesses continue to thrive. He deeply understood that, to achieve that goal, keeping wild fish populations and their aquatic habitats healthy was essential.
Zeke was indefatigable in the offshore oil fight, flying up and down the coast and to Washington, D.C. to give impassioned testimony at public and congressional hearings in opposition to massive offshore lease sales. He knew the value of alliances and worked closely with environmentalists and coastal local governments to keep the oil industry from irreparably altering the waters and seafloor off California. Whenever we needed Zeke's voice, he was there for us. These efforts were rewarded in 1984 by a federal moratorium on drilling off the coast of the Lower 48 north of Santa Barbara County, which remains in place to this day and continues to have overwhelming support from the public and California's elected officials.
Devoted as he was to protecting all fisheries, Zeke's greatest love was for wild salmon. Perhaps this was because, as he well knew, they swam the gamut of aquatic ecosystems, from spawning grounds in icy streams, through migratory routes down and up rivers and coastal estuaries, to the vast Pacific. To keep these fish alive and thriving meant protecting not just the ocean where they matured but also securing their routes to their natal streams and keeping the waters of those streams and the rivers below clean and cold. Zeke made PCFFA an indispensable player in the battles to secure Endangered Species Act protections for dwindling salmon runs and other native fish and to make sure that the human alterations to these streams, through damming and diversion projects, were operated in a manner that kept the fish healthy. Those battles are far from won, but Zeke's work has prevented the extinction of any West Coast salmon run and given us all a platform from which to fight on.
Zeke was courageous and never one to mince words. A few years ago, Fox News came to California's Central Valley to do an astonishingly biased "news" segment. The piece blamed the delta smelt—a once abundant fish now on the verge of extinction due to over-pumping of water from its habitat—for damaging corporate agriculture and causing California's drought.  Zeke agreed to go into the Fox's den and offer a counterpoint. He immediately challenged the reporter to come to the coast and talk to the fishing families suffering from the loss of their salmon-based livelihoods because of excessive water diversions. Even though Fox had editorial control, Zeke came out the clear winner of its staged "debate."
That epitomizes the Zeke who was my—and the entire environmental movement's—longtime friend and ally. His work will be carried on by his talented colleagues at PCFFA and by all of us fighting to protect and restore our fisheries and aquatic ecosystems, but his tactical brilliance, wise counsel, utter dedication and fearless fighting spirit will be very sorely missed.
Trent joined the California regional office in 2000 and retired in 2018. His work included successfully defending a model, open space-protection ordinance from developer challenges and twice defeating attempts by the Bush administration to gut regulations that protect our national forests.
The California Regional Office fights for the rights of all to a healthy environment regardless of where in the state they live; we fight to protect the magnificent natural spaces and wildlife found in California; and we fight to transition California to a zero-emissions future where cars, trucks, buildings, and power plants run on clean energy, not fossil fuels.