In Trump's Backyard, Maryland's Climate Movement Is Winning Big
Even as the president tries to cut federal climate initiatives, the states are forging ahead—with Maryland in the lead.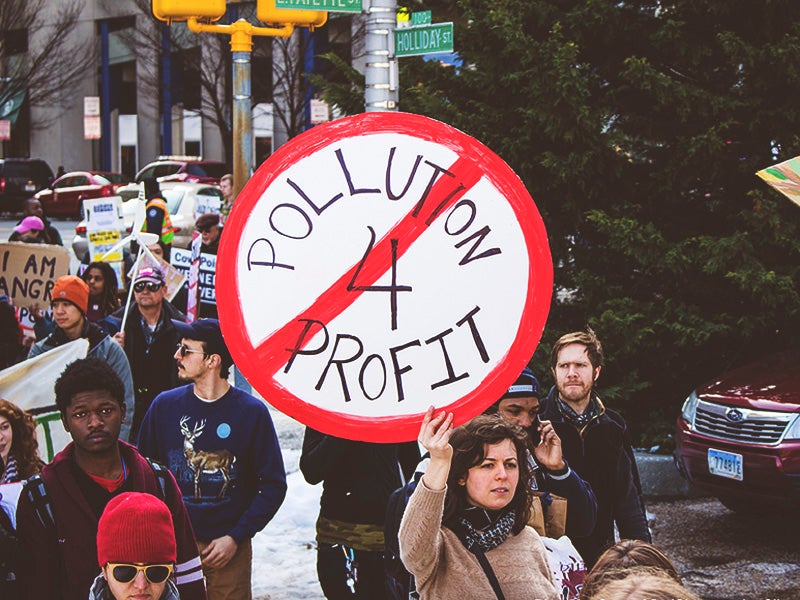 UPDATE: On May 11, after receiving messages from thousands of supportive Marylanders (including hundreds of Earthjustice supporters), the Maryland Public Service Commission approved a pair of large scale offshore wind developments, in what will be the largest project of its kind in the nation.
Last Monday, on the eve of President Trump's sweeping executive order aimed at unraveling federal actions on climate change, cries of joy echoed in the chambers of Maryland's statehouse, within earshot of the White House.
That night, Maryland legislators gave final approval to a bill banning fracking within the state's borders, making Maryland the first state with natural gas reserves to pass legislation prohibiting this dangerous drilling practice.
Maryland's victory to keep gas in the ground is yet another example of how states and local communities can and will carry climate action forward—no matter how hard President Trump tries to drag us backward. In fact, Maryland is making strides against climate change right now in five big ways, including by banning fracking.
1. Fracking Ban Comes to Fruition
The victory to ban fracking was the culmination of a six-year grassroots campaign that united farmers and business owners in Western Maryland—a region that sits atop the gas-rich Marcellus Shale—with health professionals, students, climate activists and local elected officials. In a shock even to organizers, this people-powered movement recently won the support of Maryland's Republican governor, Larry Hogan. He's pledged to sign the ban into law, stating, "The possible environmental risks of fracking simply outweigh any potential benefits."
Earthjustice played an important supporting role in this effort. Representing Engage Mountain Maryland, a grassroots group in Western Maryland, we built the case that Maryland's existing proposal to regulate fracking was insufficient to protect public health, the environment and local economies. Maryland will now remain frack-free forever, joining New York and Vermont in banning this toxic practice.
2. Energy Efficiency Law Heads to Governor's Desk
The day after Maryland legislators said "no" to fracking, they said "yes" to greater energy efficiency. The state's General Assembly passed legislation that, if signed by Governor Hogan, will enshrine into law the strong energy savings targets for utility companies that the Maryland Public Service Commission first adopted in 2015.
Earthjustice and our partners helped secure those prior regulations and pushed for this bill because the benefits of energy efficiency for consumers and the climate are enormous. Maryland's existing efficiency program, called EmPOWER Maryland, is helping residents save $4 billion on their electric bills while eliminating the need for the equivalent of four dirty power plants. The new legislation will ensure continued progress in the state, regardless of any changes to the public service commission and even as the Trump administration threatens to go after popular programs like Energy Star at the federal level.
3. Community Solar Is Poised to Shine
Maryland is about to officially launch an innovative community solar pilot program
Importantly, 30 percent of the program's capacity is set aside for projects serving low- and moderate-income households, ensuring that communities of all income levels will have the opportunity to reap the benefits of cleaner power.
4. First Large-Scale Offshore Wind Farm Awaits Approval
Back in 2013, Maryland climate activists got lawmakers to pass legislation establishing the building blocks of offshore wind power in the state. This spring, Maryland regulators will decide whether to approve the state's first offshore wind farm, which would be the biggest on the East Coast.
Earthjustice is representing the Maryland Sierra Club and the Maryland League of Conservation Voters in the proceeding. If regulators say "yes," steel turbines could soon be spinning miles off the coast of Ocean City, harnessing a huge, untapped source of renewable energy and providing a shining example of bold climate action within a day's drive of the White House.
Earthjustice supporters submitted more than 600 comments to regulators in support of offshore wind power. One commenter from Baltimore wrote, "As a lung cancer survivor who has asthma and COPD, I want more days with breathable air."
5. Clean Energy Targets Increased, Despite a Veto
In early February, Maryland legislators voted overwhelmingly to increase the state's renewable energy standard. The bill, approved over Governor Hogan's veto, requires utilities to get 25 percent of their power from clean energy sources by 2020, up from the current goal of 20 percent by 2022. This law will help accelerate not only Maryland's reliance on solar and wind power, but also the number of jobs that comes with it. The solar industry now employs more people than either the gas or coal industries; solar created 1 in every 50 new U.S. jobs in 2016.
There are two clear takeaways we can draw from Maryland's shining example.
First, none of this progress has come easy or evenly. It's a reflection of years of people-powered organizing supported by strategic lobbying and legal intervention involving a broad range of people and organizations.
And second, clean energy progress under the Trump administration is entirely possible—and likely unstoppable—if we keep building power this way at the local and state levels.
That's why we hope you'll join Earthjustice in President Trump's front yard on April 29th for the Peoples Climate March. We'll march together through the streets of D.C. for the climate, jobs and justice. We'll build stronger connections within the climate movement and take that energy back to our home states and communities, where we can and will keep forging ahead.
From 2007–2018, Kathleen partnered with clean energy coalitions and grassroots organizations, empowered communities to fight against fracking, and worked with the Policy & Legislation team to have their messages heard by legislators.
Earthjustice's Clean Energy Program uses the power of the law and the strength of partnership to accelerate the transition to 100% clean energy.