Introducing Our New Mountain Heroes Website and Campaign
Over our years of working to stop mountaintop removal mining, we at Earthjustice have met so many brave and dedicated people fighting for their communities, mountains and waters. In 2010, Earthjustice launched our "Mountain Heroes" campaign to share their inspiring stories and show that this is not just a fight for the environment—it's a fight…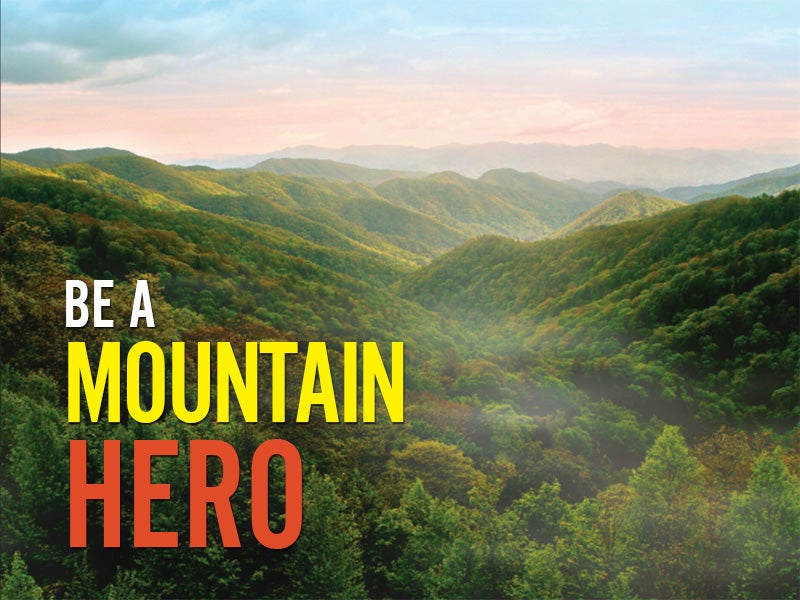 Over our years of working to stop mountaintop removal mining, we at Earthjustice have met so many brave and dedicated people fighting for their communities, mountains and waters. In 2010, Earthjustice launched our "Mountain Heroes" campaign to share their inspiring stories and show that this is not just a fight for the environment—it's a fight for justice and a fight to save communities, families and Appalachian culture.
Through this campaign, we shared the stories of a few true heroes and created a public photo petition, asking the public to share their own stories—and tell us why they want to save mountains, protect clean water, and fight for justice in Appalachia.
What we got back was astounding and inspiring.
Within days, we were pouring over hundreds of personal photos and poetic messages from the public. People told us they absolutely love mountains; they feed their spirits and souls. We learned so many people also care deeply about clean water, and not just about their own access to it but about others' access and right to it as well.
Some people feel—like so many famous musicians, poets, faith leaders and great thinkers who have gone before us—that being on the top of a mountain allows them to connect with a power much greater than themselves. Others have family memories of hiking mountains in their hearts, and dream of showing those same vistas to their children.
We were moved by these touching messages that poured in. The public created such a beautiful petition of photos and messages that we had to build a new website to do it justice.
That's why we're launching a new website, along with an exciting next phase of our "Mountain Heroes" campaign: to showcase the beautiful public petitions and share the inspirational and amazing stories from the frontlines of this movement.
Larry Gibson is one of the extraordinary citizens whose story you can read on our new website. Larry has been fighting mountaintop removal for over 20 years. He has appeared on ABC's 20/20 and before the United Nations, and has spoken to thousands around the country. Along with many other Appalachian heroes, Larry is sharing his story as a part of this new website and campaign, as one of our featured "Mountain Heroes."
Please, take a minute to explore this beautiful photo petition and read the stories of true heroes who are exhibiting courage and dedication in Appalachia.
But this campaign does not end with these inspiring stories. We want this photo petition to make a real difference in ending mountaintop removal coal mining, so we're setting a lofty goal. We want to deliver at least 5,000 photo petitions to the Obama administration on September 13, 2012. To get to this goal, we need your help!
Please add your photo and message and help us make this photo petition historic and huge.
We also need your friends and family involved in this. Help us bring as many people as you can to this movement, so we can end mountaintop removal mining once and for all.
And while you're at it, we hope you check out our new website:
Try the new search bar to find and share your petition;
View all the amazing and inspiring photo petitions;
Share your favorite petitions to Facebook, Twitter, Pinterest;
"Like" your favorites to Facebook;
Comment on your favorite petitions – give your favorites some applause and recognition!
Read and share the personal and moving stories of a new set of Mountain Heroes who are fighting courageously on the frontlines of the movement to end mountaintop removal. These are true heroes and deserve some recognition. Please "like" their stories, share them to social media, and give them a pat on the back in our comments section!
Let's send a message so loud and clear to our nation's leaders that it cannot be ignored. For mountains and mountain people!
Liz Judge worked at Earthjustice from 2010–2016. During that time, she worked on mountaintop removal mining, national forests, and clean water issues, and led the media and advocacy communications teams.
Established in 1989, Earthjustice's Policy & Legislation team works with champions in Congress to craft legislation that supports and extends our legal gains.
Earthjustice's Washington, D.C., office works at the federal level to prevent air and water pollution, combat climate change, and protect natural areas. We also work with communities in the Mid-Atlantic region and elsewhere to address severe local environmental health problems, including exposures to dangerous air contaminants in toxic hot spots, sewage backups and overflows, chemical disasters, and contamination of drinking water. The D.C. office has been in operation since 1978.