Justice for Maryland—but What About Puerto Rico?
In Maryland and Puerto Rico, activists have taken to the streets in an effort to keep polluting trash incinerators at bay.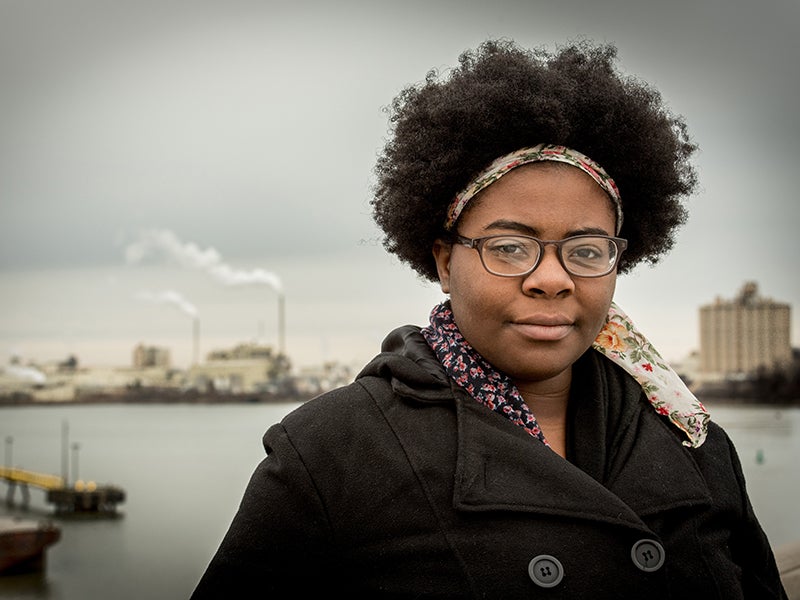 In April, 20-year-old Destiny Watford became the youngest recipient of the prestigious 2016 Goldman Environmental Prize for grassroots activists. Watford organized a student and community movement to oppose the nation's largest trash-burning incinerator, planned for her neighborhood in Baltimore, Maryland. Energy Answers, the project backer, applied for government subsidies, claiming that the incinerator would be a source of clean energy. In fact, it would have emitted more mercury, lead and greenhouse gasses than the state's largest coal-fired power plants in a community that already suffers the worst air quality in Maryland. In her Goldman acceptance speech, Watford said, "The fact that legally, in my state, burning trash is considered a renewable energy source to receive public subsidies…is a clear sign that our system is failing us and our planet." Watford's story has a happy ending; her group convinced the Maryland Department of the Environment to cancel the incinerator's building permit.
Now, in Arecibo, Puerto Rico, Energy Answers is pushing another massive waste incinerator project, again under the guise of "sustainability." As in Baltimore, the Arecibo community has voiced strong environmental, financial and health concerns about the proposed incinerator. Hopefully, the public outcry and grassroots opposition to a facility that would place a disproportionate burden on low-income communities and communities of color will succeed once again in halting an ill-conceived Energy Answers project.
The incinerator planned for Arecibo would introduce a major source of lead and other air pollutants to an area that already exceeds Clean Air Act standards for lead. In addition to making residents sick, the incinerator would also put a huge financial strain on cities and citizens in Puerto Rico, who would be expected to pay more to send their trash to the facility than they do to send it to landfills. All but one of Puerto Rico's 78 municipalities are refusing to send trash to the planned incinerator, and some have indicated their intent to sue over the high disposal costs.  
The increased costs to Puerto Ricans for using the facility are more egregious in light of the fact that Energy Answers has applied to use taxpayer money from the U.S. Department of Agriculture's (USDA) Rural Utilities Service to build the incinerator. That agency's mission is to "expand economic opportunities and improve the quality of life for rural residents." Aside from the obvious issue that neither Puerto Rico nor Arecibo is rural (compared to U.S. states, only New Jersey has a higher population density than Puerto Rico), bankrolling an environmentally destructive project will improve neither the island's economy nor people's quality of life. For these and other reasons, more than 5,000 individuals and groups submitted comments in late 2015 urging the USDA not to waste taxpayer dollars on the proposed incinerator.
"This incinerator would harm our health with toxic substances like dioxins and heavy metals, including lead, in an already contaminated area in Arecibo. The highly toxic ashes generated by the incinerator will be buried in our landfills and would leak into our water reservoirs. This incinerator will increase Puerto Rico's debt even more," says Myrna Conty, coordinator for the Coalition of Anti-Incineration Organizations, which includes more than 45 environmental, academic, religious, community and professional groups from across Puerto Rico. "Increasing numbers of Puerto Ricans are joining the opposition—more and more each day as they get educated."
Beyond the human health costs of the proposed incinerator, the facility would also pump two million gallons of water a day for processing and cooling out of the Caño Tiburones Natural Reserve, the largest wetland system on the island. In March, Earthjustice sent a notice of intent to sue the USDA under the Endangered Species Act for failing to study how these water diversions will impact endangered species.
With intense opposition from local communities, the two cases in Maryland and Puerto Rico should follow the same trajectory. However, the mayor of Arecibo is standing firmly behind the incinerator project—and the federal government may too, if the USDA decides to provide financial support. The EPA has also given Energy Answers an air permit for the Puerto Rico incinerator, although the permit will expire in April if Energy Answers hasn't yet started construction.
Earthjustice is confident that with continued public outcry and opposition from grassroots citizens groups like those we partner with, government regulators will be as responsive to the 3.5 million American citizens in Puerto Rico as they have been to citizens on the mainland. We're working to ensure that the USDA will deny Energy Answers' request for assistance, in light of the threat the incinerator poses to the health, economy and environment of our Puerto Rican neighbors. 
A journalist and graduate of the University of California, Berkeley, Heather was the associate editor from 2015–2017.
Established in 2008, Earthjustice's Northeast Office, located in New York City, is at the forefront of issues at the intersection of energy, environmental health, and social justice.