Latino Leaders Unite to Demand Climate Action
Please join us at the Americas Latino Eco Festival! Latino advocates must come together to demand that leaders around the world take action to stop climate change. (Spanish language version available.)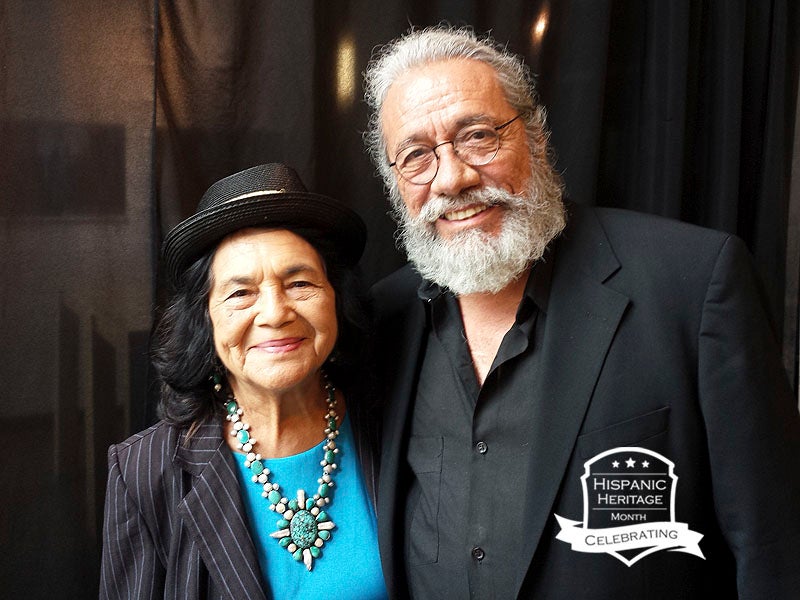 This is a guest post by Irene Vilar. She is the founder of The Americas for Conservation and the Arts, the mother organization of The Americas Latino Festival, and the first nonprofit literary agency in the U.S., Vilar Creative Agency, dedicated to the dissemination of minority literature of the Americas.
Este blog está disponible en español aquí.
The Americas Latino Eco Festival is right around the corner, taking place in Denver, Colorado, October 15 through 17. It's a fitting way to cap National Hispanic Heritage Month, with Latino conservation and cultural leaders from across the U.S. and around the world coming together to send a message directly to policy makers locally, nationally and globally. 
This year's festival, our third, is more ambitious and urgent than ever. We are turning the largest annual multicultural event of its kind into a powerful platform for advocacy on climate action, and we are honored to have Earthjustice as an official co-presenter of this year's festival. With the theme "A Climate of Hope: Where Conservation Meets the Future," the festival will call on the public to take action on climate change, land and water stewardship and the transition to renewable energy.
Earthjustice's leadership on conservation issues, expertise in the policy arena and clear dedication to elevating Latino voices in our national discussion about climate action are exactly the type of collaboration we envisioned when we launched the Americas Latino Eco Festival. Earthjustice has been an invaluable partner in planning this year's event. We are grateful for the expert guidance in helping us pivot to a more advocacy-oriented event, for bringing attention to the festival with online promotion and, most importantly, for participating wholeheartedly. Thank you to the entire Earthjustice community for making it happen.
The spirit of collaboration and community that Earthjustice brings to the festival are needed now more than ever. With the Obama administration's Clean Power Plan in the implementation stage at the state level and the upcoming 21st Conference of the Parties to the United Nations Framework Convention on Climate Change (COP21) in Paris this November, failure is not an option.
Lisa Garcia wrote in a September 15 post about Earthjustice and GreenLatinos' national poll of Latino Americans, which showed in compelling fashion that Latino voters have a strong commitment to conservation and a genuine interest in how climate change impacts their communities. Later this week in Denver, we will be showing Latino families the many ways they can convert their commitment and interest into action. On October 15, the festival opens with the People and Planet First Forum and a session dedicated to this groundbreaking poll titled "#SoyMiTierra: Calling out Misperceptions about Latinos and the Environment."
Follow the hashtags below to see how people are coming together to demand climate action!
Check out our website for a full schedule of speakers, workshops, celebrations and more. And if you are in or near Colorado, please join us at the festival. If we hope to change our country's direction on climate change, advocates must come together!
This post is part of a series celebrating Hispanic Heritage Month. Earthjustice is serving as a co-presenter at the 2015 Americas Latino Eco Festival, a multicultural event that aims to unite Latino leaders in the environmental movement. The festival will take place October 15 through 17 in Denver, Colorado.
Líderes Latinos se Unen para Exigir Acción sobre el Clima
Esta contribución es de la autora invitada Irene Vilar. Ella es fundadora del grupo Americas for Conservation and the Arts, una organización que dio luz al evento Americas Latino Festival, y la primera agencia literaria sin fines de lucro en Estados Unidos, Vilar Creative Agency, que se dedica a la diseminación de literatura de grupos minoritarios de todo el continente americano.
El Americas Latino Eco Festival está a punto de comenzar, y se llevará a cabo en Denver, Colorado, del 15 al 17 de octubre. Es el broche de oro para cerrar el Mes Nacional de la Herencia Hispana, con líderes ambientalistas y del mundo de la cultura que vienen de todo Estados Unidos y del mundo con un mensaje conjunto y directo a los funcionarios públicos a nivel local, nacional e internacional. 
Este año, nuestro tercer festival es más ambicioso y más apremiante que nunca. Nuestra meta es que desde nuestra base como el evento multicultural más importante del año, lo volvamos una poderosa plataforma para luchar por acciones concretas contra el cambio climático, y nos sentimos honrados de tener a Earthjustice como co-presentador oficial en el festival de este año. Con el tema "Un Clima de Esperanza: Donde la Conservación y el Futuro se Encuentran," el festival va a hacer un llamado al público para que tome acciones sobre el cambio climático, buen manejo del aire y el agua y hacer la transición a energía renovable.
El liderazgo de Earthjustice en asuntos de conservación, experiencia en la arena política y una clara dedicación a elevar la voz de los latinos en nuestra discusión nacional sobre acciones por el clima son el tipo exacto de colaboración que teníamos en mente cuando echamos a andar el proyecto Americas Latino Eco Festival. Earthjustice ha sido un colaborador invaluable en la planeación del evento de este año. Estamos agradecidos por la experta orientación para enfocarnos hacia un papel de defensores del medio ambiente atrayendo atención al festival con promoción en línea y, más importante, por participar decididamente. Agradecemos a toda la comunidad Earthjustice por hacerlo realidad.
El espíritu de colaboración y comunidad que Earthjustice brinda al festival es más necesario que nunca. Aunado al Plan de Energía Limpia de la Administración Obama que ya se encuentra en una etapa de implementación; la 21a Conferencia de las Partes (COP21) al Convenio Marco de las Naciones Unidas sobre el Cambio Climático en Paris este Noviembre, el fracaso no es una opción.
Lisa Garcia escribió en una contribución el 15 de septiembre sobre Earthjustice y  el sondeo de opinión nacional de los estadounidenses latinos que hizo junto con GreenLatinos, el cual demostró de manera contundente que los votantes latinos tienen un fuerte compromiso con la conservación y un genuino interés en conocer cómo ha impactado el cambio climático a sus comunidades. Esta semana en Denver, estaremos mostrando a las familias Latinas las distintas maneras en que pueden convertir su compromiso y su interés en acción. El 15 de octubre, el festival abre con el foro La Gente y el Planeta Primero (People and Planet First) y una sesión dedicada a esta encuesta sin precedentes llamada "#SoyMiTierra: Eliminando Percepciones Erróneas sobre los Latinos y el Medio Ambiente."
Sigue los hashtags siguientes para ver cómo se está uniendo la gente para exigir acciones sobre el clima.
Checa nuestro sitio web para ver el horario completo de presentaciones, talleres, celebraciones y más. Y si estás en Colorado o cerca, por favor asiste al festival. Si tenemos la esperanza de cambiar la dirección de nuestro país con respecto al cambio climático, los partidarios de la causa debemos actuar juntos.
Esta contribución es parte de una serie que celebra el Mes de la Herencia Hispana. Earthjustice va a servir como co-presentador en el Americas Latino Eco Festival, 2015 un evento multicultural que busca unir a líderes latinos del movimiento ambientalista. El festival se va a llevar a cabo del 15 al 17 de octubre en Denver, Colorado.
From 2014–2016, Betsy was a bilingual press secretary on the Advocacy Communications team.