Lessons from Flint: Preventing a Drinking Water Crisis in NY
Like the crisis in Flint, Michigan, a lack of government action now to safeguard public health against agriculture pollution could leave a lasting impact with dangerous consequences.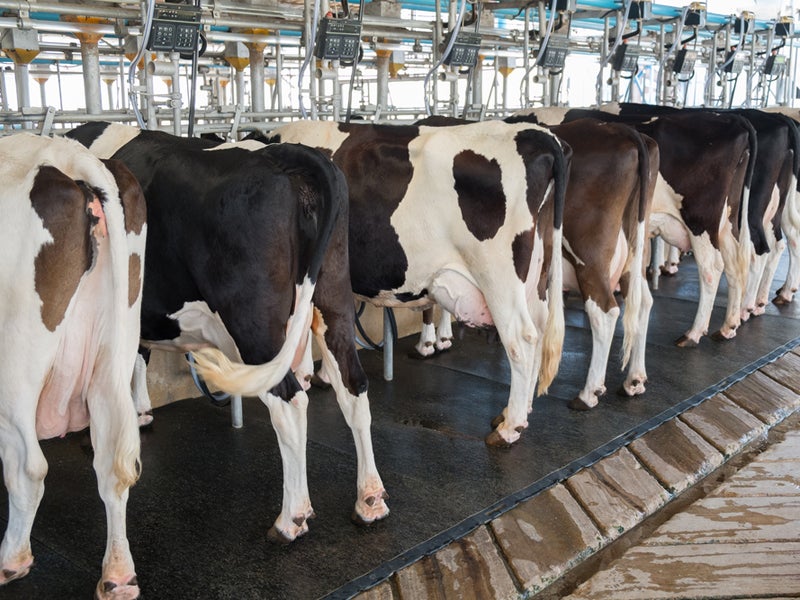 Communities rely on clean drinking water and they rely on government to keep it clean. The tragedy in Flint, Michigan, violated that basic trust. And it has left other communities,—including those in upstate New York faced with drinking water pollutants from concentrated animal feeding operations, or CAFOs—concerned about their state's ability to keep their drinking water safe.
Prompted by concerns raised by Flint and contamination closer to home, a newly initiated task force aims to beef up the state's response to groundwater contamination. In announcing the plan, Governor Cuomo proclaims that he wants "to have the best state program in the nation to preserve water quality and spot problems before they come." If he's serious, then now is the time to take action to prevent the next drinking water crisis.
New York State's Department of Environmental Conservation (DEC) is currently updating a draft general permit for CAFOs, which will authorize the continued operation of more than 500 large-scale dairy operations in the state while failing to adequately protect communities from the pollution they generate. Like the crisis in Flint, lack of government action now to safeguard public health could leave a lasting impact with dangerous consequences.
New York is the third largest milk-producing state in the country. Its industrial dairy farms house more than 600,000 cows, each of which produces more than 100 pounds of waste per day. This liquid manure is loaded with nitrates, pathogens and other pollutants that pose serious risks to water quality and human health. (For background on the harmful practices of CAFOs click here and here.)
In spite of the staggering quantity of manure these facilities produce, if it is applied "agronomically" (i.e., at rates such that the crops will absorb the nutrients), runoff from agricultural fields is permitted under state and federal law and can directly enter waterways without any treatment or protections. In contrast, water discharged from sewage treatment plants or factories must be treated.
The permit, as drafted, has crucial gaps.
Most concerning is its failure to protect against "winter manure spreading" where animal waste is applied directly to frozen or snow-covered fields. Manure spread over frozen ground can readily infiltrate groundwater without providing any agricultural benefit. When the soil is covered with ice or snow, the situation is even more perilous, as rapid thawing or snowmelt will move the liquid manure directly into lakes and streams and, potentially, people's homes.
Other states with similar climate and geology, like Maine and Wisconsin, have recognized the risks of winter spreading and have enacted bans or other measures that are far more protective than New York's. By allowing this loophole, DEC has entrusted the health of our water supplies to CAFO operators.
Calls for tighter controls are growing. Over the last two winters DEC has received several dozen reports from citizens complaining of winter spreading from neighboring facilities. The most alarming incident was in 2014, where a 25 foot-by-75 foot plume of liquid manure discharged from a large CAFO contaminated Owasco Lake, one of the region's iconic Finger Lakes and a drinking source for more than 44,000 people. Despite modest penalties for this violation, this same facility was seen to be engaging in risky practices again last winter as well.
Incidents like these are not just a recent phenomenon. CAFO waste has been contaminating drinking water wells in New York for years. In 2013, DEC's analysis found that "numerous private and public drinking water wells around the state…have been impacted by nutrients [from CAFOs] that are not properly managed." This is an odd admission since it's DEC's job to make sure CAFOs are properly managing their waste.
In comments filed earlier this month Earthjustice, on behalf of our clients, asked the DEC to ban the practice of winter manure spreading, which is widely recognized as a serious threat to drinking water resources that provides no benefit to crops. Almost 4,000 individuals signed on to a petition to the DEC and Governor Cuomo.
Here are just a couple of the responses we received:
I have lived in central New York, in the heart of dairy country, for 50 years. I have seen the spread of CAFOs and the vast damage done by CAFOS. I see farmers in my valley spreading winter manure all the time. It repeatedly degrades our local creek, then flows into a chain of lakes, doing more damage to water quality and aquatic and land wildlife. Prioritize water quality, soil quality, climate protection and wetland/waterway protection. Stop catering to a harmful industry. Our tax dollars must not pay for clean ups caused by a damaging industry.
-Stacey, Tully, NY
My family is affected by contaminated water from manure run-off from large dairy farms in Wyoming County. We must drink bottled water and cannot swim in Silver Lake during certain high contamination levels in the summer. Please take stronger measures in enforcing better methods for manure spreading and disposal. We want our dairy farms to survive but not at the expense of water quality.
-Carolyn, Buffalo, NY
Flint's government valued dollars and cents over public health, and we all now see the devastating cost of that decision. In New York, Governor Cuomo has repeatedly catered to the dairy industry, pushing through a deregulation of the industry in 2013 despite public outcry. In his most recent State of the State address he praised his administration's efforts to promote this industry. But will upstate communities have to pay the price?
Click here to read the comments we submitted in response to the permit and here for an appendix summaraizing our recommendations to the DEC.
Alok works at the Northeast regional office in New York, where he supports the region's energy, agriculture and toxics docket. He is a graduate of the University of Pittsburgh and Columbia University's School of International and Public Affairs.
Established in 2008, Earthjustice's Northeast Office, located in New York City, is at the forefront of issues at the intersection of energy, environmental health, and social justice.