Litigator, Mother and Climate Champion: Abbie Dillen Is a Name You Should Know
A conversation with Abbie Dillen, clean energy powerhouse and working mother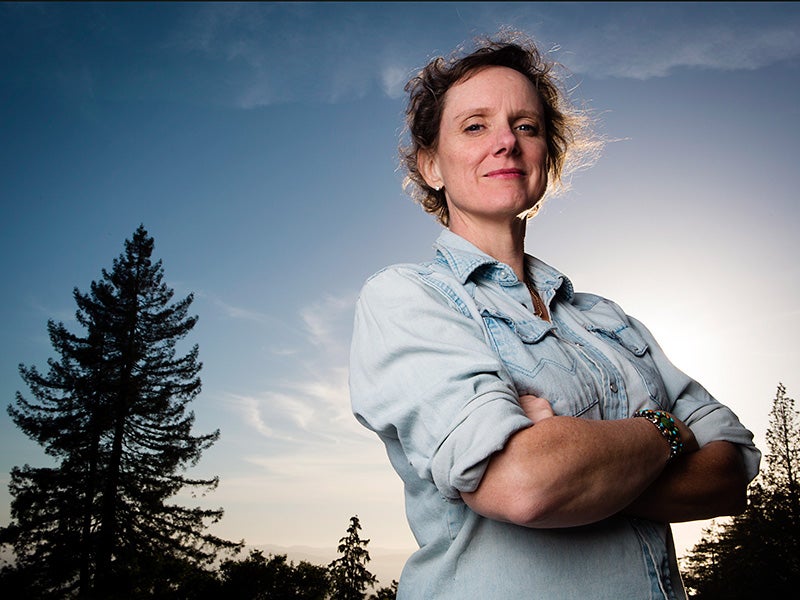 "Sometimes there's virtue in having no choice but to fight like hell, and that's this moment," says Abbie Dillen, Earthjustice's vice president of litigation for climate and energy.
Dillen uses the law to make way for clean energy by outmaneuvering the fossil fuel industry, with the goal of halting the most devastating impacts of climate change.
This aim has been harder to achieve since the start of the Trump administration—the most anti-environmental in memory. But Dillen says she's ready for battle and that she appreciates the clarity of purpose that comes with having an unmistakable opponent.
She adds, "This is the kind of fight that is absolutely at the core of what we do."
"This is the kind of fight that is absolutely at the core of what we do."
A passionate activist, Dillen first joined Earthjustice's Bozeman, Montana, office in 2000—fresh out of school at Berkeley Law—to advocate for endangered species such as gray wolves and grizzly bears, as well as the landscapes they rely on.
In the following years, when the energy industry proposed a slate of new coal-fired power plants, Dillen transitioned to shutting down these coal plant plans, strengthening regulations for fossil fuel pollution and slashing greenhouse gas emissions.
"My heart is always in the wilds of Montana," Dillen says, "but even those amazing places are not immune to the threat posed by climate change."
She headed to New York City in 2008 to keep pursuing coal cases on the national level. By aggressively enforcing our clean air, clean water and waste disposal laws, attorneys like Dillen have forced the fossil fuel industry to pay its fair freight, letting clean energy compete.
Thanks to the determination of Earthjustice and other groups—as well as an economic shift that's made renewables cheaper and coal pricier—most of the proposed coal-fired plants were never built, and about 40 percent of America's existing coal plants have been shuttered or slated for retirement.
Last September, Dillen returned to her Berkeley roots to espouse renewable energy in the booming San Francisco Bay Area.
"Moving to California when you work on clean energy is like moving to Hollywood if you want to be a movie star," Dillen says. "You can't turn a corner without meeting some brilliant person working on clean energy successfully."
She now leads the legal charge for renewable energy and against Trump's fossil-fueled agenda, state by state. Many decisions about where Americans get their energy are made in statehouses and local utility commissions—not on Capitol Hill. Dillen's team is encouraging the spread of electric vehicles, stopping power companies from bilking customers to prop up aging fossil fuel plants and mandating that utilities across the country invest more money in wind and solar.
"Now I see what the world could look like if we don't drastically change, and it's not a future I can bear to envision for my son."
Above all, Dillen wants to tear down the legal and political barriers to clean power to help the next generation avoid climate catastrophe.
"I have a super-smart, super-sensitive, super-funny 4-year-old who thinks about who he's going to be when he grows up. It makes this work so concrete," Dillen says. "Now I see what the world could look like if we don't drastically change, and it's not a future I can bear to envision for my son."
But even in the current political atmosphere, with a tough fight ahead for environmentalists, Dillen sees ample reason for hope.
"We're not seeing this president deliver on all his extremist promises because people are standing up," says Dillen. "It's a huge morale boost for everybody at Earthjustice—the sense of community and the spine that we see in everyone getting out there to champion what's right."
A journalist and graduate of the University of California, Berkeley, Heather was the associate editor from 2015–2017.
Earthjustice's Clean Energy Program uses the power of the law and the strength of partnership to accelerate the transition to 100% clean energy.