Locals Protest Lax Crude-by-Rail Regulations
Local communities are fed up with lax crude-by-rail regulations, so last month they took their complaints straight to Washington, D.C. and the Department of Transportation.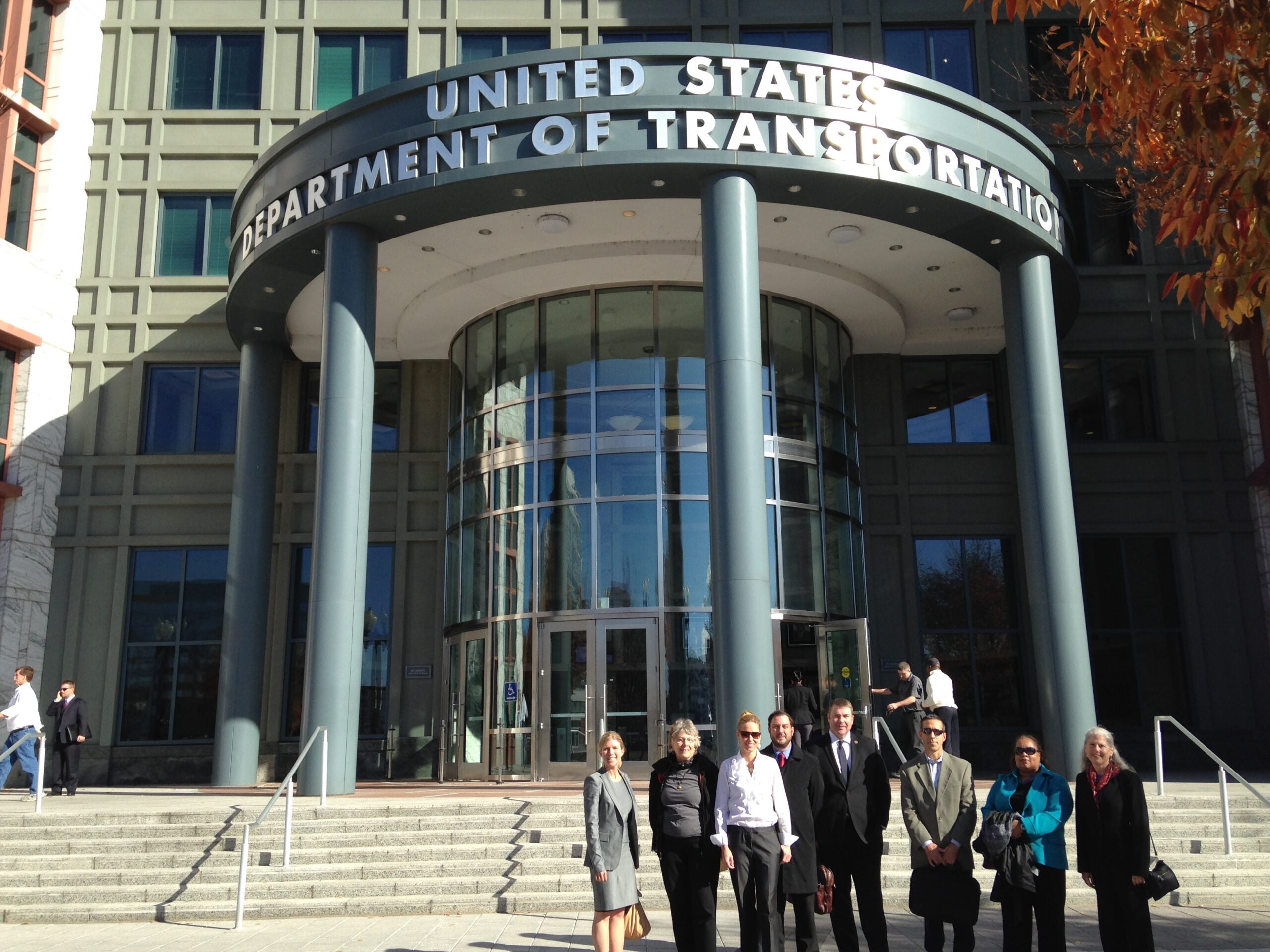 Currently, U.S. regulations of crude oil trains boil down to four main steps:
Drill for oil in North Dakota.
Fill railcars with this highly explosive oil.
Pack train tracks running through cities and towns across the country with this traffic.
Hope that nothing goes wrong.
A few weeks back, local elected officials from New York, Washington, Idaho and California came to Washington, D.C., to protest these lax regulations, and to call on the Department of Transportation to strengthen its proposed standards for tank cars carrying volatile crude oil. While basic information is now available about the cars and routes carrying crude, towns and cities along the tracks, as well as local emergency responders, are still scrambling to figure out how to handle a potential incident.
Throughout the day, D.C.'s decision makers heard about the massive increase in train traffic, the perils of living near these tracks, and the steps that the government should take to decrease risk. The Honorable Vivian Kornegay, Ward 2 Council Member for Albany, NY, painted a stark picture of life near tracks carrying explosive crude.
"Whenever cars move, it frightens me," she said.
She delivered a strong message asking federal officials to protect her constituents by getting the most dangerous cars off the rails as soon as possible.
"When our families see these cars coming, they want to know someone's looking out for us," said Kornegay.
The Honorable Shannon Williamson, Sandpoint, Idaho city council member, shared a similar story. Twenty-three oil trains a week currently travel through Sandpoint. In the next 10 years, that traffic is expected to double. If an accident were to occur, it could wipe out the entire downtown of Sandpoint, which sits on the shores of Lake Pend Orielle and enjoys the title of the "Most Beautiful Small Town." Emergency responders in Sandpoint are working on an evacuation plan in case of an accident because the nine-person firefighting crew would be unable to fight a crude oil fire.
Regardless of where people came to D.C. from, the message was the same: It is time to get the most dangerous cars off the tracks and ensure that people living along these routes are protected.
From 2008-2022, Jessica Ennis was part of the Policy & Legislation team in Washington, D.C., advocating for the protection of people, public lands, and the environment from the potentially devastating impacts of oil and gas development.
Established in 1989, Earthjustice's Policy & Legislation team works with champions in Congress to craft legislation that supports and extends our legal gains.