Long Beach Residents Want to Dump Their Current Waste System
The city of Long Beach, California, is falling behind the rest of the state and the nation in transitioning to a zero-waste future.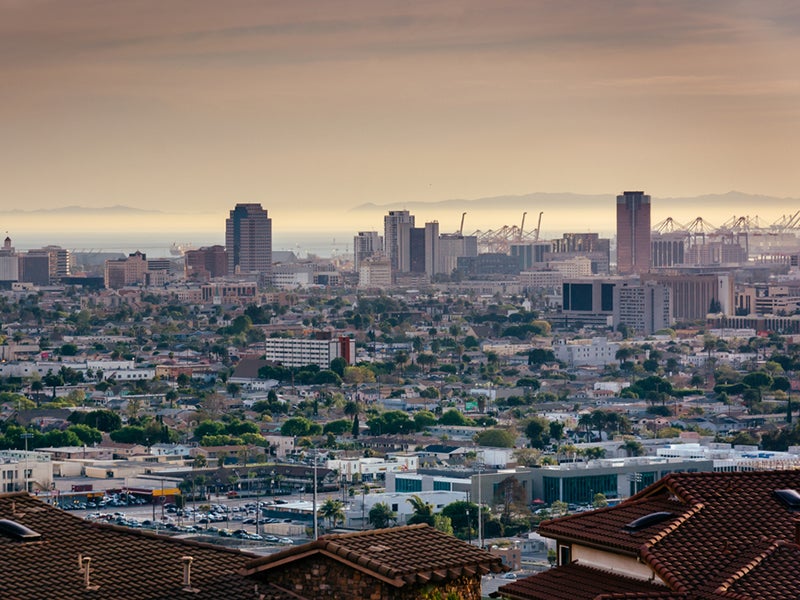 The waste management system in many U.S. cities stinks! We've created a waste disposal and management system that sanitizes the truth about what really happens after our trash is picked up—we simply toss it and forget it. But the harsh reality is that our waste sector has serious, lingering negative impacts on the health of our communities, our environment and the sanitation workers who labor in an industry that has the fifth highest fatality rate of any in the U.S.
From the large number of items we trash or recycle to the heavy-duty diesel trucks used to pick up our waste to the way our waste is disposed of after it's hauled away, every link in the waste disposal chain matters and has lasting effects.
The fight to transform the waste sector for the better is now taking place in cities across the state of California. One of these is Long Beach.
Long Beach has a population of more than 500,000, making it the second largest city in Los Angeles County and the seventh largest city in California. Unlike many other cities its size, Long Beach does not have a local goal to send zero waste to landfills. And apartment buildings, restaurants and other small businesses are not guaranteed access to recycling and organic waste bins.
The result is that most waste in the city is simply thrown into landfills or incinerated. Long Beach's waste management system is broken and unsustainable, and the city has fallen behind other municipalities in the state.
Cities across California have established local zero-waste goals that exceed California's overall goal of 75 percent recycling and composting by 2020. For example, San Francisco and Oakland are committed to zero waste by 2020. Los Angeles has also established a goal of 90 percent waste diversion by 2025.
It's high time for Long Beach to become a leader in the waste reduction revolution. After all, there are serious health and environmental consequences if Long Beach continues on its current path.
The air quality and climate impacts of the waste sector are significant. According to a report published by the Los Angeles Alliance for a New Economy, in Los Angeles County, "the waste sector is the third-largest contributor to greenhouse gas emissions," and landfilled organic waste is a major cause. The heavy-duty diesel trucks used to haul away all of this waste are also "a significant source of air pollution and toxic emissions, and are the largest source of nitrogen oxides (NOx) and fine particulate black carbon (soot) emissions in California."
Long Beach residents are demanding change. On August 25, Don't Waste Long Beach, a coalition of community, environmental and worker's rights organizations, attended a meeting of the Long Beach Sustainable City Commission to provide public input and to encourage the commission to make transforming the Long Beach waste system a priority in their upcoming Sustainable City Action Plan.
The commission has an opportunity to transform the current waste system and to meet and exceed statewide waste diversion goals. Earthjustice will continue to support community efforts to transform Long Beach's current waste system into one that is clean and sustainable. The health and future of Long Beach residents depends on it.
Based in our Los Angeles office, Oscar works in the Community Partnerships Program. His entry into healthy communities and environmental justice work stems from his personal experience growing up in Long Beach and Wilmington, California, where he continues to witness first-hand the serious health impacts on his family and peers.
The California Regional Office fights for the rights of all to a healthy environment regardless of where in the state they live; we fight to protect the magnificent natural spaces and wildlife found in California; and we fight to transition California to a zero-emissions future where cars, trucks, buildings, and power plants run on clean energy, not fossil fuels.