Louisiana Residents Travel to Texas to Ask for Strong Protections from Big Oil
After years of dealing with toxic air pollution seeping into their neighborhoods and homes, residents from all over Louisiana took a bus to Houston to tell EPA their toxic tales. Mary Williams of the Deep South Center for Environmental Justice explains why they made the journey.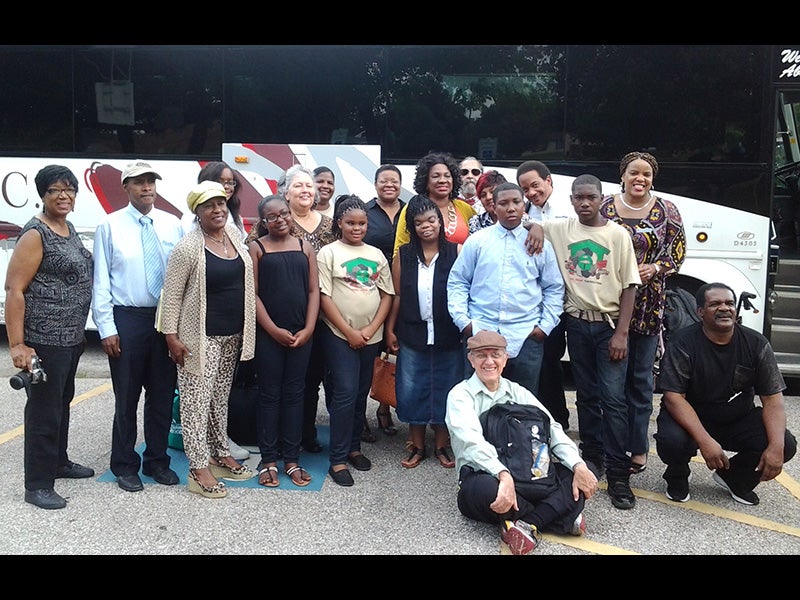 Twenty-four residents representing eight Louisiana communities traveled to Galena Park, Texas, on August 5, 2014 in support of a refinery rule recently proposed by the U.S. Environmental Protection Agency that will force petroleum refineries to reduce toxic air emissions. The Deep South Center for Environmental Justice in partnership with Advocates for Environmental Human Rights organized a group of community residents who have suffered both physical and psychological health problems from toxic chemical exposure due to emissions from nearby refineries in their community. There are currently 142 petroleum refineries in the United States. Exposure to toxic air pollutant emissions can cause upper respiratory problems and can increase the risk of developing cancer.
There were nine organizations from Louisiana represented at the hearing, including Advocates for Environmental Human Rights, New Orleans; Bayou Interfaith Shared Community Organizing (BISCO), Thibodaux; Connecting Kids to the Environment , Phoenix; Deep South Center for Environmental Justice, New Orleans; Louisiana Democracy Project, Baton Rouge; Mossville Environmental Action Now (MEAN), Mossville; Sierra Club, Baton Rouge; Truth Community Outreach, Destrehan; and Zion Travelers Cooperative Center, Phoenix.
Louisiana residents had an opportunity to testify at the public hearing to urge EPA to move forward with stricter refinery emissions standards to control toxic air emissions being released in their communities.
Dorothy Felix, president of Mossville Environmental Action Network (MEAN) in Mossville, LA, testified that there are already 14 large industrial plants in her community and Sasol, a gas to liquid plant, wants to build another facility in her community. She said, "In fact, a section of Mossville is being relocated due to ground water contamination." Residents in her community were tested for dioxin exposure and test results revealed that some Mossville residents had three times the national average of dioxin in their blood levels. Ms. Felix appealed to the EPA to protect them, saying:
"You are the agency in place that has the power to protect fenceline communities.We want you to strongly enforce regulations so that we human beings in the current and future generations can have a healthy and safe environment to live in."
Lyric Turner, a sixteen year old youth coordinator for Connecting Kids to the Environment from Phoenix, LA, challenged the EPA to "make the monitoring data easy to understand and access, hire enough inspectors to investigate refinery operations, make the penalties fit the crime—no more slaps on the wrists—and ensure that the refinery doesn't repeat the violation."
EPA officials estimate the rules could reduce toxic emissions by as much as 5,600 tons a year, directly affecting the 5 million people in the U.S. who live within a 32-mile radius of oil refineries. As a result of the proposed changes, refineries would reduce toxic emissions, improving air quality and protecting public health in communities surrounding these facilities.
The EPA has extended the deadline for written comments on the proposed oil refinery regulations from August 29, 2014 to October 28, 2014. Take action and submit your comment today.
 
Founded in 1992, DSCEJ is a collaboration with community environmental groups and universities within the region to address issues of environmental justice. The DSCEJ Community/University Partnership provides opportunities for communities, scientific researchers, and decision makers to collaborate on programs and projects that promote the rights of all people to be free from environmental harm as it impacts health, jobs, housing, education, and general quality of life.
Mary I. Williams, M.Ed. is the assistant director of community and student engagement for the Deep South Center for Environmental Justice (DSCEJ) in Louisiana.
Earthjustice's Washington, D.C., office works at the federal level to prevent air and water pollution, combat climate change, and protect natural areas. We also work with communities in the Mid-Atlantic region and elsewhere to address severe local environmental health problems, including exposures to dangerous air contaminants in toxic hot spots, sewage backups and overflows, chemical disasters, and contamination of drinking water. The D.C. office has been in operation since 1978.