Marchers: Climate Concerns Are Tied to Racial Justice
The pollution that causes climate change burdens some communities more than others.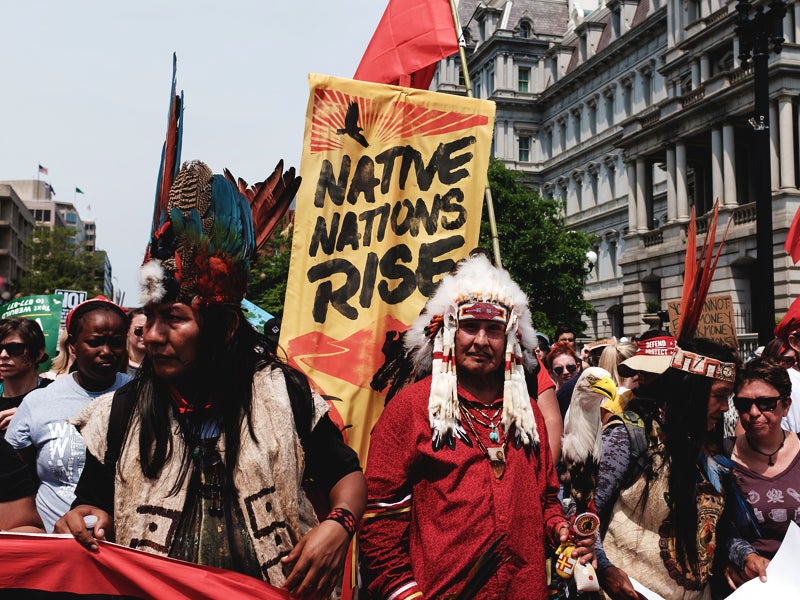 Groups representing communities of color that are disproportionately impacted  by climate change and pollution marched to the White House last weekend to let the nation know that these issues matter and must be dealt with.
Some 200,000 people carried signs and banners, chanted protest slogans and danced in the streets for the Peoples Climate March, which coincided with President Donald Trump's 100th day in office. Earthjustice helped fund and organize the demonstration to protest the administration's moves to gut environmental and health protections and slash the budget of the  EPA, including the agency's environmental justice program.
Among the protestors were African Americans, Latinos, Asian Americans and Native Americans who emphasized the heavier environmental burden faced by communities of color.
For Tribal Rights
Clarence White of the Southern Cheyenne-Arapaho carried a flag pole bearing an upside down American flag and spoke of supporting the Standing Rock Sioux tribe last year in North Dakota in the tribe's opposition to the Dakota Access pipeline.
For White, Saturday's protest was not only about the environment, but also about Native American treaty rights. He said the treaties that Native Americans have signed with the federal government have been violated throughout history. White talked about the slaughter of his people during the 1864 Sand Creek Massacre.
"We gave [the government] access to land for their railroads," said White, whose tribe was forced from its homeland in Minnesota. "But what did they give us?"
For Food Sustainability
Doria Robinson of Richmond, California, marched alongside other red t-shirt clad members of the U.S. Food Sovereignty Alliance, an organization that supports sustainable food and farming practices and views the nation's food system as rooted in race, class and gender oppression.
Robinson, who is African American, said that she was proud to be marching behind Black Lives Matter activists. The struggle for racial justice, she said, should be connected to the fight against environmental injustice and other forms of oppression.
"We must connect the dots," Robinson said, adding: "A systemic problem needs a systemic solution."
Robinson said a substantial portion of climate changing emissions comes from agriculture, but we cannot separate questions of climate change from questions of how our food is produced, who owns it and whose health suffers most from it.
We cannot separate questions of climate change from questions about how our food is produced, who owns it and whose health suffers most from it.
"It's the same extractive economy," she said, and that must be changed.
Robinson said she grew up in the shadow of Richmond's Chevron Refinery. In 2012, a major accident there, involving the release of a cloud of toxic smoke, led 15,000  people in her predominantly African American and Latino community to seek medical treatment.
"The refinery dominated everything," Robinson said. "One accident peeled the paint off my mom's car. They gave her $500 to fix it, but what about the damage to our lungs?"
Robinson also works with Urban Tilth, a nonprofit that focuses on youth empowerment and food sovereignty and seeks to connect young people—particularly youth of color—to the land through urban farming.
For Environmental Justice
A group of environmental activists from South Carolina and Virginia donned blue-and-white t-shirts emblazoned with the words "EJ Lives Matter." One, Ed'Bonte Faison, said he wants everyone from the president to everyday people to know that clean water is an urgent issue in his home state of South Carolina.
"There are a lot of small towns that don't have access to clean water," he said, explaining that in rural communities, people often depend on well water that's not always safe. "They don't have regulations to ensure the water is healthy."
Veronica Pegram of Richmond, Virginia, also a member of the environmental justice group, said she's trying to shine a spotlight on the huge environmental burdens communities of color are up against.
"We want to talk about what minorities are facing and make sure that we have a voice," Pegram said.
Based in Washington, D.C., Keith is the National Communications Strategist for Partnerships and Intersectional Justice.
Earthjustice's Washington, D.C., office works at the federal level to prevent air and water pollution, combat climate change, and protect natural areas. We also work with communities in the Mid-Atlantic region and elsewhere to address severe local environmental health problems, including exposures to dangerous air contaminants in toxic hot spots, sewage backups and overflows, chemical disasters, and contamination of drinking water. The D.C. office has been in operation since 1978.