Monday Reads: The Right Whale Detection Dog Edition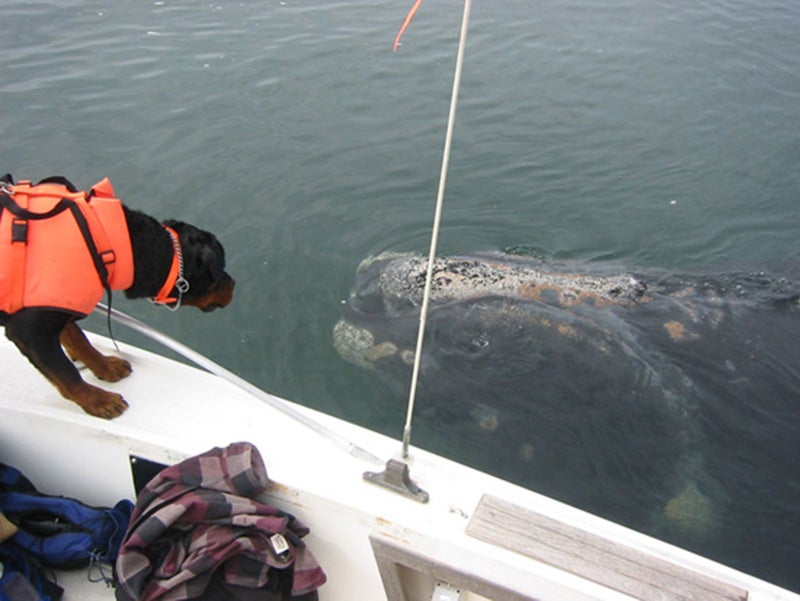 Collectively, detection dogs have had a long and illustrious career. Although drug sniffing and bomb detection dogs often get top billing, canines are also proudly finding counterfeit DVDs, bed bugs, and cell phones.
And now we can add right whales to the list.
(Well, right whale scat, at least. Although occasionally, a curious right whale may show up along the way.)
Hunted to near extinction, right whales today are the subject of intense research and conservation efforts. Earthjustice is fighting for them on the legal front, action that comes on the heels of a recent Earthjustice campaign, during which more than 23,000 Earthjusticers eloquently spoke out to the National Oceanic and Atmospheric Administration on the importance of right whales.
Outside of the courtroom, the New England Aquarium has pioneered some decidedly creative methods to aid North Atlantic right whale research: scat-sniffing dogs. That's right; these dogs search out and locate whale poop.
Unlike their other-sniffing brethren, these dogs can't simply walk their handlers to the finish line; the scat is in the water, and the dogs are on a boat. In an impressive three-step process, the dogs stand at attention at the bow of the boat and "tell" their handlers which direction the scat lies. The handler conveys this to the helmsman, who then steers the boat accordingly—and this all happens quite successfully, we might add.
Since you can't exactly take blood samples at will from a 50 ton whale, the scat samples provide a wealth of biological information for scientists, helping them to study right whale reproduction and health trends. And given there are less than 400 North Atlantic right whales remaining, every whale counts.
These hard-working pups are putting their keen noses to good use, and can look forward to a gleeful tennis ball play session as a search reward.
Visit Earthjustice's Doing Right by Right Whales feature for more information on right whales.
And don't miss the New England Aquarium's interesting North Atlantic Right Whale Catalog which contains more than 200,000 photographs, documenting sightings of individual right whales with such colorful names as Kleenex, 1/4 Note, Harry Potter, and Wavy Gravy.
More Reads:
Shirley undertakes sous chef duties on Earthjustice's website, serving up interactive online features for our advocacy campaign and litigation work.
Earthjustice's Oceans Program uses the power of the law to safeguard imperiled marine life, reform fisheries management, stop the expansion of offshore oil and gas drilling, and increase the resiliency of ocean ecosystems to climate change.