More Investors Pull Out of Maligned Pebble Mine
The unpopular Alaskan mine project meets obstacles.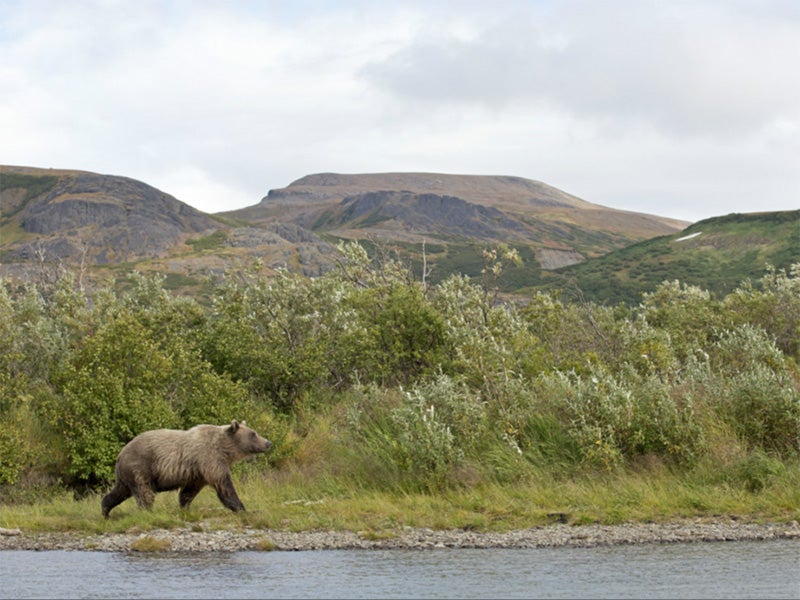 International mining firm Rio Tinto yesterday became the second out of three remaining investors to pull its funding from a much-maligned and controversial proposed gold and copper mine in wild and scenic Alaska, the Pebble Mine. Last September, Anglo American, a London-based mining company, cited financial risks and pulled out of the project. This leaves only the small Canadian mining company Northern Dynasty Minerals still backing the giant project.
Local communities, commercial and recreational fishermen, Native tribes, recreation and tourism industry groups, and concerned citizens from around the world have vehemently opposed the Pebble Mine, an enormous mining project proposed for southwest Alaska in the headwaters of Bristol Bay and its world-class salmon runs. The Bristol Bay watershed is rich with salmon, wildlife and salmon-based Alaska Native cultures and is home to the largest sockeye salmon fishery in the world.
Earthjustice has joined with this broad coalition in waging a powerful campaign against this mine, to protect this treasured wilderness and all the people who depend on it. Earthjustice supporters have sent approximately 50,000 letters to the EPA opposing the Pebble Mine.
If approved, Pebble would be the largest, most destructive open-pit mine ever constructed in North America. Over its lifetime, the mine could generate 23 billion tons of dangerous mining waste, wiping out over 90 miles of salmon streams and more than 5,000 acres of intertwined wetlands, ponds, and lakes. The massive piles of copper-laden, acid-generating waste would pose a toxic threat to the region's fish, wildlife, and people forever.
This week, Rio Tinto announced it is giving its whole share—$16 million worth—of Northern Dynasty, the owner of the Pebble Mine project, to two local Alaskan charities, the Alaska Community Foundation and the Bristol Bay Native Corporation Education Foundation. In a statement, the company said, "By giving our shares to two respected Alaskan charities, we are ensuring that Alaskans will have a say in Pebble's future development and that any economic benefit supports Alaska's ability to attract investment that creates jobs."
The head of the Bristol Bay Native Corporation Education Foundation said this: "This gift provides an example of what open discussion and relationship building between stakeholders with differing views can accomplish. However, [Bristol Bay Native Corp.'s] opposition to the proposed Pebble mine has not changed."
In December, the New York City Comptroller and the California State Controller, who oversee pension funds that are substantial, long-term shareowners in mining giant Rio Tinto, asked the company to withdraw from the Pebble project.
This week, New York City Comptroller Scott M. Stringer told The Associated Press: "This is good news for both Rio Tinto's investors and the ecology of Bristol Bay. It is clear that Northern Dynasty's actions were a folly with costly consequences for both its investors and the environment."
This news comes just a few weeks after the Environmental Protection Agency (EPA) took the first step to prohibiting construction of the Pebble Mine. In response to requests from nine federally recognized tribes and commercial and sport fishermen, EPA prepared a thorough scientific assessment detailing the grave risks Pebble would pose to Bristol Bay's natural resources, Native peoples, commercial fishing jobs and industry, and tremendous recreational opportunities. Finding that Pebble would result in "significant and unacceptable adverse effects" to "one of the most productive, pristine, valuable and vulnerable ecosystems remaining in North America today," EPA provided formal notice that it was initiating the process to determine whether to use its authority under the Clean Water Act to block the project.
The defection of investors from this project is great news to the many, many people who want to stop this mine, but it's still critical that the EPA do its duty under the Clean Water Act and move forward to prohibit any permit for this project.
Tom worked in Earthjustice's Alaska regional office. Cases in his docket included protection of roadless areas and old growth habitat in the Tongass and Chugach National Forests, and protection of water bodies from acid mine drainage and other mining-related water pollution.
Opened in 1978, our Alaska regional office works to safeguard public lands, waters, and wildlife from destructive oil and gas drilling, mining, and logging, and to protect the region's marine and coastal ecosystems.