New Mexico's New Monument
President Obama designated half-a-million acres of Chihuahuan desert ecosystem as the Organ Mountains-Desert Peaks National Monument.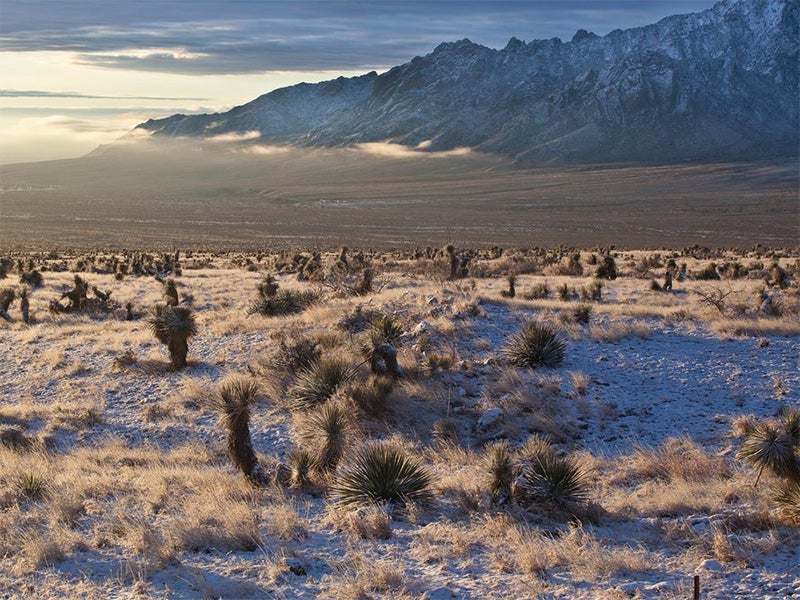 Wednesday was a great day for southern New Mexico as President Obama designated half-a-million acres of Chihuahuan desert ecosystem as the Organ Mountains-Desert Peaks National Monument.
The proclamation protects the iconic, jagged peaks of the Organ Mountains, cinder cones, rare desert grassland, and petroglyphs of peoples who lived in this stark environment millennia ago, and its caves, and habitat for eagles, falcons, mule deer, cougar and javelina.
It's also good news for local businesses that hope the designation will draw tourists to the lands near Las Cruces, New Mexico's second-largest city.
The monument has broad support from conservationists, sportsmen, tribal governments, businesses, Latino leaders and local governments, who had worked for a decade to preserve the natural and historical legacy of the area. Its protection was also championed by the state's two U.S. Senators, Martin Heinrich and Tom Udall, who had introduced a bill to create the monument.
And, if you dig deep enough, there's even a little Earthjustice history here.
One of the mountain ranges protected in the new monument—the Robledos—was under siege from extreme jeepers and dirt bikers 15 years ago. At that time, the Bureau of Land Management closed 12 miles of routes in part of the Robledos proposed for wilderness protection because illegal off-road vehicle abuse was degrading the area's wild character and destroying wildlife habitat.
Extreme off-highway vehicle groups sued to overturn BLM's closures, hoping to turn the damaging routes into permanent "highways." Earthjustice, unsure whether the new Bush Administration would strongly defend the trail closures, intervened to oppose the off-roaders' suit. On behalf of The Wilderness Society and the New Mexico Wilderness Alliance, we helped defeat the suit in U.S. district court and again at the Tenth Circuit Court of Appeals, keeping the closures in place and allowing the land to heal.
So in part thanks to determined conservationists (and BLM staff with backbone), there was wilderness worth protecting when a President arrived with the vision to protect these lands for future generations.
Ted was an attorney in the Rocky Mountain regional office from 2003–2018. He protected wilderness, roadless areas and the planet's climate on behalf of conservation groups in the Four Corners' states.
Earthjustice's Rocky Mountain office protects the region's iconic public lands, wildlife species, and precious water resources; defends Tribes and disparately impacted communities fighting to live in a healthy environment; and works to accelerate the region's transition to 100% clean energy.