The men behind the poisoning of West Virginia's drinking water begin anew.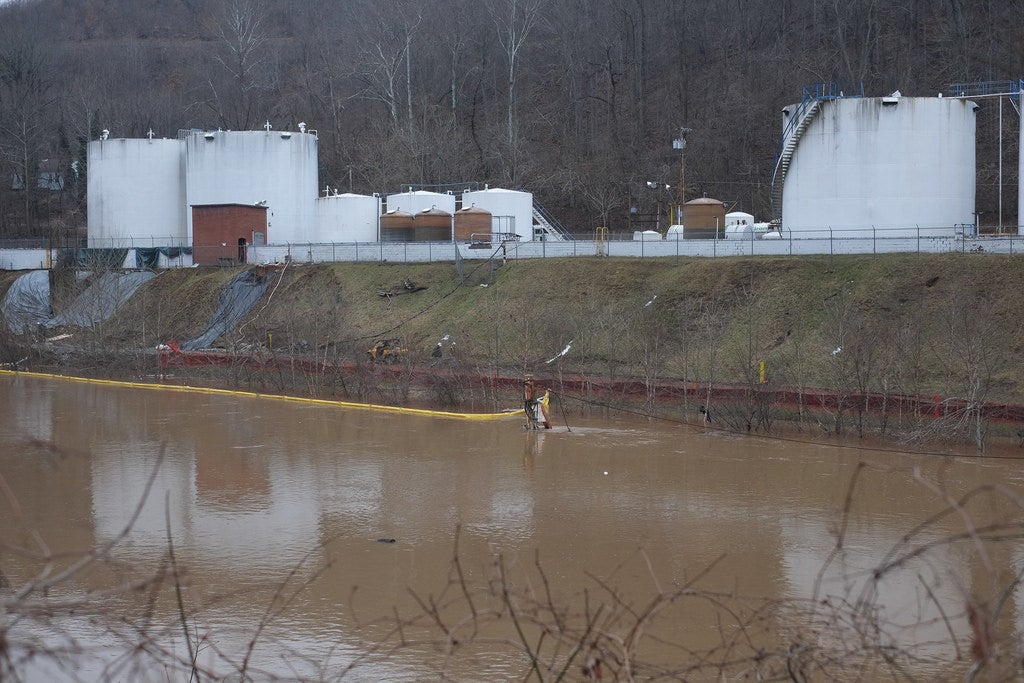 It's only been a few months since the chemical company Freedom Industries spilled an estimated 10,000 gallons of a coal chemical into the Elk River, contaminating the water supply for 300,000 West Virginians. Yet, it seems that a handful of Freedom's executives are already getting a fresh start with a new chemical company that's strikingly similar to the original.
According to The Charleston Gazette, the chemical company, Lexycon LLC, shares addresses and phone numbers with Freedom Industries, and it was founded by a former Freedom executive. But that's not all. The reporter also found that Lexycon has ties to at least two other current or former Freedom executives. In addition, the descriptions for both of the companies are almost an exact match. Meanwhile, Freedom Industries seems to have forgotten about their other company's spill, and who will pay for it, since Freedom Industries filed for Chapter 11 bankruptcy in mid-January.
So how is Freedom able to start another company without having even finished cleaning up its first mess? The answer is regulatory incompetence and lax regulations. Though the 1976 Superfund bill requires polluters to pay for the cleanup of their messes, over the last 30 years the EPA has failed to require that the nation's most dangerous industries have adequate funds, through insurance or bonding, to clean up their spills.
"If you drive a car, you are required by law to have auto insurance so that if there is an accident you can pay for it," says Earthjustice attorney Lisa Evans, who has previously sued the EPA for failing to develop regulations that require mining companies and other high-risk polluting industries to provide financial proof that they are able to clean up after spills. "But if you're a company that deals in millions of gallons of toxic chemicals, the government gives you a pass on insurance."
Unfortunately, this is hardly the first time that Freedom Industries has taken advantage of lax environmental regulations.
Immediately following the spill in January, state officials admitted that they didn't know much about the spilled chemicals and that no standard existed for testing their toxicity in water. That's because the chemical in question—MCHM, a chemical mixture used in the coal production process—is one of the 64,000 chemicals that was grandfathered under the 1976 Toxic Substances Control Act. As a result, no one is required to prove that it's safe before use, and so no one did. Additionally, the plant itself had not been inspected by state or federal regulators since 1991 because, again, there are no requirements for such an inspection at chemical storage facilities under West Virginia law.
So, while clean-up of the spill site goes on and residents continue to wonder about the potential effects of drinking, inhaling or touching the chemicals involved in the spill, one thing is clear. As long as lax regulations remain, companies will continue to knowingly make the same mistakes, over and over again, and never have to pay the price.
Jessica is a former award-winning journalist. She enjoys wild places and dispensing justice, so she considers her job here to be a pretty amazing fit.
Earthjustice's Washington, D.C., office works at the federal level to prevent air and water pollution, combat climate change, and protect natural areas. We also work with communities in the Mid-Atlantic region and elsewhere to address severe local environmental health problems, including exposures to dangerous air contaminants in toxic hot spots, sewage backups and overflows, chemical disasters, and contamination of drinking water. The D.C. office has been in operation since 1978.