New Orleans Community Gains Ground Against a Risky Gas Plant
Residents of New Orleans East are speaking out against a planned gas-fired power plant that would leave the community even more vulnerable to the effects of climate change.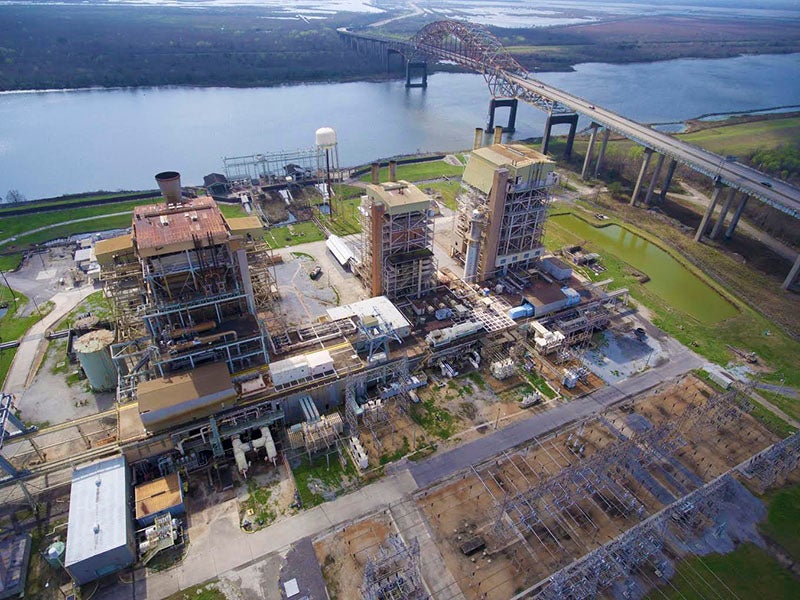 The Trump administration is busy expanding the toxic footprint of the oil and gas industry along the U.S. Gulf Coast. Interior Secretary Ryan Zinke just announced plans to lease 73 million more acres in the gulf for offshore drilling, while the president cheered Exxon Mobil's pledge to invest billions in new refinery projects.
The danger of these plans is crystal clear, especially for coastal Louisiana. The area is experiencing the fastest rate of sea level rise on the planet thanks to the fossil fuel industry's track record of both destroying coastal wetlands and destabilizing our climate.
But hidden behind these grim national headlines is a more hopeful story of one New Orleans community that is gaining ground in its fight to "break the cycle" of fossil fuel injustice.
This past June, when New Orleans-based utility Entergy applied to build a 226 megawatt, $216 million gas-fired power plant in the predominantly African American and Vietnamese American neighborhood of New Orleans East, the company faced immediate resistance from the local community. Consumer, environmental and environmental justice advocates in the city joined the chorus of opposition. 
Residents quickly mobilized against a project that promised to bring toxic air pollution and greater flood risks, while continuing a pattern of systemic environmental racism wherein polluting power plants are almost always built in communities of color.
In New Orleans East, a community devastated by Hurricane Katrina in 2005, flood risks are far from abstract. The neighborhood experiences some of the highest rates of ground sinking, or subsidence, in the city, leaving families with cracked foundations and driveways that are caving in. A NASA study released in May 2016 links the exceptional rate of sinking to groundwater withdrawals by a now-shuttered Entergy gas plant that operated for decades in New Orleans East. Entergy's new plant would be built on roughly the same site as the old one, sucking up more water—and potentially destabilizing nearby levees—while spewing more of the pollution driving climate change, which leads to extreme rainfall, stronger storms and rising seas.
"We are digging a big hole in front of our door and one day, not us, but our children, will fall into it," said Anthony Tran, a parishioner at the local Mary Queen of Vietnam Catholic Church during a packed community meeting in January.
On top of all this, Entergy asked the New Orleans City Council, which must decide if the project is in the public interest, to let the company pass the plant's $216 million price tag onto power customers through higher fees. Public interest advocates, including the Alliance for Affordable Energy, the Sierra Club and the Deep South Center for Environmental Justice, exposed this plan as a potential rip-off. Residents packed hearing rooms to give the city council an "earful" about the proposal.
Earthjustice provided extra legal muscle by representing the Alliance for Affordable Energy in the council proceedings. Expert testimony by Earthjustice and others detailed how Entergy had relied on flimsy assumptions about rising customer demand to justify the plant, while failing to seriously consider energy efficiency programs or solar power as cost-effective alternatives.
Today, Entergy's risky gas plant plan is on the ropes. In mid-February, Entergy asked the New Orleans City Council to pause consideration of its application, admitting that its own forecasts now show demand for electricity will go down, not up. Entergy is taking two to three months to reassess its plan and decide on the next steps.
With the gas plant on hold, city leaders, residents and the utility company have an opportunity to look more closely at the clear benefits of investing in energy efficiency and clean energy alternatives, both for customers' pocketbooks and for the health and safety of coastal neighborhoods.
At a time when Louisiana is making coastal restoration a top priority, Entergy's plan would further jeopardize an area already vulnerable to flooding and unjustly burdened by pollution. The momentum to stop the gas plant shows that people still have power at the state and local levels—regardless of who occupies the Oval Office. We can hold utility companies accountable to the facts and push for the renewable energy solutions that are already well within our grasp.
Susan is a senior attorney with the Clean Energy Program.
Earthjustice's Clean Energy Program uses the power of the law and the strength of partnership to accelerate the transition to 100% clean energy.