New Report Exposes Cleaning Industry's Filthy Truth
When cleaning product manufacturers assure you that product safety is their highest priority, do you ever wonder if their definition of "safe" might differ from yours?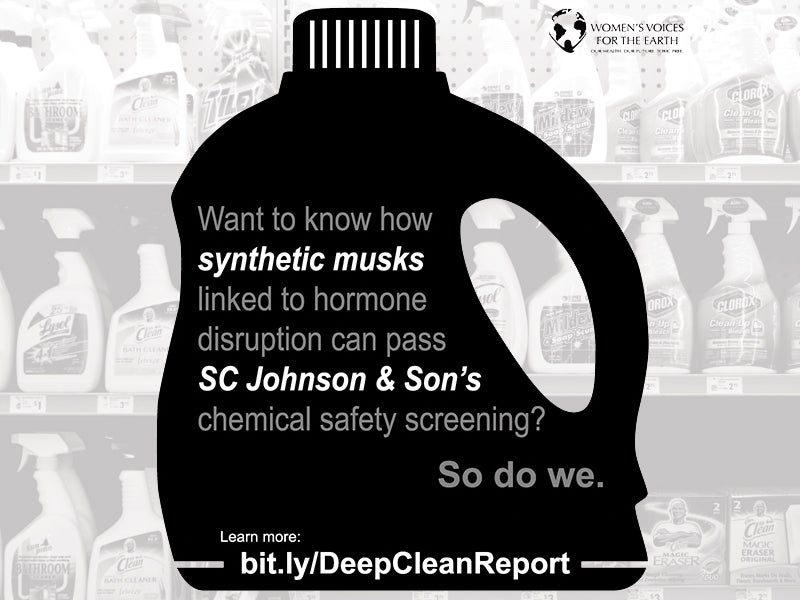 This is a guest post by Sarada Tangirala, National Campaigns Manager at Women's Voices for the Earth.
Women's Voices for the Earth (WVE) has released a new report, entitled "Deep Clean: What the cleaning industry should be doing to protect your health," which exposes how cleaning product companies keep secret how they screen out dangerous chemicals from the products we use in our homes.
The report rates four leading cleaning product manufacturers:
The Clorox Company—makers of Clorox, Pine-Sol, S.O.S., Tilex, Liquid-Plumber, Green Works
Procter & Gamble—makers of Tide, Cascade, Dawn, Mr. Clean, Dreft Laundry, Febreze, Gain, Cheer
RB (formerly Reckitt Benckiser) —makers of Woolite, Lysol, Finish, AirWick, Old English 
SC Johnson & Son, Inc. —makers of Pledge, Shout, Windex, Glade, Scrubbing Bubbles
According to the report, none of the four companies are fully transparent about the criteria included in their ingredient safety standards, making it impossible to compare the quality of any one company's screening process to another. The report reveals that SC Johnson is one of the only major companies still using hormone disrupting synthetic musks, calling into question the integrity of their screening process. SC Johnson's GreenlistTM process, which they hold up as evidence of its product safety, still allows synthetic musks! This begs the question: How exactly do hormone-disrupting chemicals like those even pass muster?
"Consumers are not content to take marketing rhetoric at face value. They want to know how a synthetic musk that's linked to hormone disruption can pass SC Johnson's GreenlistTM," said Erin Switalski, Executive Director at Women's Voices for the Earth. "We need clear insight into how a company determines whether or not a chemical is safe to use in their products."
Little regulation exists in the U.S. to limit or control the use toxic chemicals in consumer products. Until federal and state regulations set safety and transparency standards, it's up to companies to set their own safety standards for products. Since WVE launched its Safe Cleaning Products Initiative, they have taken aim at product safety, ingredient disclosure and eliminating toxic chemicals from cleaning products. As detailed in the Deep Clean report, manufacturers are responding to consumer demands and have made considerable strides towards removing certain toxic chemicals from their products and in publicly disclosing product ingredients for the first time on their websites.
"It's a start," said Switalski. "But transparency is still a huge issue.  Assuring customers that products are 'safe to use' will ring hollow if companies don't also explain what they mean by 'safe'."
In recent years, there has been a sharp rise in consumer demand for green cleaning products. Studies show that consumers, especially women, are spending their money on brands that reflect their concerns for safe products. Amid the increased demand for safe products, consumers are also suspicious of safety claims by major companies. Cleaning product companies must make their internal chemical screening processes much stronger and more transparent.
"Deep Clean provides the clear framework of what we expect – of what consumers expect – an effective screening process to look like," said Alexandra Scranton, WVE's Director of Science and Research. "Critical to this framework is the simple task of publishing a company's safety criteria in a transparent way."
Download the "Deep Clean" report. Then take action to tell SC Johnson it needs to improve its toxic chemical screening process if it wants to regain your trust. 
From 2008–2019, Deborah was the managing attorney of the Northeast regional office, based in New York, where she supervised and conducted legal advocacy and litigation related to fracking, climate change and environmental health.