New Ways to Power the Northwest Would Save Salmon, Add Little Cost
Hydropower interests have indicated that keeping four federal dams on the lower Snake River in Washington involves a choice between clean energy and the survival of wild salmon. A new report shows we can have both.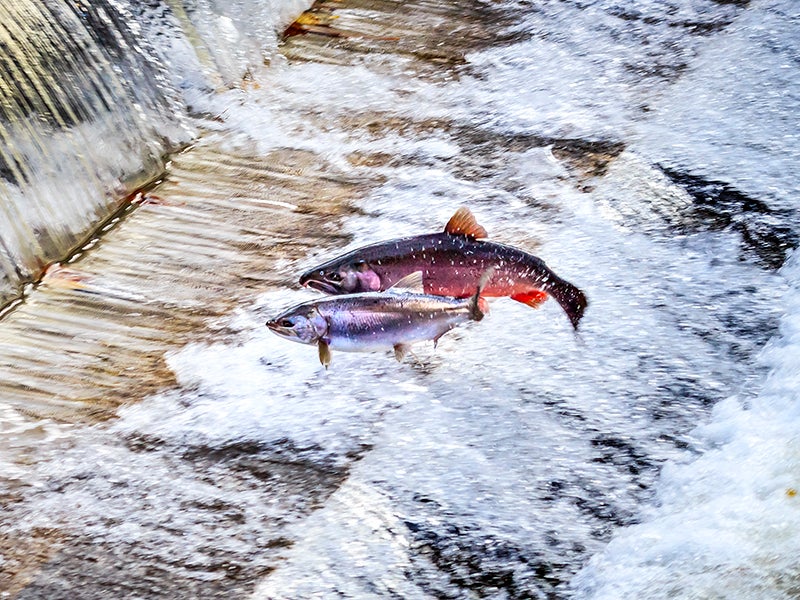 For decades, power providers in the Pacific Northwest have treated wild salmon as a necessary casualty of cheap electricity for the region. The Columbia and Snake rivers, once home to abundant salmon and steelhead runs, have become one of the most dammed and highly regulated river systems in the world—really more a series of flat-water reservoirs than a river. In that time, salmon and steelhead populations have declined 90 percent.
Salmon are an icon of the Northwest, an important part of the ecotourism economy, and a critical food source for other endangered species, like the orca (killer) whale. They also support sport and commercial fishing and are central to the life and culture of Native American Tribes in the Northwest
Scientists have recommended the removal of four dams along the lower Snake River as the single best thing we can do to restore salmon to the Columbia and Snake rivers, but the federal government has instead turned to costly Band-Aid solutions, from gizmos like turbine intake screens to barging baby salmon past dams to more effective measures like habitat restoration—all to the tune of over $15 billion dollars. Not a single species of salmon has recovered, because the government has not taken a serious look at removing the most harmful dams. Meanwhile, salmon are dying as the dams slow the river, causing it to heat up. Baby fish trapped in these reservoirs can't find their way to the ocean to mature and return as adults to spawning grounds in places like the cool, pristine streams in the mountains of Idaho.
Power providers claim high replacement costs and increased reliance on dirty gas-fired plants are the only alternative if the four Lower Snake River Dams are dismantled to save the salmon. Until recently, a lack of concrete data on clean energy alternatives made it hard to prove them wrong. But now a report has demonstrated this dilemma is false: We can have affordable, reliable clean energy and healthy wild salmon populations.
The report was conducted by Energy Strategies, a company with clients that include power producers and governments throughout North America. It was released April 4 by the NorthWest Energy Coalition, a coalition of conservation and consumer advocacy organizations.
Energy Strategies finds that the electricity generated by the four dams can be replaced by a balanced portfolio of renewable energy, efficiency and demand management at a cost of around $1.25 per month—just pennies a day—per household. The true costs to ratepayers would likely be lower, as the study uses very conservative assumptions about the future costs of energy from renewables, and rapidly-evolving technologies for generating and storing renewable energy are lowering their prices.
This price is far less than what Washington voters have indicated they'd be willing to spend to assist salmon recovery. A recent poll shows that more than half of the state's voters would not object to paying an extra $7 a month on their electric bill to restore wild salmon and improve water quality. A majority of voters also said they already support removing the four lower Snake River dams.
According to the study, the resulting energy grid would be more reliable and flexible than the one currently in place. Now, in seasons when hydro generation is low, the current grid is forced to rely more heavily on dirty energy, which is especially concerning as climate change threatens to affect the global distribution of rainfall.
Alone, the conversion to renewables would either have no effect on regional GHG emissions or would cause an increase of at most 1 percent. If these renewable resources are coupled with reduction programs like currently proposed regional carbon pricing policies, the Northwest would actually see a significant reduction in GHG emissions, posing an opportunity instead of a dilemma.
For nearly two decades, conservation and fishing groups have gone to court challenging federal agency plans that have failed to protect threatened and endangered Snake River salmon. During this time, five federal plans have been declared illegal by three federal judges. Residents of the Pacific Northwest have paid dearly for costly dam maintenance and failing salmon restoration projects as the federal government repeatedly failed to propose an adequate plan.
In 2016, a federal court in Portland, Oregon, ordered the government to prepare a new plan to protect Columbia and Snake River salmon, one that specifically studies removal of the four lower Snake River dams. Thanks to the new energy replacement study, we now know we have an opportunity to trade four old salmon-killing dams for new clean energy and give our wild salmon the best chance to make a comeback. Better yet, we can do this, protect the climate—and keep the lights on.
Todd joined Earthjustice in 1987 as one of two attorneys who opened the Northwest regional office. He has handled numerous cases under the federal Endangered Species Act, Clean Water Act, National Environmental Policy Act, and National Forest Management Act as well as the Washington State Shorelines Management Act, Forest Practices Act, and Water Resources Act. Todd has represented clients before the U.S. Supreme Court and federal and state appellate and trial courts.
Established in 1987, Earthjustice's Northwest Regional Office has been at the forefront of many of the most significant legal decisions safeguarding the Pacific Northwest's imperiled species, ancient forests, and waterways.