Oil Spill Gets Santa Barbara Riled—But Not All Are Invited to Protest
As advocates rush to clean areas of coastline affected by the recent oil spill and convince lawmakers to enact stricter protections, many minority and low-income residents are left out of the conversation.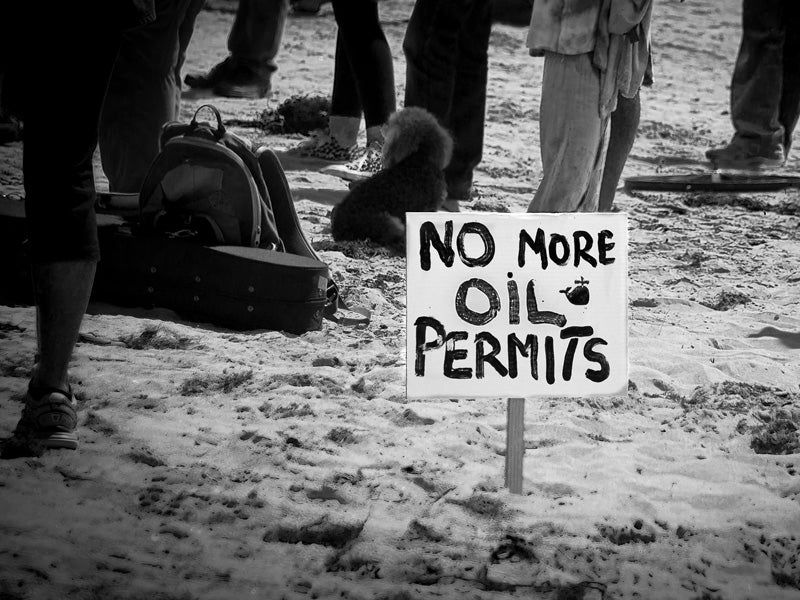 Environmentalism and Santa Barbara, California are pretty much synonymous. It's been that way since the big oil spill in 1969, and Santa Barbara's reputation as a bastion of environmentalism is still going strong.
In the past few weeks, environmentalists in Santa Barbara have been elated by government tactics. It seems that public pressure following the May 19 spill of more than 100,000 gallons of oil—affecting about nine square miles of ocean and shuttering several state beaches—has moved government officials to action. The county denied Exxon emergency permits to truck crude oil; the California attorney general's office has opened a criminal investigation into Plains All American Pipeline L.P., the company responsible for the spill; and the California state Senate and Assembly have created stricter regulatory laws.
However, environmentalists can't rely on catastrophes and outreach efforts in the wealthier enclaves of South Santa Barbara County alone. Too often people of color and low-income communities in the United States pay the highest price for the shortcomings of our environmental policy. And lo and behold, Santa Barbara is no exception.
The response to the oil spill along the coastline has been typical. Rallies on the beach have been organized, petitions circulated, and the press has maintained a steady public discourse. Yet outreach to minority and low-income communities has been mostly absent.
This too is typical, but it may be costing the environmental movement crucial support. For example, in 2014, some cities in North Santa Barbara County voted against a county-wide fracking ban by 80 percent. The ban ultimately failed to pass, but what's important to note is that it failed so miserably in North County, which is predominately made up of Chicanos and low-income families. One reason may be because oil companies extensively messaged in North County, focusing mainly on providing for the family. Conversely, environmental messaging to North County residents was sparse and focused on science.
Santa Barbara and statewide environmental organizations need to rethink their relationship to minority and low-income neighborhoods. Some statewide organizations, such as Food & Water Watch, have come to understand the importance of advocacy in these communities. Yet too few South County environmental groups have actually maintained commitments to advocacy in North County.
With the recent adoption of ward-based elections, local environmentalists should build coalitions with civil rights groups and social justice advocates who best understand the issues of minority and low-income residents. They should also focus on recruiting staff members from diverse backgrounds. After all, the pristine California coastline belongs to all of us, and we should all be part of the discussion about how to protect it from future disasters.
There will be a rally on Wednesday, June 24 at 2:00 PM in Goleta, CA to urge Gov. Brown and the State Lands Commission to reject Venoco's applicationto drill off of Santa Barbara's coast. Click here for more information.
Alex is an undergraduate student at the University of California Santa Barbara and an active member of Santa Barbara's grassroots environmental movement. Prior to attending UCSB, Alex rode a bicycle across the United States from Duck Town, Tennessee to San Francisco, California where he experienced the extent of the country's environmental degradation and inequalities.