One of the Most Important Agencies You've Never Heard of Is Being Taken Over by Trump
Fossil fuel advocate Bernard McNamee is the Trump administration's pick to fill a critical seat on the Federal Energy Regulatory Commission.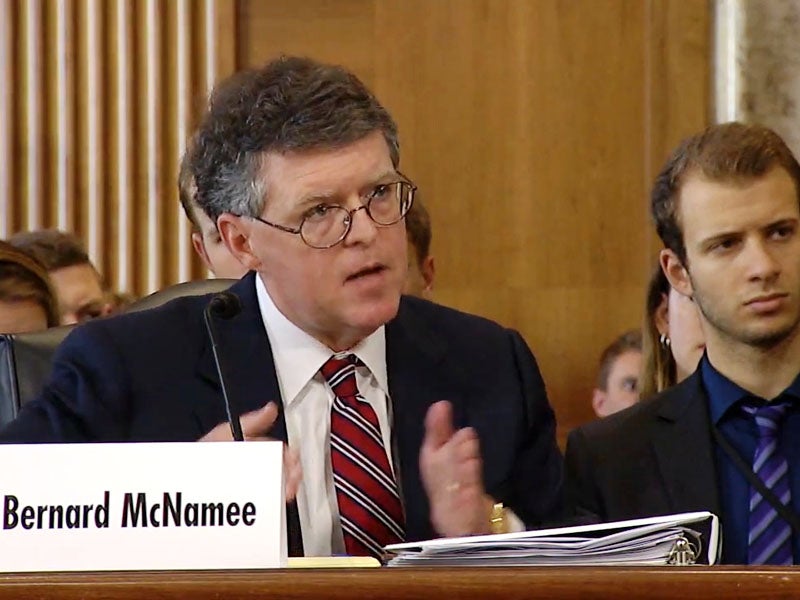 Most Americans probably don't know that an independent — and up to now nonpartisan — government agency has played a key role in our nation's transition to cleaner energy technologies. Under the radar and hidden beneath a layer of technical jargon, the Federal Energy Regulatory Commission (FERC) has shepherded changes to electricity market rules that have gradually allowed the superior economics of clean energy technologies to out-compete clunky, old fossil fueled power plants. And it has done this for decades, under both Democratic and Republican administrations.
Now the Trump administration is poised to tip FERC's balance by appointing a fossil fuel advocate as one of five commissioners — putting all that bipartisan clean energy progress under threat. However, because few people have heard of the important work done by this small, technocratic agency, this potential appointment could move forward without much opposition. This has to change. A healthy, livable climate depends on it.
Bernard McNamee is the Trump administration's pick to fill Robert Powelson's recently vacated seat on FERC. McNamee currently leads the Office of Policy at the Department of Energy, where he helped to roll out Energy Secretary Rick Perry's failed attempt to bail out the coal and nuclear industries.
His resume reads like a who's who in the fossil fuel industry and the far-right political crowd.
McNamee has deep ties to the Texas Public Policy Foundation, the Koch-funded organization that has provided a pipeline of Trump nominees, including the former nominee to the Council For Environmental Quality that even Republicans agreed was unqualified for the job. It was there that McNamee spearheaded "Life: Powered," a project launched by the group in 2015 "to combat the Obama-era Clean Power Plan," according to TPPF's 2017 annual report. He also served as a senior advisor and counsel to Sen. Ted Cruz (R-TX). This past Earth Day, he authored a love letter to fossil fuels that implored Americans to remember how "the responsible use of America's abundant resources of natural gas, oil and coal have dramatically improved the human condition."
By all accounts, he's decidedly political and unabashedly an advocate for dirty energy.
Up to this juncture, FERC's work to keep the grid running at fair rates hasn't been a "red" or "blue" issue. Although FERC's five commissioners are appointed by the president and approved by the Senate, no more than three of its commissioners may belong to the same political party in order to maintain its tradition of careful bipartisanship. Under this bipartisan approach, clean energy progress has marched forward: Year after year, regional grids have hit higher and higher proportions of renewable energy. FERC has eliminated barriers to new energy technologies whether chaired by a "D" or an "R." Even under the initial slate of Trump appointees, FERC unanimously rejected the Trump coal bailout.
That bipartisan tradition now appears to be under threat.
If McNamee were confirmed as a FERC commissioner, Trump would gain a decisive vote on a commission that's currently split 2-2. With critical matters looming ahead on FERC's agenda, this is dangerous. As Executive Director of the Office of Policy at the Department of Energy, McNamee played a central role in an attempt to undermine wholesale energy markets for the benefit of the coal industry — an attempt FERC has blocked to date.
FERC recently issued a ruling that has the potential to undercut state policies that level the playing field for renewable resources. PJM Interconnection runs the nation's largest regional grid, which stretches from Illinois to New Jersey and down to North Carolina. FERC's ruling would effectively block state-supported renewables from participating in one of PJM's electricity markets. The ruling is poorly conceived, and Earthjustice is working to reverse it. FERC could right its own course with a pending case that provides another way for the impacted renewables to receive payment for their services. Without McNamee, FERC's two Democratic commissioners could potentially negotiate a compromise solution that respects state renewable energy programs. However, with McNamee, FERC's fellow Republican commissioners could be swayed toward a hardline position and produce a 3-2 pro-fossil fuel vote.
FERC also is considering a request from a gas-fired power plant in California that could have dangerous implications for the state's recent historic decision to achieve 100 percent clean energy electricity by 2045.
It just so happens that this gas-fired plant, La Paloma in Kern County, was purchased last year by Daniel Andrew Beal, a large donor to Trump's presidential bid who also served as a campaign adviser. La Paloma is asking FERC to order California to put a mandatory capacity market into place — which would explicitly prevent renewable energy sources supported by state policies from earning money in the market. The results would be devastating for a state that has been a pioneer in sourcing its electricity from clean energy. If McNamee were confirmed, it is far more likely that Beal will get his way.
Together with our advocacy partners, Earthjustice is paying close attention to these and other matters that could be threatened by a McNamee confirmation. We will continue to fight to keep politics from getting in the way of progress at FERC. But we need your help. Call your senators today and ask them to oppose the appointment of Bernard McNamee to FERC. Our clean energy future is at stake.
Kim led Earthjustice's work from 2017–2021 to accelerate our transition to 100% clean energy and ensure everyone benefits from a thriving clean energy economy.
Earthjustice's Clean Energy Program uses the power of the law and the strength of partnership to accelerate the transition to 100% clean energy.