Our Nation's Most Endangered River — The Colorado
Unrestrained thirst puts Colorado atop American Rivers' threat list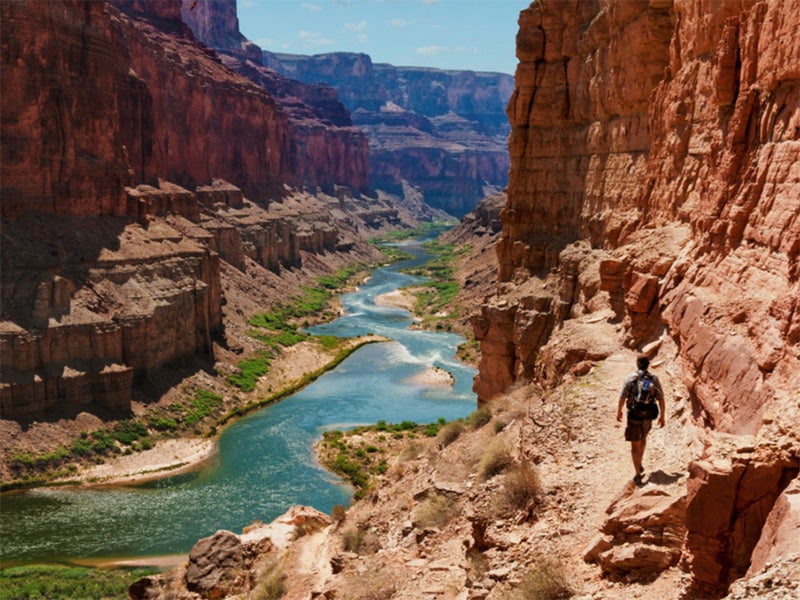 The Colorado River has been called the lifeblood of the west; it defines our geography, sustains our fish and wildlife, feeds and powers our cities. Without it, our lives and heritage would be fundamentally different—which is why Earthjustice and the conservation community have fought for years to preserve and protect this great river.
But, the thirst for Colorado River water is proving too great.
Today, American Rivers, a national river conservation organization, named the Colorado its most endangered river for 2013. This dubious distinction was well earned as decades of damming, diversion and domestication have left the river that carves the Grand Canyon a ghost of its former self.
American Rivers identifies the problem confronting the Colorado as "outdated water management." That means 36 million people, four million acres of irrigated agriculture and a sizable chunk of industrial activity are grabbing what they can from the river. Numerous government agencies and quasi-governmental organizations divide up the available flows with little concern for the river itself and the natural communities that it supports on its long journey.
A first-come, first-served approach is abetted by an extensive set of agreements, treaties and legal decisions, but at the end of the day management of the river remains an engineering task that seeks to wring as much water as possible out of its banks. For many, the Colorado River is nothing more than a water conveyance system, transferring the snow melt of the Rockies to a useful point downstream.
Courtesy of High Country News.
Click to enlarge.
Further, years of readily available and cheap water have lured us into practices that are at best unmindful and at worst wasteful. Often, the least conservative use of water happens in the worst places—we drain the river to bring bluegrass lawns and outdoor swimming pools to arid regions more suited to cactus and rabbit brush. Progress has been made in recent years, especially following the significant droughts of the last decade, but we have a long way to go before we can be seen as being efficient with our water use.
Change is on its way. Rapidly expanding populations throughout the region and the realities of climate change have made it clear to those who control the river that the status quo cannot continue—the river is no longer seen as a limitless supply.
But, the shape of things to come remains an open question. Will we see the coming "water crisis" as an opportunity to fundamentally alter our approach to the Colorado River, seeing it as a living system rather than just plumbing? Or will we just get more effective at draining the lifeblood of the west?
Hopefully, we will have the foresight and political will to seize the opportunity before us and move towards a sustainable future that includes a living river and healthy communities.
American Rivers' listing of the Colorado as most endangered is an opportunity to jumpstart efforts to shift the river management to a better path. Significant efforts already are being launched and there is some progress. The conservation community and others who have not traditionally played a leading role in environmental protection (such as Protect the Flows and Nuestro Rio) are forcefully engaging in the process.
However, we face a long path forward and no guarantee of success and right now there are a river and natural systems to protect. Earthjustice has worked with our clients and partners for many years to keep the Colorado flowing as a healthy river. Our priorities include:
We applaud American Rivers and its partners for their listing today and support the efforts of all those who are working to protect the Colorado River. We will continue to do our part to keep the lifeblood of the west flowing and healthy. McCrystie Adams, attorney in Earthjustice's Rocky Mountain regional office, said:
American Rivers' designation highlights the importance of this once-mighty river and the scale of the threat to its survival. The Colorado has been squeezed to its breaking point and faces an uncertain future.

Despite the risk, though, we can restore this river so that it once again supports resilient habitat for native fish, birds, and other wildlife, and provides for the people and communities who depend upon it. We need to start using water more wisely through common sense and cost-effective conservation and water sharing programs.

The time to dam, divert, and demand more than the Colorado River can give has passed. We do have time to change course and protect this river if we make it a priority and work together.
Follow Doug on Twitter at @dpflugh_ej
Doug Pflugh was the Research Analyst and GIS Coordinator in the Rocky Mountain office until 2014. He worked on a full range of issues confronting the Four Corner states: climate change and energy development, public lands management, and river protection. He is also a great backcountry skier and hiker.
Earthjustice's Rocky Mountain office protects the region's iconic public lands, wildlife species, and precious water resources; defends Tribes and disparately impacted communities fighting to live in a healthy environment; and works to accelerate the region's transition to 100% clean energy.