In a Win for Healthy Air, Washington Won't Burn Toxic PFAS Chemicals
The U.S. government has a dangerous plan to get rid of hazardous "forever chemicals." Earthjustice is on the case to stop them.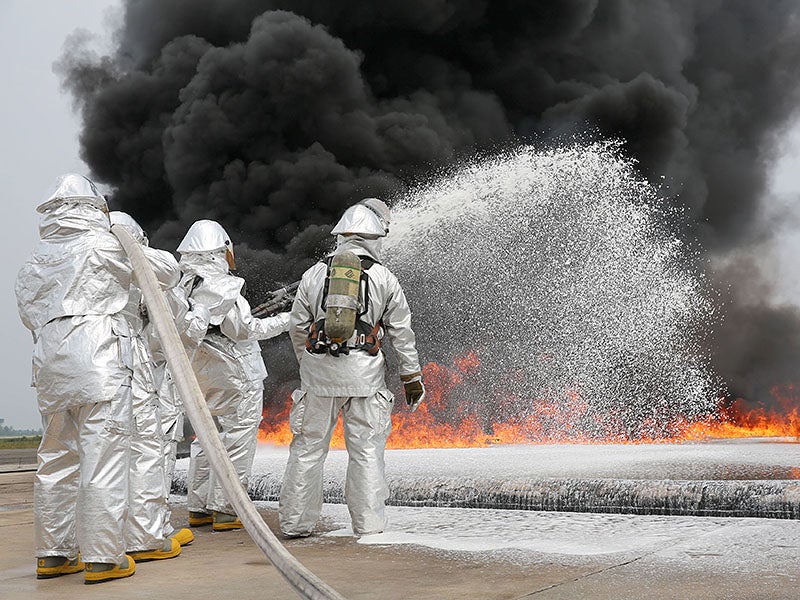 What happens when you try to burn a toxic chemical called PFAS that's designed not to burn? Washington state recently found out: The chemicals don't just disappear — they rise into the air that people nearby have to breathe.
Short for per- and polyfluoroalkyl substances, PFAS are a class of toxic chemicals used to make in everyday consumer goods like personal care products, nonstick cookware, and clothing that "wicks" away water. Sometimes called "forever chemicals" because of their long-term resistance to fire and other environmental forces, PFAS are also active ingredients in firefighting foam used nationwide.
Today, PFAS are so ubiquitous that they can be found in the blood of almost every person in the United States, because drinking water is one of the most common routes of exposure. According to the EPA, exposure to high levels of PFAS has been linked to cancers, weakened immunity, and reproductive problems, among other health harms.
In Washington, regulators were concerned about PFAS contamination found in water supplies around several military bases where PFAS-laced firefighting foam has been used and stored, so they planned to incinerate the state's stockpile. But burning the foam doesn't eliminate its health and environmental risks. Instead, it releases a toxic haze of PFAS and other hazardous chemicals into the air.
Under legal pressure from Earthjustice and partners like Sierra Club, Washington is now re-evaluating this dangerous plan and forcing regulators to assess its environmental impacts. This will be the first ever environmental impact statement done for a state or federal PFAS disposal project — with the results for anyone, including the public and courtroom judges, to see.
In a separate but related lawsuit, Earthjustice is suing the federal government over its own plan to burn PFAS foam, on behalf of national organizations and local impacted communities. These lawsuits are part of a broader effort to reduce toxic chemical exposure, hold polluters accountable, and promote healthier communities.
For decades, the U.S. military has used firefighting foam containing PFAS, which are notoriously fire resistant, in training exercises at hundreds of bases around the world.
PFAS contamination is suspected to affect in the groundwater beneath approximately 600 U.S. military sites and the communities that surround them. The problem has grown so significant that the federal government could no longer ignore it. But the way they chose to address the problem — by incinerating millions of gallons of the nearly un-burnable foam — only makes it worse. Rather than eliminating the threat, burning the foam can spread PFAS and other harmful chemicals into the air.
The Defense Department's plan to burn the foam first came to light in an investigative report by The Intercept. Later, more information came out in a lawsuit filed by Earthjustice on behalf of the Sierra Club and communities surrounding hazardous waste incinerators in East Liverpool, Ohio; Port Arthur, Texas; and the Metro-East region of southwestern Illinois.
As a result of the attention generated by that suit, two of the Defense Department's PFAS incineration contracts have already been cancelled, and legislation banning the practice has been enacted or introduced in multiple states.
While the federal lawsuit played out, Earthjustice turned its attention to Washington, where regulators were proposing to ship PFAS foam to Utah for incineration. However, the state failed to assess the environmental impacts of burning PFAS, which is required by law.
Working with the Sierra Club, Earthjustice submitted comments to the Washington Department of Ecology describing the associated risks and urging the state to conduct a proper environmental review. In 2021, the state agreed to do just that, stating that "public comments raised several issues that led [regulators] to believe the current project involves unique and unknown risks to the environment, as well as downwind communities."
The state's environmental impact statement is underway and is expected to take 12 to 18 months to complete. In the meantime, local fire departments are required to safely store their PFAS foam.
Elsewhere around the country, Earthjustice is pushing for stronger federal legislation to address PFAS contaminationsecuring medical monitoring for communities affected by PFAS contamination. Earthjustice has also petitioned the EPA to close loopholes through which hundreds of new PFAS have been approved.
Tackling this multi-faceted problem requires multi-faceted solutions, not corner-cutting that makes the problem even worse. Earthjustice is demonstrating what this looks like. In New York, for example, Earthjustice advocacy helped achieve a groundbreaking drinking water standard that requires regulators to test for and remove two common PFAS chemicals. A year later, the New York state legislature passed a bill that expands testing for toxic chemicals such as PFAS in drinking water.
With your support, we can eliminate the threat of PFAS in every U.S. community. Tell the EPA you want total protection from PFAS.
Jessica is a former award-winning journalist. She enjoys wild places and dispensing justice, so she considers her job here to be a pretty amazing fit.
Earthjustice's Toxic Exposure & Health Program uses the power of the law to ensure that all people have safe workplaces, neighborhoods, and schools; have access to safe drinking water and food; and live in homes that are free of hazardous chemicals.