Phillips 66 Refineries Are Poisoning Our Communities. We're Ready to Fight Back.
We recently notified Phillips 66 that we intend to sue if its two Southern California refineries keep violating the Clean Air Act.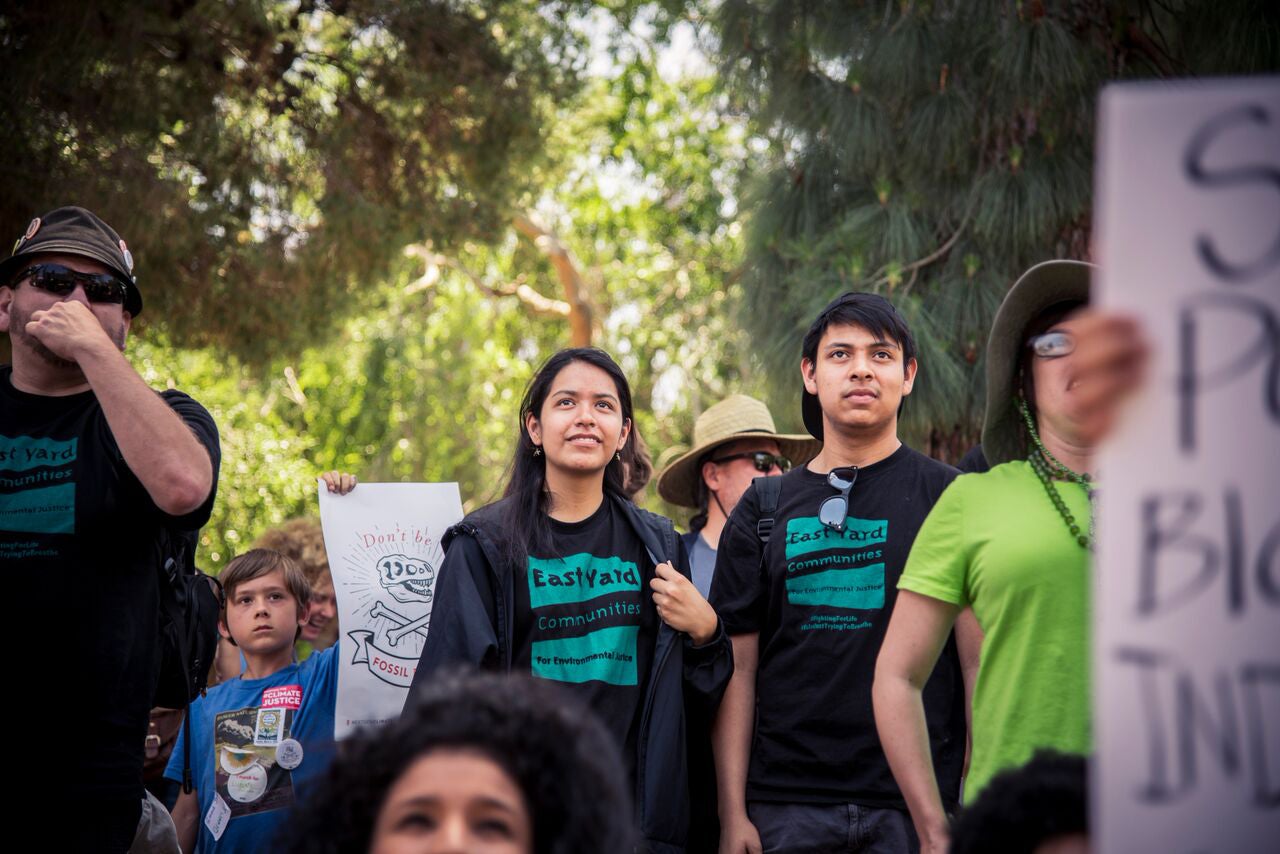 COVID-19 has made life for Southern California's frontline communities even more difficult and dangerous. While families across the region are struggling with shelter-in-place orders, it's especially challenging for those of us living next door to large polluters like petroleum refineries. Multiple studies have found that the polluted air we breathe puts our communities at greater risk for COVID-19. And this risk keeps growing every day that we are trapped in our homes next door to these facilities that have continued spewing poisonous emissions during the pandemic.
While COVID-19 has caused incredible change and upheaval in our communities, the central problem that we experience on a daily basis from the Phillips 66 refineries in Wilmington and Carson remains the same. These refineries, which are just two of the many refineries in our communities, continue to place the burden of breathing pollution on us while making excuses to avoid oversight. The health impacts of this "toxic business as usual" approach are well-known among our families and friends: cancer, respiratory illness, and cardiovascular disease. These devastating health impacts are compounded during the current public health crisis.
That is why Earthjustice and East Yard Communities for Environmental Justice recently notified the U.S. Environmental Protection Agency, the South Coast Air Quality Management District (AQMD), and Phillips 66 that we intend to file a lawsuit against Phillips 66 for its repeated and ongoing violations of the Clean Air Act.
Like others in our communities, we grew up with refineries in our backyards. This normalized the air pollution we experienced every day. We thought it was normal for the air to feel thick when it entered our lungs, that it was normal to struggle to breathe, and that it was normal to experience strange odors and unexplained headaches. That illusion of normalcy changed when we joined East Yard Communities for Environmental Justice. East Yard's mission is to empower residents in East L.A., Southeast L.A., and Long Beach to hold agencies and industries accountable for their actions that affect our health and quality of life. East Yard helped us to understand that no one can speak your truth, only you can. The truth here is that the Phillips 66 refineries are poisoning our communities and we are ready to fight back.
Phillips 66 operates two petroleum refineries in Wilmington and Carson, California – two of the most environmentally-overburdened communities in the country. These two refineries engage in dangerous operations. Just last year, operations at the Phillips 66 refineries caused multiple fires that forced the LA County Fire Department to issue shelter-in-place orders. While these fires grabbed headlines, they only tell part of the story of Phillips 66's disregard for the welfare of our communities. Just as devastating for our health is Phillips 66's repeated and ongoing violations of air pollution laws caused by leaking equipment at its refineries. Such leaking equipment floods our communities every day with toxic emissions that are linked to acute and chronic health conditions.
Equipment leaks are the largest source of toxic emissions at petroleum refineries. Accordingly, the South Coast AQMD, the agency responsible for regulating air quality in the LA region, has developed rules under the Clean Air Act that require refineries to follow procedures to repair their equipment leaks. These procedures are similar to how you would repair a leaking faucet in your home. Step one: find the leak. Step two: repair the leak. Step three: confirm that the leak is repaired. Despite the common-sense nature of these procedures, Phillips 66 regularly fails to find, repair, and confirm that its equipment is not leaking. In fact, in the last five years, Phillips 66 failed to repair leaking equipment at its Southern California refineries over six hundred times. These failures resulted, and continue to result, in the release of uncontrolled and unreported emissions. The air district's own study determined that the Phillips 66 refineries are leaking two hundred times more benzene, a known carcinogen, than they report.
Despite Phillips 66's repeated violations, the South Coast AQMD has failed to hold Phillips 66 accountable. It is now more important than ever that the air district enforce its own rules, and yet the air district continues to give Phillips 66 a free pass to pollute. Requiring Phillips 66 to repair its leaking equipment would significantly reduce refinery emissions and help to protect our communities that already breathe the most polluted air in the country.
If the South Coast AQMD ignores its enforcement responsibility, we are ready to take direct action against Phillips 66. Such direct action is a signal to the air district, Phillips 66, and all of the refineries throughout the region that our communities are prepared to use the full force of the law to fight for the clean air and healthy environments that we deserve.
Kimberly Amaya is a lifelong resident of West Long Beach, California, and an active member of East Yard Communities for Environmental Justice.
Karla Perez is a longtime resident of Carson, California, and a community organizer with East Yard Communities for Environmental Justice.
The California Regional Office fights for the rights of all to a healthy environment regardless of where in the state they live; we fight to protect the magnificent natural spaces and wildlife found in California; and we fight to transition California to a zero-emissions future where cars, trucks, buildings, and power plants run on clean energy, not fossil fuels.