Powered by Transformative Tech
New technology, from solar planes to WaveSpotters, is propelling the world toward a renewable energy revolution.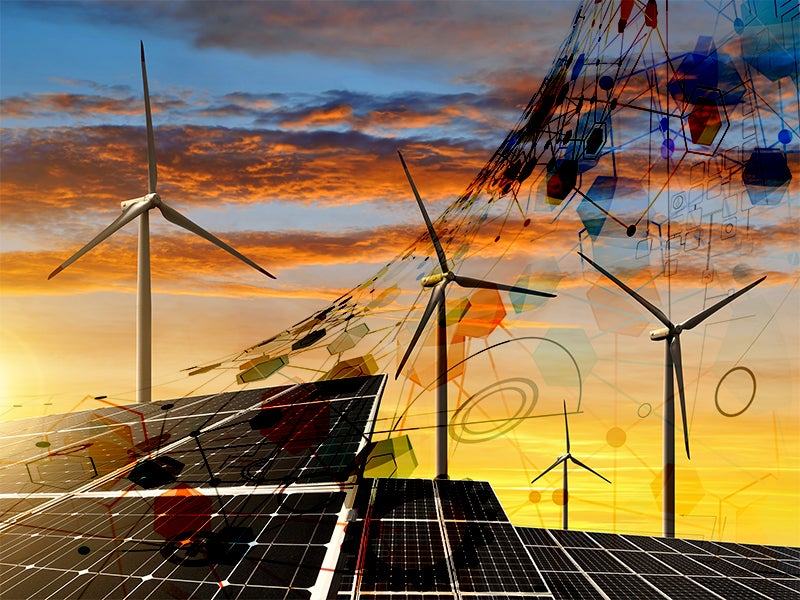 Renewable energy innovation is sweeping the world like an electrical storm. The U.S., Mexico and Canada have pledged to draw half of North America's power from clean energy sources by 2025, and cities around the globe, from San Francisco to Sydney, are working on their own plans to use 100 percent renewable power.
The technology behind these ambitious plans is constantly evolving, and sometimes it's hard to keep up. To help, we've compiled a list of some of the most exciting developments powering us into a fossil-free future.
1. Solar Impulse 2
In 1927, Charles Lindbergh made the first transatlantic flight from Paris to New York, struggling to clear the city's telephone wires during takeoff because his plane was loaded down with fuel. Less than 100 years later, in June 2016, Bertrand Piccard crossed the Atlantic from New York to Seville, Spain, powered only by the sun's rays hitting his plane's 17,000 photovoltaic cells. Soon after, the Solar Impulse 2 completed its around-the-world trip, landing in Abu Dhabi without using a single drop of fossil fuels.
While it will be a few years before we can all travel across the world in solar powered planes—Piccard's flight lasted 71 hours, which would require more in-flight meals than most would care to eat—his success signals what zero-emissions travel might look like in the not-too-distant future. In the meantime, Earthjustice attorney Sarah Burt is working to green today's flights by pushing for standards that limit carbon emissions from U.S. aircraft.
2. Solar powered purification
Four billion people worldwide are in danger of water shortages as temperatures increase around the globe. But a new desalinization machine could transform how entire communities adapt to a warmer world. Using solar power, MIT and Jain Irrigation Systems have developed a way to turn brackish water into pure drinking water, which can also be used for irrigation.
By pulling salt out of the water and then disinfecting it with ultraviolet rays, this solar-powered technology recently won the top Desal Prize from the U.S. Department of the Interior. While desalinization won't solve all of the world's water problems, the system was well-received in rural villages in India and could one day help contribute to water purification advancements in other countries.
3. Liquid metal batteries
Battery technology may not be the first thing that comes to mind when thinking about clean energy, but the ability to store power from renewable sources is a hot topic. President Obama recently announced the first government commitment to developing energy storage capacity, and Earthjustice attorney Will Rostov has been working with the Sierra Club in California to boost the state's renewable energy storage target from 1.3 GW to 4.3 GW by 2026.
Because solar and wind power are variable, storing energy during peak hours on sunny or windy days will allow renewable energy to go mainstream. One potential solution to the storage challenge is to capture renewable energy in inexpensive, customized, grid-scale liquid metal batteries. MIT's Donald Sadoway discusses his battery invention's potential here:
4. The WaveSpotter
While solar and wind are leading in generating renewable power, researchers are also investigating other ways to capture energy. For example, a solar powered buoy known as the "WaveSpotter" can follow and transmit wave motion in real time. Because the buoy is small, lightweight and powered by the sun, the information it transmits could slash wave energy production costs.
In remote places like Alaska where fossil fuels are expensive and oil drilling is dangerous, the ocean's powerful currents have the potential to transform the energy market while also protecting the environment.
5. Solar highways
While speeding down America's iconic Route 66, you might notice a new addition to the road's sizzling pavement: solar panels. Scott and Julie Brusaw of Solar Roadways have been crafting a new panel that can withstand the weight of cars.
The first section of Route 66 undergoing tests is in Missouri, where small modular panels covered in tempered glass subtly dot the pavement. These contain intelligent microprocessors that can communicate with other panels, a control center and even cars on the road. The project may one day spread beyond highways to transform surfaces from basketball courts to parking lots into clean energy avenues.
While Scott and Julie Brusaw and other innovative thinkers are dreaming up the technologies to power our world with 100 percent clean energy, Will Rostov, Sarah Burt and Earthjustice's entire team of clean energy attorneys are building the legal framework to remake our nation's energy grid. We're seizing opportunities to generate energy savings and support the rise of rooftop solar and other clean energy sources around the country. Most recently, our legal work in Hawaiʻi has helped eliminate a threat to the state's commitment to 100 percent renewable energy by 2045. In California, Earthjustice litigation helped land a decision requiring state utilities to meet consumer demand with clean energy first, before using fossil fuel power. And in Maryland, our work has helped push forward a set of proposed policies that will remove barriers to renewable energy under the state's new community solar initiative.
It's time we stop thinking of fossil fuels as an asset and begin fully utilizing clean energy technologies of the 21st century.
Take Action! Support the Clean Power Plan
​
As a communications strategist, Miranda covers Earthjustice's Mid-Pacific and California regional offices. She has campaigned to defend public water resources in North America and is a graduate of the Master's in Global Studies program at the University of California, Santa Barbara where her research focused on climate change.