President Obama Hopes to Put More Green Into the Clean Energy Movement
President Obama's 2016 budget proposal allocates $7.4 billion to fund clean energy technologies.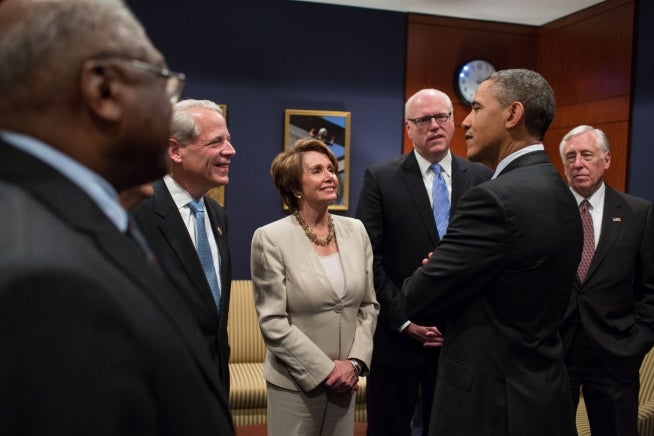 On Monday, President Barack Obama repeated one of the most forceful statements of his State of the Union address while presenting his budget request to Congress, "No challenge poses a greater threat to future generations than climate change."
The President's FY 2016 budget underscores his commitment to tackling the biggest environmental and public health issue facing our nation.  His budget proposal allocates $7.4 billion to fund clean energy technologies. This much needed funding will advance the construction of clean solar and wind energy sites, as well as further the development of carbon capture and storage, geothermal energy and fuel cell technology.
Importantly, the budget also sets aside a $4 billion fund to encourage states to make even larger cuts to carbon pollution from power plants at a faster pace than required. This is part of a 55.6% increase in budget allocated toward the Environmental Protection Agency. Having endured years of budget cuts, the EPA is in need of a funding boost.
Funding cuts over the last several years have impaired the EPA's ability to carry out its responsibility to protect public health and the environment, including our air and water. With increased limits on staff, training, travel and technology, the agency's ability to do its job has been stifled. For example, in 2010 the EPA's clean air programs stripped 410 million pounds of pollutants from the air, but this number fell to 250 million pounds in 2012.
If the EPA's $4 billion fund is passed, states looking to ramp up their clean energy markets will be able to make gains in cutting air pollution that contributes to climate change and health problems like asthma. It will also spur growth of renewable energy, an industry that created nearly 80,000 new jobs in 2013 alone.
A few states like New York, Colorado and California are already embracing these new technologies by implementing clean energy plans that exceed the EPA's minimum requirements.  However, many more states would benefit from this federal incentive to make more serious and urgent reductions in carbon pollution from power plants. Visit our Clean Energy Map to see how your state stacks up in the race for a clean energy future.
President Obama's budget provides crucial backing to advance clean energy, but it will have to go through the crucible of a hostile Congress.  In recent weeks, a majority of U.S. Senators cast votes in declaring that climate change is real.  Now it is the Senate's turn to put its money where its mouth is in and support these common-sense funding proposals the President has put on the table to lead the country to a cleaner, healthier future.
Marty represents Earthjustice on Capitol Hill where he has played a key role since 1995 in blocking attempts to eliminate environmental protections for all National Forests and promoting more protection for pristine forest lands, such as Alaska's Tongass Rainforest and all roadless forests.
Established in 1989, Earthjustice's Policy & Legislation team works with champions in Congress to craft legislation that supports and extends our legal gains.