Senators Put Politics Above People in Obstructing Supreme Court Nominee
In an unprecedented move, Republican senators move further towards the extremist voices within their party by refusing to even consider any nominee from President Obama for the vacant Supreme Court seat. (Spanish language version available.)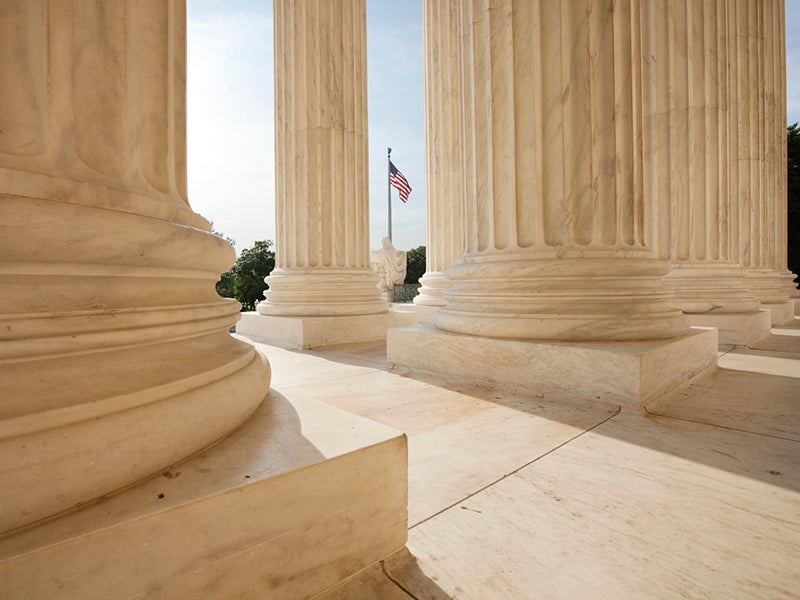 Este blog está disponible en español aquí.
Super Tuesday marks a shift of our national attention to what is for most people the most important political battle, the election of a new president. As our attention shifts, we must not lose track of the most critical presidential battle remaining for our current President—nominating a Supreme Court justice.
The president has a clear right and responsibility under Article 2 of the Constitution to name a qualified nominee to fill the vacant Supreme Court seat. The U.S. Senate has a clear right and responsibility to offer its advice and consent to that nomination.
In every Supreme Court vacancy in the history of our Republic, performing the "advice and consent" role has meant giving genuine consideration to a nominee; evaluating the person's credentials and qualifications, judicial temperament and experience; and deciding whether the individual nominee should be approved.
This has been the case even when a  vacancy has occurred during a presidential election year.
But apparently not this time. This time Senate Republicans are refusing to do their job. They stand to make American history by becoming the first Senate majority to put playing politics above doing their job by refusing to consider any nominee from the president, no matter how qualified the candidate may be.
Within an hour of news of Scalia's death becoming public, Senate President Mitch McConnell released a statement declaring that Republicans would not even consider a nominee from President Obama, insisting that this vacancy should be filled by the next president—even though nearly 11 full months remain in Obama's second term. Republican members of the Senate Judiciary Committee followed with a letter saying they would not hold hearings to consider an Obama nominee—any Obama nominee.
The party in control of the Senate has never before abdicated its constitutional responsibility in such a fashion. It is absolutely and completely unprecedented.
And it is wrong.
As the nation's premier nonprofit environmental law organization, Earthjustice knows the value of our legal system and judicial nominations. We've represented community groups fighting for their right to breathe clean air, to drink clean water and to enjoy wild places and wildlife. We've seen firsthand how these rights can often come down to a single vote from one of the nine justices on the U.S. Supreme Court.
The Senate should not play political games with an institution as vital and important as the U.S. Supreme Court. Nowhere does the Constitution say a duly elected president loses the right to fill a Supreme Court vacancy in the last year of his term.
The New York Times recently highlighted how this issue of unprecedented obstructionism from Republicans is bigger than the Supreme Court when it noted that President Obama has "managed only one appointment" to the regional courts of appeal since Republicans assumed majority in Jan 2015—o ne! The Times further stated that Republican senators are also responding to ideological calls by blocking appointments for appeals court judges.
Our justice system is responsible for some of the most landmark changes of our time. Honorable men and women appointed to judicial positions have presided over decisions that supported a woman's right to choose, equality for marriage and, in our case, essential interpretations of the Clean Air Act for increased public health and environmental protections.
Republicans are following the lead of the most extreme voices in their party, putting politics ahead of their constitutional duty.
Senators are elected to fulfill their constitutional responsibilities. And their responsibility in this situation could not be more clear: They should, in good faith, evaluate the nominee sent them by the president and decide whether that person has the qualifications and temperament necessary to sit on the U.S. Supreme Court.
And then they should allow for a fair hearing—like every other Senate in our history.
Elections have consequences. The election in November 2016 will have its consequences, but right now, our current president is the one vested with the authority and the constitutional responsibility to submit a qualified nominee for the Supreme Court.
President Obama will do his job. Republican senators must do theirs.
Senadores Ponen La Política Por Encima De La Gente Al Obstruir Candidato A Suprema Corte
Super Tuesday marca una transición en la atención nacional a lo que es para la mayoría de las personas la batalla política más importante: la elección de un nuevo presidente. Conforme nuestra atención se desvía hacia otras cosas, no debemos perder de vista que la lucha más importante en lo que queda de la presidencia actual es la nominación de un juez a la Suprema Corte de Justicia de Estados Unidos.
El presidente tiene claramente el derecho y la responsabilidad bajo el Artículo 2 de la Constitución a nominar un candidato calificado a llenar la vacante en la Suprema Corte. El Senado de Estados Unidos tiene el derecho y la responsabilidad de ofrecer su recomendación y consentimiento a esa nominación.
En cada vacante a la Suprema Corte en la historia de nuestra república, el papel de "recomendación y consentimiento" ha significado brindar una genuina consideración a un candidato; evaluar las acreditaciones y calificaciones de la persona, su temperamento judicial y su experiencia; y decidir si el candidato debe ser aprobado.
Así ha ocurrido incluso cuando ha surgido una vacante en años de elecciones presidenciales.
Pero parece que no sucederá así esta vez. En esta ocasión, los Republicanos del Senado se están rehusando a realizar su trabajo. Su intransigencia los va a hacer pasar a la historia como la primera mayoría del Senado que prefirió jugar a la política en vez de hacer su trabajo por negarse a darle una mínima consideración a cualquier candidato propuesto por el presidente, sin importar que tan calificado sea.
A pocas horas de la noticia de la muerte del Magistrado Scalia, el Presidente del Senado Mitch McConnell dio a conocer una declaración en donde avisaba que ni siquiera iban a considerar ningún candidato del Presidente Obama, e insistieron que esta vacante debería ser cubierta por el próximo presidente—aún después de que aun le quedan 11 meses completos a la segunda administración Obama. Los Republicanos miembros del Comité de Asuntos Judiciales del Senado dieron una respuesta en una carta donde decían que no iban a realizar audiencias para examinar al candidato de Obama—cualquier candidato que éste postulara.
El partido en control del Senado nunca había renunciado a realizar sus responsabilidades constitucionales de tal manera. Es algo completa y absolutamente sin precedentes.
Y es un error.
Ser la organización de ley ambiental sin fines de lucro más importante a nivel nacional, permite a Earthjustice conocer el valor de nuestro sistema legal y la importancia de las nominaciones judiciales. Hemos brindado representación legal a grupos comunitarios que han luchado por sus derechos a respirar aire limpio, beber agua limpia y a disfrutar los parajes naturales y la vida silvestre. Hemos visto de primera mano cómo estos derechos a menudo se deciden por un solo voto de cualquiera de los nueve jueces de la Suprema Corte de Justicia de la Nación.
El Senado no debería jugar a la política con una institución tan vital e importante como lo es la Suprema Corte de Justicia de Estados Unidos. En ninguna parte de la Constitución dice que un presidente debidamente electo pierde el derecho a llenar una vacante de la Suprema Corte en el último año de su mandato.
El New York Times recientemente destacó cómo este problema de obstruccionismo sin precedentes por parte de los Republicanos es de mayores dimensiones que lo concerniente a la Suprema Corte cuando señaló que el Presidente Obama ha "apenas logrado un solo nombramiento" a las cortes de apelaciones regionales desde que los Republicanos asumieron la mayoría en enero del 2015. El NYTimes adicionalmente enfatizó que los senadores Republicanos también están respondiendo a llamados basados en ideología cuando obstruyen nombramientos para jueces de las cortes de apelaciones.
Nuestro Sistema de justicia es responsable de realizar algunos de los cambios más importantes de nuestros tiempos. Hombres y mujeres honorables que fueron nombrados a posiciones dentro del sistema jurídico han emitido decisiones que en su tiempo apoyaron el derecho de las mujeres a decidir, igualdad en el matrimonio, y en nuestro caso, brindaron interpretaciones esenciales sobre la Ley del Aire Limpio para aumentar medidas de protección a la salud pública y el medio ambiente.
Los Republicanos están siguiendo la directiva de las voces más extremas de su partido, colocando a la política por delante de su deber constitucional.
Los senadores fueron elegidos para cumplir con sus responsabilidades constitucionales. Y su responsabilidad en esta situación no podría ser más clara: Es su deber actuar de buena fé y evaluar los candidatos que les envíe el presidente y decidir si la persona tiene el perfil y el temperamento necesario para servir en la banca de la Suprema Corte.
Y deben permitir una audiencia imparcial—como cualquier otro Senado a lo largo de nuestra historia.
Las elecciones tienen consecuencias. La elección de noviembre del 2016 tendrá sus consecuencias, pero por ahora, nuestro actual presidente es quien tiene la autoridad y la responsabilidad constitucional de presentar una nominación con la preparación necesaria para realizar su labor en la Suprema Corte.
El Presidente Obama realizará su deber. Los Senadores Republicanos deben realizar el suyo.
Trip Van Noppen served as Earthjustice's president from 2008 until he retired in 2018. A North Carolina native, Trip said of his experience: "Serving as the steward of Earthjustice for the last decade has been the greatest honor of my life."
Established in 1989, Earthjustice's Policy & Legislation team works with champions in Congress to craft legislation that supports and extends our legal gains.