Shell's Battle for Seattle
Conservation groups are challenging the Port of Seattle's decision to make the city a home base for Shell's Arctic drilling fleet without first telling the public or evaluating the environmental risks.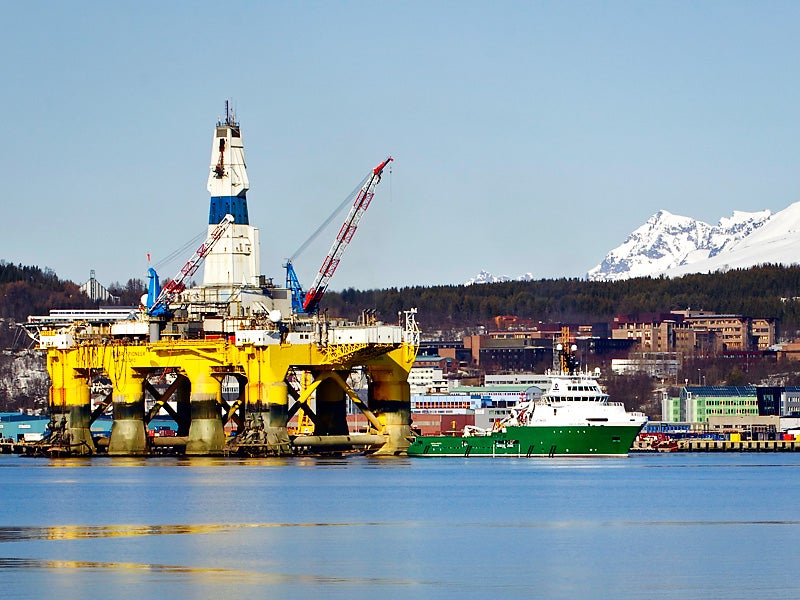 Seattle-area residents are fuming after a back door deal allowing Shell Oil to set up shop in the Emerald City recently came to light, months after it was already set in motion.
To make this deal, the Port of Seattle's commissioners subverted local laws, but the reverberations of this action echo far beyond the city's lights. By serving as a homeport to the oil giant's drilling fleet, under an agreement with Foss Maritime, the port commissioners and city are greasing a path to Arctic drilling. Arctic drilling, in turn, will result in more oil and gas burning, which will then lead to more carbon emissions, which will then lead to eventually frying the planet.
See the problem? This case is proof that one local action can have a very global reaction. 
The Port's entry into the lease with Foss Maritime to open Terminal 5 to Shell's Arctic drilling convoy was made in February without public proceedings or an environmental review.  Not only did the rental agreement violate the Port of Seattle's long-range plans and its shoreline permit, which designate Terminal 5 as a cargo terminal, but it broke state law and the port's own rules.
That's where Earthjustice comes in.
Earthjustice is representing Puget Soundkeeper Alliance, the Sierra Club, Washington Environmental Council and Seattle Audubon Society in a legal fight to vacate the lease. The groups and local residents have pressed the port to rescind the lease and to invest in sustainable jobs that reflect the community's values and air prospective terminal lessees in public.
It's an argument 200 locals made just last week during the Port of Seattle's March 10 meeting as one after another spoke out against the decision to bring Shell into Seattle's backyard.
The city's mayor, Ed Murray, and the Seattle City Council announced just one day prior that Seattle's Department of Planning and Development had begun investigating whether the Port of Seattle violated its shoreline permit and state law in approving a lease for Terminal 5 to be a homeport.
Allowing Shell to use Seattle as a home base puts local waters, salmon and other wildlife at risk from oil and pollutants. In addition, allowing Arctic drilling in the Chukchi Sea endangers the area's whale, seal and polar bear populations, which will endure sound disturbances that can get in the way of their feeding habits and migration. Arctic Ocean oil and gas pose major climate threats, too. Oil development in the Arctic will release black carbon directly onto Arctic ice, significantly accelerating the melting effects of climate change. 
Later this month, the Department of the Interior will announce whether it will reaffirm controversial Bush-era oil leases, after a court-ordered re-analysis of the lease decision showed that opening the Chukchi Sea to oil drilling will have even more dramatic and long-lasting effects and risks than previously disclosed. Shell Oil intends to seek permits to drill as soon as this summer if the lease sale is approved. There's no margin for error in our iconic Alaskan waters as the U.S. Bureau of Ocean Energy Management has already concluded there is a 75 percent risk of one or more large oil spill when these leases are developed.
We're working to protect Seattle's waters, Alaska's wildlife, the Arctic Ocean and our world from a lease that would allow Shell's drill ships to be housed at the port. One of those ships is the Noble Discoverer, which was the focus of eight felony convictions and more than $12 million in fines and community service due to pollution and propulsion issues as well as recordkeeping problems involving the Arctic drillship. The operator of the other drill ship, the Polar Pioneer, paid more than $1.4 billion in criminal and civil fines for its role in the 2010 Macondo oil spill in the Gulf of Mexico.  Both drill ships could come to the Port of Seattle under the terms of the lease with Foss Maritime Company. 
This is a rapidly developing case, so please stay tuned for more information!
Update on 3/20/2015: On Friday, Judge Mariane Spearman ruled that the Port of Seattle case can be heard. Earthjustice, on behalf of a coalition of groups, is asking that the court vacate the Port of Seattle's lease based on violations of the state Environmental Policy Act and the Shoreline Management Act. Please see our press release for the latest details on this case. 
In related news, a new public records release shows an intensive industry and labor lobbying effort to urge the Port of Seattle to enter into the lease. The port lease was made known to industry long before any public disclosure. Read the document.  
Click here to read more about Earthjustice's lawsuit challenging the Port of Seattle's decision to become the homeport for Shell Oil's Arctic drilling fleet. 
From 2014–2016, Betsy was a bilingual press secretary on the Advocacy Communications team.
Established in 1987, Earthjustice's Northwest Regional Office has been at the forefront of many of the most significant legal decisions safeguarding the Pacific Northwest's imperiled species, ancient forests, and waterways.