South Florida's Tourist Season From Hell
Polluted wastewater from Big Sugar and other South Florida agricultural operations is being pumped onto Florida's coast, killing marine life and tourism business.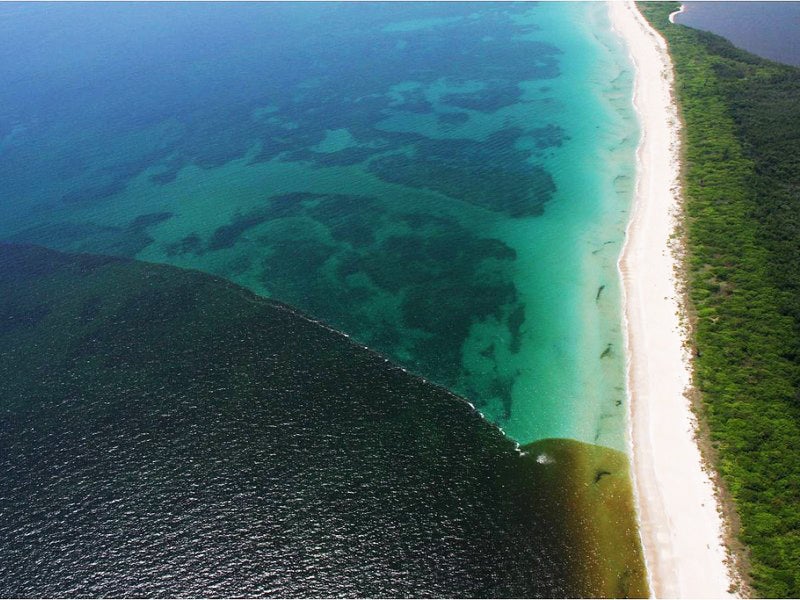 Update: On February 26 Gov. Rick Scott declared a state of emergency in communities hit by the pollution on Florida's east and west coasts, citing "extensive environmental harm" and "severe economic losses" from ongoing discharges of Lake Okeechobee water to the St. Lucie and Caloosahatchee rivers. But so far, businesses say they haven't seen any help.
Some Everglades advocates took out a full-page ad in The New York Times calling out U.S. Sugar Corp. and its owner, the Charles Stewart Mott Foundation, for the pollution that runs off of sugar fields into Lake Okeechobee. Additionally, an article in the Huffington Post compared Florida's water pollution to the poisoned water in Flint, Michigan, where the Mott Foundation is headquartered.
As of this writing, the floodgates from Lake Okeechobee are still discharging polluted water into both the Atlantic and Gulf coasts, as well as towards the Everglades. In its wake, people are reporting dead sea life, unfit water conditions for swimming and fishing, and a rank smell.
"Everybody's very sad. Nobody wants to pick up a fishing rod anymore and go to the water or even let their children play in the water," Steve Graziano, owner of Reel Life Bait and Tackle in Hobe Sound, told CBS 12.
Graziano says he's already seen a 50 percent decline in business.
February and March are the prime times for tourists to come to Florida for a respite from cold winter weather. So imagine the panic that people who run fishing charters, paddle board concessions, beachfront hotels and restaurants are feeling as dark agricultural swill gushes from the state's center to the east and west coasts, killing marine life.
"It's brown, it stinks, it's cold," a tourist from New Mexico told a TV reporter in Fort Myers."It doesn't look very appealing to get into to go swimming in."
The scuzzy water that's wrecking this year's tourist season comes courtesy of Big Sugar and other agricultural operators around Lake Okeechobee, which sits in the state's sparsely populated center roughly between Palm Beach on the east coast and Fort Myers on the west coast. It's America's second biggest freshwater lake in the lower 48, and thanks to ridiculously permissive policies, it's become a private dumping ground for mega-agricultural operations. These corporations pump the public's water from the lake to irrigate their fields, then send the water; polluted with fertilizer and other farm chemicals, back into Lake Okeechobee.
Because heavy winter rains have raised the lake level and the U.S. Army Corps of Engineers dike around the lake is old and weak, South Florida water managers have been releasing some 70,000 gallons of polluted lake water per second into two rivers which lead out to the coasts: the Caloosahatchee, which empties into the Gulf of Mexico, and the St. Lucie, which empties into the Indian River Lagoon and then into the Atlantic.
"I just call it the black curtain because everything on one side is perfectly clear and all the dark water looks like a curtain was pulled on the waterway," Charter Captain Mike Wilson told reporters in Fort Myers.
The pollution has caused outrage so fierce that an angry mob gathered to shout down Florida Agriculture Commissioner Adam Putnam as he arrived at a local Economic Development Council meeting at a high-end resort along the Atlantic beachfront.
Local politicians on both coasts are demanding that Florida Gov. Rick Scott declare a state of emergency to compensate businesses for their losses, and several mayors are traveling to Washington, D.C., to urge Florida's representatives to take action. A throng of people crowded onto a southwest Florida causeway to protest the assault on their Florida way of life.
It is an environmental tragedy that we here at the Earthjustice Florida office have been intimately involved with for decades. For more than two decades, we've been filing lawsuits from various angles to stop this heartbreaking situation from happening.
Ever since water officials opened the flood gates to let the polluted water out of the lake on Jan. 30, people have been sounding the alarm.
"The dead ocean creatures and red tide have had an immediate impact on my business," an innkeeper on Southwest Florida's beautiful Captiva Island told his local NBC station.
"How many people will never come back because of this?" a protester told a WINK TV reporter in Southwest Florida. "Can't go swimming, can't go fishing, boating's gone down the tubes."
"My business has been devastated by this," a commercial fisherman on the St. Lucie River told WPTV.
Feeling the pressure, Gov. Rick Scott asked the U.S. Army Corps of Engineers to break from its usual practices and drain Lake Okeechobee south into the Everglades instead of out to the coasts, and the Corps complied. As you can imagine, that approach is certainly raising serious questions. Remember, American taxpayers are paying billions to clean up the Everglades, and the federal government sued Florida decades ago for failing to keep agriculture's polluted runoff out of Everglades National Park.
The solution has nothing to do with moving the water around. It's about cleaning it up. And that's where Florida and the federal government have continually been falling down on the job. Only a month ago, the state legislature passed a law that eliminates pollution permits for agricultural operations around Lake Okeechobee. You read that right – no permits. Instead, these multinational corporations get to work on the honor system. Agriculture Secretary Putnam was the one who shepherded that sham of a law into being.
We've tried to attack this mess on several fronts over the years. We filed legal actions to stop agricultural operations from pumping their pollution back into the public's lake. We sued the government for using taxpayer-funded pumps to move the pollution around.  We filed legal actions to compel government to set numeric limits on the amount of fertilizer, sewage, and manure allowed in water.  Each of these actions spawned massive backlashes from industry and from government that reached all the way to Washington, D.C., and beyond. We're still in court, attacking the regulatory framework that makes an environmental disaster like this possible.
It's heartening for us to see the citizens rising up, taking their video cameras out to document the damage, holding their leaders to account and joining together to challenge this broken system.
Can it be any plainer that these giveaways to corporate polluters have got to stop? If they don't, Florida's tourist season will be a memory.
David Guest worked at Earthjustice from 1990 to 2016, as the managing attorney of the Florida regional office. His countless legal battles were, in one way or another, all about water. His motivation to protect Florida's water came from years of running boats in the state's rivers and lakes, which convinced him that waterways are many people's spiritual connection to nature.
The Florida regional office wields the power of the law to protect our waterways and biodiversity, promote a just and reliable transition to clean energy, and defend communities disproportionately burdened by pollution.