Spring Cleaning's Dirty Secret
A toxic chemical called galaxolide that's commonly included in household cleaning products has been found to accumulate in our bodies and ecosystems.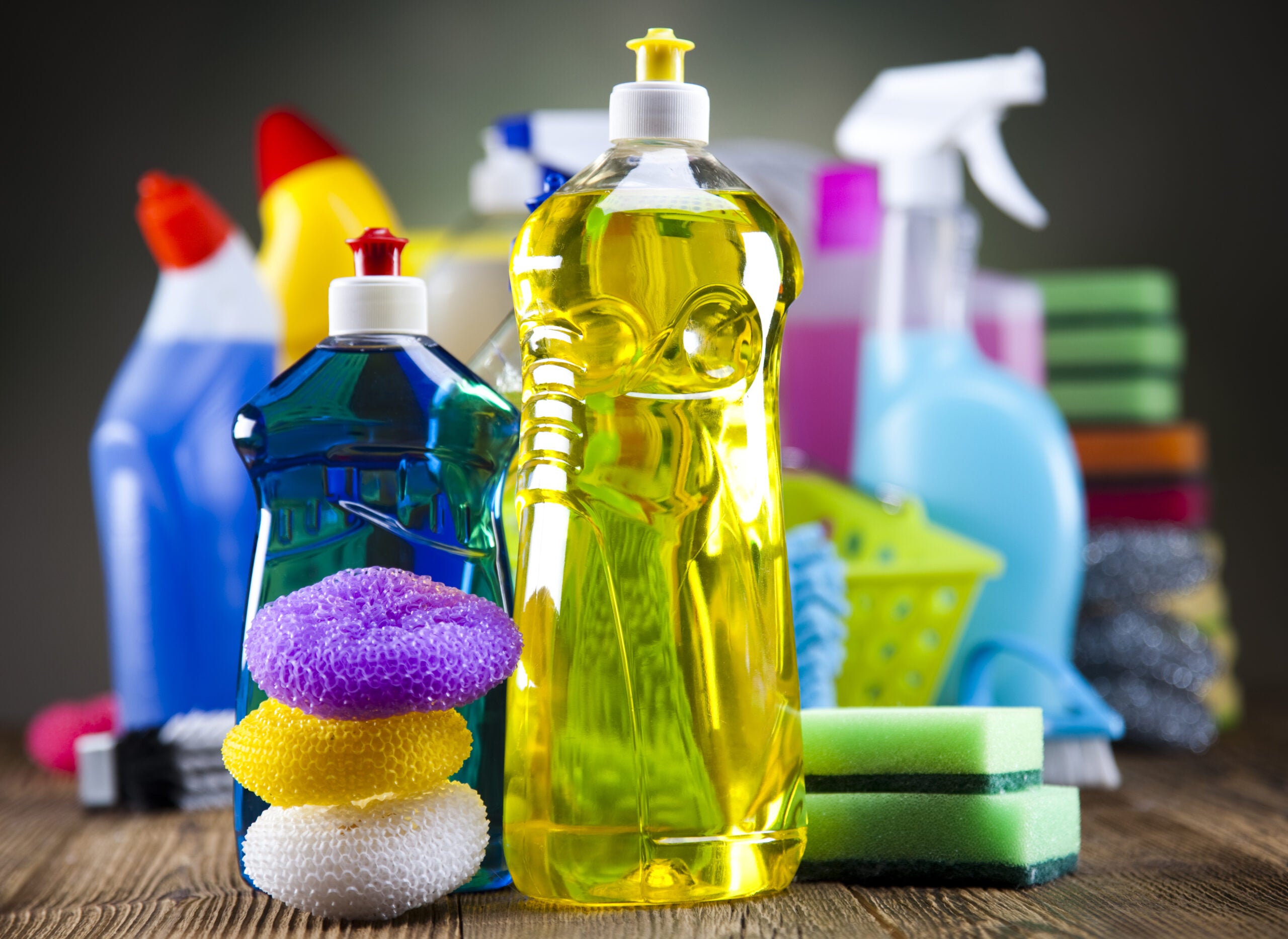 Air freshening sprays often have names like "Joyful Paradise" and "Sparkling Springs" that sound invigorating, but behind the label lurk a slew of toxic chemical ingredients. To create "natural" scents in household cleaning products, manufacturers often rely on the synthetic chemical galaxolide. The nonprofit Women's Voices for the Earth recently released a detailed review of the hazards posed by galaxolide, underscoring its toxicity and ability to accumulate in our bodies and ecosystems. Most notably, the report found rising levels of galaxolide in the Great Lakes.
"Galaxolide doesn't break down easily in the environment; it lingers and builds up in the bodies of animals and people," says Alexandra Scranton, Director of Science and Research at Women's Voices for the Earth. "It is extremely toxic to aquatic animals, which makes it all the more unnerving when we know that this chemical is ending up in our Great Lakes."
Because the EPA often does not adequately test the chemicals sold on the U.S. market, Women's Voices for the Earth and Michigan Clean Water Action shouldered the responsibility of reviewing galaxolide. Women's Voices assessed galaxolide with GreenScreen, an internationally recognized tool for assessing and comparing the hazards of chemicals. Galaxolide received a score of Benchmark 1—a grade assigned to chemicals of highest concern—due to its bioaccumulative properties and aquatic toxicity.
While galaxolide typically enters our bodies directly through inhalation or skin absorption, our exposure also increases as the chemical builds up in the water supply. Products containing galaxolide drain into wastewater, pass unscathed through treatment plants and eventually spill into waterways like the Great Lakes. One study of the Great Lakes tributaries that flow through urban areas found galaxolide in 81 percent of water samples. Another detected galaxolide in 92 percent of water samples from Lake Michigan, and even found concentrations of the chemical in the air above the lake. On Lake Erie and Lake Ontario, a third study found that galaxolide levels in the lake sediment are doubling every eight to 16 years.
Galaxolide's presence in drinking water raises serious concerns about its human health effects. Galaxolide is an endocrine disruptor, meaning that it interferes with hormones and other chemical signals that can result in developmental, reproductive, metabolic, brain and behavior problems. Emerging science indicates that humans accumulate galaxolide in every part of the body. The New York State Department of Health and State University of New York at Albany found galaxolide present in 97 percent of breast milk samples in a 2007 study of new mothers. A 2009 study in Austria detected galaxolide in the blood plasma of 91 percent of participants; those who used scented lotions and perfumes had significantly higher levels of galaxolide than those who did not. Although galaxolide use has been on the decline for years in Europe, use of the chemical has been steadily increasing in the United States over the past 30 years.
In 2009, Earthjustice took Procter & Gamble, Colgate-Palmolive and other household cleaner manufacturing giants to court for refusing to follow New York state regulations requiring them to disclose the chemical ingredients in their products and the health risks they pose. Unlike the rest of the U.S., New York requires that household cleaner companies selling their products in the state file semi-annual reports that list the chemicals contained in their products and describe any company research on these chemicals' health and environmental effects. However, most companies have long ignored the rule, failing to file a single report in the three decades since it was passed in 1985.
"It is a sad day when an environmental agency fails to enforce its own rules," said Deborah Goldberg, managing attorney of Earthjustice's northeast office. "The lawsuit helped the state understand that New Yorkers care about protecting their health from toxic cleaning products."
Since then, the state of New York has been working on a new system for corporate disclosure of chemicals in cleaning products. A coalition of 42 public interest groups applauded the state Department of Environmental Conservation's effort. The coalition urged the agency to specifically require companies to disclose any chemicals that cause nerve damage or hormone disruption. The agency still has not announced when companies will be required to file this information, but says it is committed to making this information easily accessible to consumers.
While the action around this legislation is a step forward, consumers remain largely on their own when it comes to finding products that don't contain galaxolide. Luckily, Women's Voices for the Earth is helping to clear the air by compiling a growing list of products that contain galaxolide for the public. But for now, if consumers want a truly clean house, they might want to stick to using baking soda and fresh air.
A graduate of Wesleyan University with an honors degree in English and environmental studies, Anna was an intern at Earthjustice in San Francisco. She previously interned at Women's Earth Alliance, and managed a half-acre garden and orchard growing produce for a Community Supported Agriculture program.