Statue of Liberty and Other National Sites Besieged by Rising Seas
The federal government says sea level rise caused by climate change could destroy $40 billion worth of national park land and other protected coastal areas.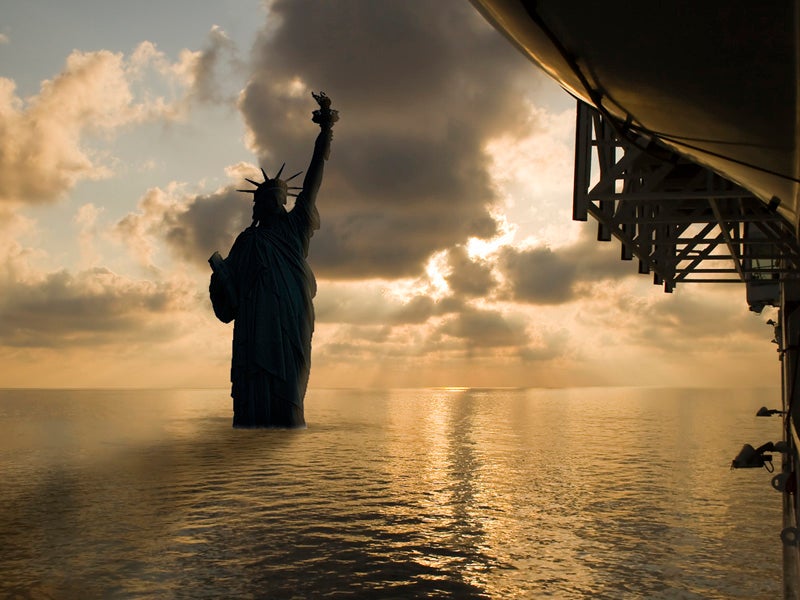 Sea level rise could do a staggering $40 billion in damage to national parks and other cultural sites, according to a report released Tuesday by the Department of the Interior. Coastal parks and monuments like the Statue of Liberty are especially at risk. Watch out, Lady Liberty—we're likely to see nearly three and a half feet of sea level rise in the next 100 to 150 years. That's enough to get your toes wet, pull some coastline underwater and drastically increase the risk of storm damage.
According to the report, the Statue of Liberty is susceptible to $1.5 billion in damage. In California, the Golden Gate National Recreation Area at the Golden Gate Bridge could experience up to $4.9 billion in destruction, while parks in the Southeast could accumulate up to $35 billion in expenses.
These numbers are especially troubling for the Obama administration as it gears up for the second anniversary of the Climate Action Plan rollout. According to a press release by Secretary of the Interior Sally Jewell, "This report underscores the economic importance of cutting carbon pollution and making public lands more resilient to its dangerous impacts."
Climate change and the resulting sea level rise increase severity of storms, tsunamis and rip tides—all driving forces of coastal change. Storms on par with Hurricane Sandy in 2012 will gain horsepower as the ocean gains inches, threatening everyday infrastructure as well as the national parks named in Tuesday's study.
Particularly at risk are low-lying coastal barrier islands, mainland shorelines and rocky coasts where rising water levels can permanently flood or isolate critical habitats. Plus, rising seas can cause saltwater contamination of coastal groundwater and surface waters, including drinking water sources. So aside from being financially problematic, sea level rise also threatens ecosystems and human communities.
Throughout their history, national parks have faced attacks from land, air and now the sea. Earthjustice has been working to fend off these attacks, which come mainly from developers and natural resource seekers. Just this week, The National Parks Conservation Association and other clean air advocates, represented by Earthjustice, reached an agreement with the EPA and the owners of New Mexico's Four Corners Power Plant to reduce the plant's pollution and thereby improve the air in surrounding communities and national parks.
Earthjustice is also currently fighting in court to protect an area adjacent to Glacier National Park from oil development. In this battle, the Blackfeet Headwaters Alliance and the Glacier-Two Medicine Alliance oppose a Louisiana oilman who is threatening an area considered sacred by the Blackfeet Nation of Native Americans.
Air pollution, oil development and now rising tides; our nation's parks are besieged on all sides. It will take a robust defense by environmentalists and all those who love to swim, bike, hike and climb in America's national parks to keep these beloved sites above water.
From 2015–2017, Caeleigh MacNeil was part of the Editorial team at Headquarters in San Francisco. She is a graduate of Duke University, where she studied English, journalism and environmental science.