Supreme Court Case Concerning Amtrak Contains Hidden Twist
On Monday, the Supreme Court will hear a case that may impact Amtrak's on-time performance.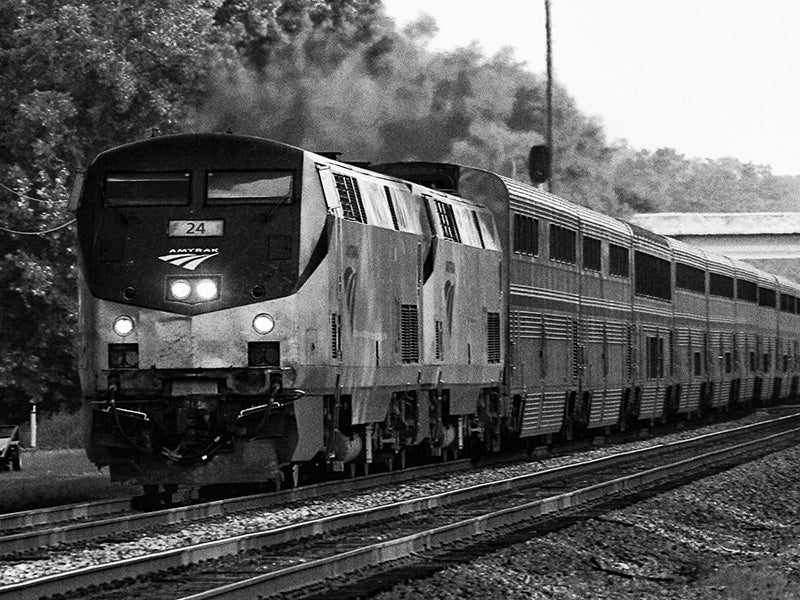 If you love riding the Amtrak as much as U.S. Vice President Joe Biden, you might be intrigued by a case that will be argued in the Supreme Court this Monday. The Association of American Railroads or AAR—a trade association representing the freight railroads—is claiming that Amtrak is inappropriately exercising government power in helping establish metrics to assess whether too many Amtrak trains are arriving late and whether the freight railroads are failing to give preference to passenger trains on the rails they share.
Here's the hidden twist. AAR has long played an insider role in establishing and implementing federal regulatory standards for freight rail safety. AAR's name is peppered throughout federal regulations governing rail safety. The Department of Transportation's regulations explicitly incorporate AAR's manual on tank car design specifications and practices dozens of times. In other words, the voluntary standards established by the rail industry have become the federal tank car standards. And the regulations give AAR the authority to approve tank car and brake designs and quality assurance programs. The regulations go so far as to define "approved" as approved by AAR.
Talk about the pot calling the kettle black. On Monday, AAR will urge the Supreme Court to find that Amtrak is improperly exercising governmental power by working with the Department of Transportation to design the metrics for judging whether passenger trains are arriving on time. The case will turn in part on whether Amtrak is a private or public governmental entity. How would AAR apply its legal arguments to itself? AAR is clearly not a governmental entity. It is a private trade association representing the interests of private railroad corporations.
This is far more than an arcane constitutional question. Under AAR's watchful eye, tank car standards have lagged behind what is needed to protect communities from rail disasters like the derailment in July 2013 in Lac Mégantic, Quebec, which killed 47 people, destroyed the downtown and spilled 1.6 million gallons of oil. All 63 tank cars that spilled oil in Lac Mégantic were DOT-111s tank cars, which the National Transportation Safety Board has found pose "an unacceptable public risk" because they "can almost always be expected to breach in derailments that involve pileups or multiple car-to-car impacts." And Lac Mégantic is only one of many recent crude-by-rail accidents. More oil has spilled in train accidents in 2013 than between 1975 to 2012 combined.
Gross deficiencies in tank car safety regulations have become a crucial regulatory issue. In response to the recent tragedies and weak federal regulations, communities across the nation are calling for a ban on shipping crude in DOT-111s, and the Department of Transportation is poised to approve a phase-out over time of the DOT-111s and to upgrade tank car design standards. For its part, AAR is urging the Department to omit some critical safety features and to slow down the phase-out of the hazardous tank cars.
Back to AAR's lawsuit, AAR claims it is improper, even a due process violation, for a nongovernmental entity to set regulations governing rail operations. Governments, not the regulated industry, it asserts, should be in the driver's seat. The same principles should apply in response to public demands for government accountability in ensuring crude-by-rail safety.
Patti is a senior attorney of the Northwest regional office in Seattle, where she works to fight efforts to turn the Pacific Northwest into a fossil fuel export hub. She also leads Earthjustice's pesticide work and efforts to preserve access to the courts and legal remedies. Her litigation experience includes notable successes in safeguarding the region's old-growth forests, restoring Pacific salmon, and more.
Established in 1987, Earthjustice's Northwest Regional Office has been at the forefront of many of the most significant legal decisions safeguarding the Pacific Northwest's imperiled species, ancient forests, and waterways.