The Time is Now to Join Together on Climate Change
As the Paris climate talks wrap up, now more than ever the world must partner together to combat the climate crisis.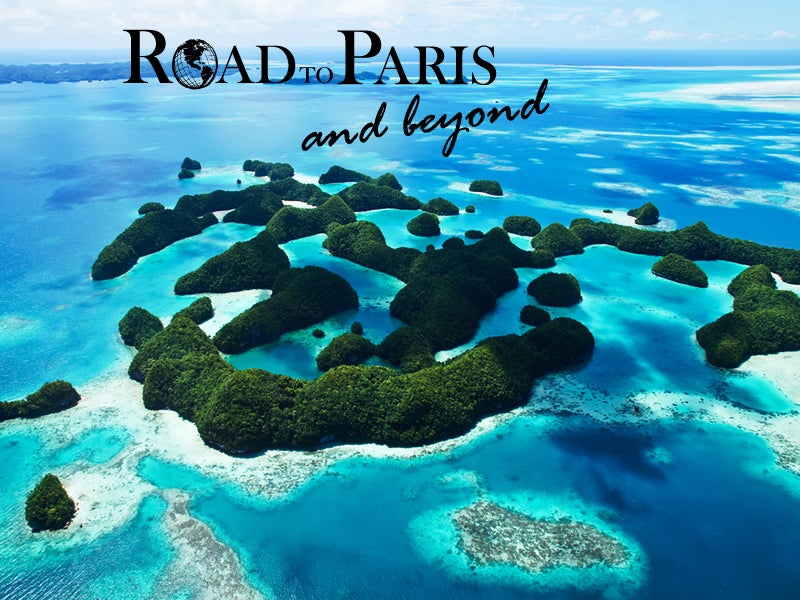 President Remengesau delivered Palau's opening statement at COP21, which can be viewed here. During the COP21 talks, Earthjustice attorney Erika Rosenthal served as Palau's legal advisor.
2015 is a critical year for the planet, and for our collective action to protect our oceans in the face of climate change.  Like all islands, Palau is on the front line of climate change and we need a strong agreement to be adopted here in Paris.
I often say that I'm really a fisherman who has taken time off for public service.  Islanders depend on the oceans for life—our economies, cultures, food security and our very survival.  
Last month, my country took a bold step for our small Pacific island nation and a big leap for climate change and healthy oceans by adopting a law to setting aside 80 percent of our maritime territory—193,000 square miles of ocean—as a no-take marine sanctuary. The remaining 20 percent will be used for domestic fishing to ensure the food security of Palauans now and in the future. 
As we wrap up the last few days of the COP21 climate talks in Paris, we applaud the effort of 183 nations coming forward to join the global effort to combat climate change. Palau has submitted an ambitious national emissions reduction plan—known at the Paris climate conference as an "Intended Nationally Determined Contribution" or INDC—that will put us on track to be a renewable energy leader in the Pacific. Although our emissions are tiny, we are doing our part. Working with our partners, we expect to reduce emissions by half as against "Business As Usual" measurements (in other words, where our emissions would be without strong climate measures) in 2025. 
However, we know that, collectively, the efforts brought forth thus far are not enough to avoid a dangerous level of warming, which would be catastrophic for all vulnerable countries and communities. For that reason, we need the Paris agreement to include a strong long-term goal, a regular review process that drives greater ambition over time starting as soon as possible, robust transparency rules for both action and support, and a permanent loss and damage mechanism to help respond to the unavoidable impacts of climate change.
We must also urgently scale-up pre-2020 climate action. Palau would like to recognize the leadership of Peru and France through the Lima-Paris Action Agenda, which is mobilizing a broad range of stakeholders—beyond national governments—to announce bold climate actions right now.  
The Alliance of Small Island States continues to emphasize the need for more ambitious pre-2020 action to give the world the best chance to avoid dangerous warming. We need all nations to increase their action to reduce emission before 2020 when the Paris agreement comes into force. The solutions are at hand, from renewable energy and energy efficiency, to protecting forests and reducing emissions of short-lived climate pollutants like HFCs and methane. That is why we have also championed the second track here at negotiations, called Workstream 2, to bring countries and all stakeholders together to take greater action now.
Some of the most damaging impacts of climate change for the Pacific will be to the marine environment, which is why Palau is working hard to protect our ocean. Establishing large marine protected areas like the Palau National Marine Sanctuary is critical to allow marine biodiversity to recover and fish stocks to rebound. The protected areas also have great spillover benefits for the region and the world, helping the oceans to maintain their critical function as an effective carbon sink.  With our marine sanctuary, Palau has taken a big step to a healthy ocean that is more resilient to climate change, and can continue serve its critical function as an effective carbon sink.
For both our sanctuary and our INDC, the challenge now is implementation.  Here, we count on partnerships, including with many of those attending the climate talks. For example, enforcing our sanctuary's no-take zone –an area of ocean comparable to the size of France –is an enormous and urgent challenge for us.
For us, our marine sanctuary and our INDC are fundamental parts of living in the pristine paradise we call home. Industrial-scale fishing and smoke stacks have no place in paradise.
COP21 must be a turning point in the fight against climate change. I came to Paris very optimistic that together we can provide realistic strategies for our oceans and climate change—for all people who are affected.  And I am very hopeful that working together we will succeed and deliver an historic Paris agreement – one that will be ambitious, durable and binding and will put the world on the path to the low-carbon, climate-resilient future we need.
We are witnessing a global movement to protect our common future –by nations, business, civil society and citizens around the world– like we have never seen before.  Palau is doing its part for ocean conservation and climate resilience, but we need partnerships – in the truest sense of the word – to help us do more. Join us. 
The Road to Paris and Beyond is a blog series exploring how Earthjustice's climate and energy work will help strengthen the goals to be set by the United States and others during the 2015 United Nations Climate Change Conference in Paris, and the development of the new global climate agreement. The Paris Climate Change Conference (aka "COP21") begins on November 30 and runs until December 11, 2015.
Thomas Esang "Tommy" Remengesau Jr. is the ninth President of the Republic of Palau. He has been elected president four times: first in 2000 and then again in 2004. In 2008 he served as Senator in the Palau National Congress until his election as President again in 2012 followed by re-election to his fourth and present term in 2016.
The International Program partners with organizations and communities around the world to establish, strengthen, and enforce national and international legal protections for the environment and public health.