The history of lead in paint and products is rife with deception – and communities still face the burden of lead lurking in their homes decades later.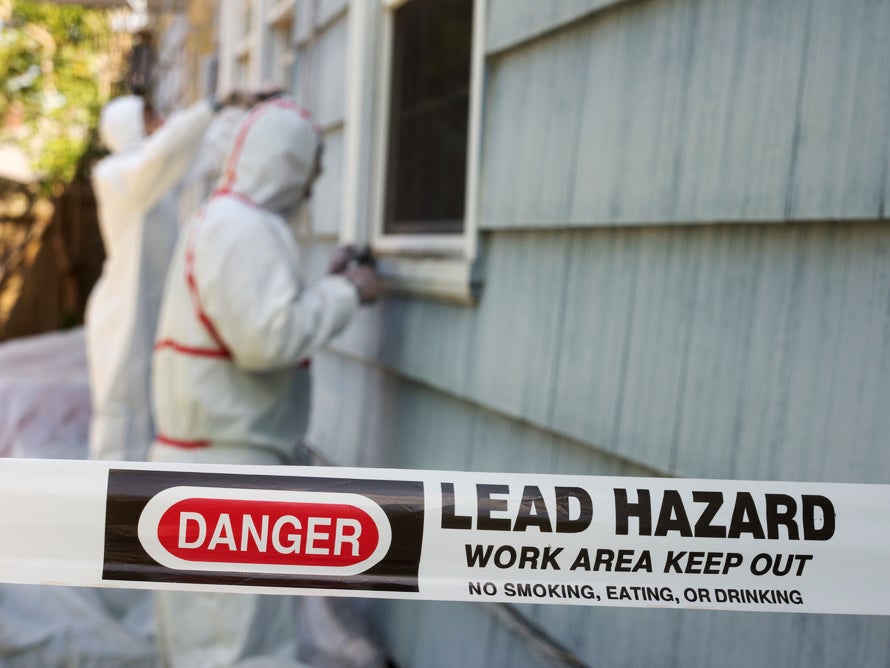 For years, manufacturers of lead products have misled the American public and blamed citizens for lead's destructive health impacts. In 1923, the National Lead Company insisted that "lead helps guard your health," and when allegations of toxicity arose in the 1920s, lead manufacturers claimed that lead-poisoned children were the victims of their careless mothers.  Like the tobacco industry, which marketed its product to children despite warnings from the U.S. surgeon general, the lead industry continued to advertise its products despite evidence of detrimental health effects.  
Manufacturers of lead products misleadingly presented lead poisoning as a personal choice. When the New York City Health Department warned that lead was poisonous to children, companies merely advised parents to avoid lead paint in furniture, toys or small objects that children might put in their mouths. Manufacturers even claimed that the paint didn't pose a danger, instead stating that the problem was the "uneducable Negro and Puerto Rican" parents who "failed" to stop children from placing their fingers and toys in their mouths.
When public health officials attempted to enact regulations for lead in the 1950s, lobbyists persuaded legislators and governors to lift these restrictions. Even worse, the National Lead Company marketed its Dutch Boy lead paint to children by sending them Dutch boy costumes for Halloween. Yet parents were still blamed when their children were poisoned by lead.
In 1978 lead paint was federally banned, but its toxic legacy lives on. Almost four decades later, hundreds of tons of lead paint remain in houses, apartment buildings and workplaces across the United States. Communities of color are disproportionately affected, with black children nearly three times more likely than white children to have highly elevated blood-lead levels that cause the majority of lead-related impacts. Children are the most vulnerable, and they suffer neurological effects when exposed to lower concentrations than adults. Lead poisoning in children can cause learning disabilities, speech impairments, lowered IQ and behavioral problems.
For parents like Shate Cummings, lead poisoning is a harsh reality. Her youngest son was diagnosed with lead poisoning at the age of three, and he now faces challenges like a speech impairment that he's working with a speech therapist to overcome. The source of his poisoning? Lead dust on surfaces throughout the family's home, resulting in alarmingly high levels of lead in her son's blood.
"Families need to know if they live in homes that can poison their children," says Cummings.
"Families need to know if they live in homes that can poison their children," says Cummings.
The lead contamination crises we see flaring up in communities like Flint, East Chicago, Philadelphia and around the former Exide battery plant in Los Angeles are indicative of a larger challenge we face to prevent lead exposure before lead poisons our children. This lead risk map shows the level of risk in neighborhoods in America. It's time for the federal EPA and corresponding national regulatory bodies, such as the U.S. Food and Drug Administration and the U.S. Department of Housing and Urban Development, to create a comprehensive plan to prevent lead exposure in our communities.
Every child deserves a toxin-free environment and a healthy start at life. That's why Earthjustice is suing the EPA for failing to update standards that protect families against lead-based paint and lead dust. The suit, filed on behalf of a coalition of eight organizations from around the country, argues that seven years after EPA granted a 2009 petition to update these standards, the agency has yet to take action.
"We need the EPA to act now to update its standards," says Cummings. Families need to know if they live in homes with lurking lead that can dim their children's bright futures.
From 2015–2017, Caeleigh MacNeil was part of the Editorial team at Headquarters in San Francisco. She is a graduate of Duke University, where she studied English, journalism and environmental science.