These Numbers Show the Danger of Trump's Delay on the Chemical Disaster Rule
A chemical plant disaster after Hurricane Harvey highlights the need for stronger chemical safety rules. But the Trump administration is delaying these critical protections.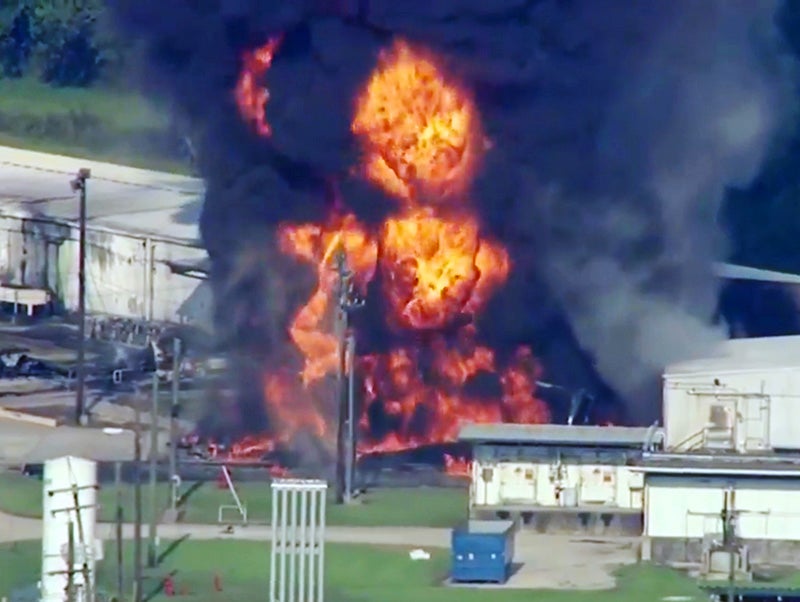 The last thing that a community battling hurricanes and floods should have to worry about is a hazardous chemical release in its neighborhood, but that's exactly what occurred after the Arkema chemical plant outside Houston caught fire following Hurricane Harvey. The Arkema disaster is just the type of situation that the new Chemical Disaster Rule was designed to prevent and mitigate.
The rule would facilitate coordination with local first responders, such as firefighters, to ensure accidents are thoroughly investigated, and ensure that chemical facilities in the industries with the worst accident records consider implementing all available options to improve safety. 
Take Action! Support our partners who have been impacted by the recent natural disasters.
But although the EPA finalized this commonsense rule, after years of sustained advocacy and a series of chemical disasters in 2012 and 2013, the Trump administration then delayed its implementation soon after entering office.
Now, communities in industry-heavy danger zones, as well as first responders, workers and scientists are fighting back, with Earthjustice's help. We're taking the EPA to court to force the agency to put in place these important protections. 
Number of first responders, including police officers and medical personnel, suing the Arkema chemical plant after damage from Hurricane Harvey flooded the plant, triggering several fires. They reported that they "began to fall ill in the middle of the road … unable to breathe."
Number of chemical facilities—including oil refineries, chemical manufacturers and pulp-paper mills—that fall under the new rule, for which Trump's EPA has delayed protection.
Number of chemical accidents from 2004 to 2013 that were reported at hazardous facilities, many of which caused serious consequences for public health and safety and more than $2 billion in property damage. These incidents compelled nearly a half million people to have to shelter in place or evacuate. 
The chemical industry's own data shows an average of more than 200 accidents per year. This includes the fatal fire and explosion at the Tesoro Anacortes refinery in Washington state in 2010; the Chevron refinery fire in Richmond, Calif., in 2012; the fertilizer plant explosion in West, TX, which destroyed homes and a school and killed 15 people, including 12 volunteer first responders; and the chemical fire and explosion at the Williams Olefins  plant in Geismar, Louisiana, in 2013. Accidents like these will likely continue during the proposed delay. 
Number of people killed between 2004 and 2013 in chemical accidents in the U.S.
Number of children in America who attend a school within the vulnerability zone of a hazardous facility—more than 19.6 million children in 48 states. Many of the affected families have no idea that they are at risk since these facilities until this rule have not been required to disclose this safety information to the local community. Nationwide Black, Latino and low-income communities are disproportionately located near oil refineries and other chemical facilities and are more vulnerable to the threats posed by chemical disasters.
Months it took for the Trump administration to side with big polluters and delay this important safety update, first for 3 months, and then for another 20 months. The delays are buying time for Trump's EPA to decide whether to undo these protections altogether. Frontline communities, workers and first-responders cannot afford to wait until at least February 2019, as chemical accidents continue to happen, and that is why we have filed suit.
Find out more about chemical disasters like the Arkema fire and how they can be prevented by the Chemical Safety Rule.
Jessica worked at Earthjustice from 2012–2018. She was based in the Washington, D.C., office, and worked with Earthjustice clients, partners and communities affected by dirty air to increase support for stronger national air standards.
Earthjustice's Washington, D.C., office works at the federal level to prevent air and water pollution, combat climate change, and protect natural areas. We also work with communities in the Mid-Atlantic region and elsewhere to address severe local environmental health problems, including exposures to dangerous air contaminants in toxic hot spots, sewage backups and overflows, chemical disasters, and contamination of drinking water. The D.C. office has been in operation since 1978.