Thirsty Thursdays: Drought News Roundup
Thirsty Thursdays is our bimonthly blog series exploring the historic drought in the western United States.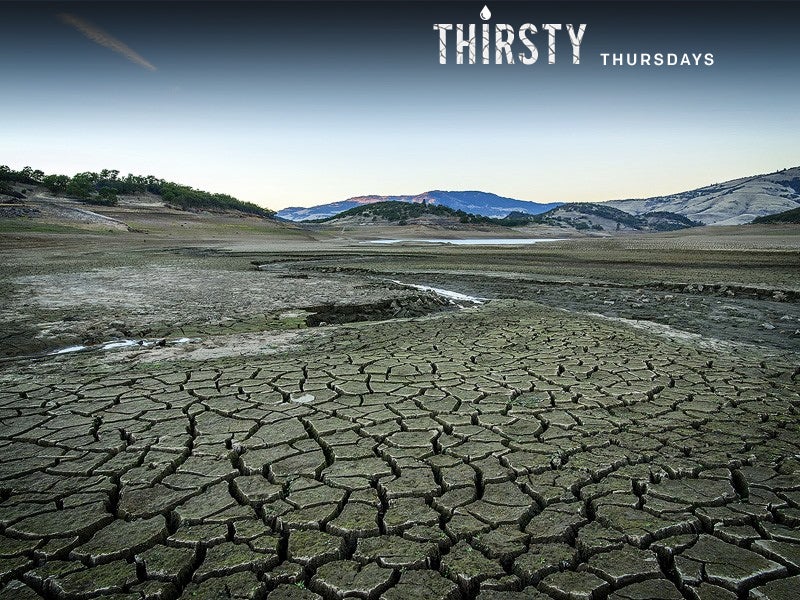 Thirsty Thursdays is a biweekly blog series exploring the historic drought in the western United States. In the ongoing series, we'll share expert opinions, breaking news, compelling articles and the work Earthjustice is doing to protect water resources in a time of extreme water scarcity. Today, we'll take a look at recent news and some of our favorite articles and videos from around the web.  
In California news, Earthjustice is working with environmental and conservation groups to protect the state's limited groundwater amidst extreme water scarcity. On May 14th, we filed a motion to immediately stop the daily and unlawful injection of millions of gallons of oil wastewater into California's protected aquifers. Currently, the agencies responsible for oversight are allowing oil companies to continue injecting fluids until 2017, in violation of state and federal law. Stay tuned for up to date developments as we seek to force California officials to halt the illegal practice now.
For some California communities, water scarcity is nothing new. Susana De Anda, co-executive director and founder of the Community Water Center, who grew up among farmworkers in California's Central Valley, explains how equitable access to clean water has been a struggle for many residents in the state, particularly for low-income and minority communities: "In the Central Valley, a lot of people have arsenic, uranium, and nitrates in their water. You can't even smell it or taste it; you have to be informed that it's in your drinking water. So hardworking families are paying twice for water. Once, for water they can't use, and then again, having to spend up to 10 percent of their household income just on drinking water." Read the full interview and learn what De Anda is doing to encourage equitable access to clean water for all. 
Those following the California drought have likely heard several, sometimes conflicting reports about almonds and the amount of water required to grow them in California's drought-stricken Central Valley. In recent news, almonds have been called everything from the "devil's nut" to the "poster-nut for human wastefulness," and as Mother Jones' Tom Philpott notes, the recent backlash against the water intensive crop has even inspired a backlash of its own. 
So what's the real deal with growing almonds in California? In his response to this backlash, Philpott lays out some of the benefits of growing almonds—mainly that they are nutritious, delicious and hugely profitable for California, while continuing to point out major drawbacks, including almond field expansion instead of reduction, overseas exportation, and how some almond growers are dangerously advocating against water regulation. Read the full article at Mother Jones to learn more.
California's not the only western state feeling the heat. Washington state Governor Jay Islee recently declared a state of emergency for the evergreen state, citing a historically low snowpack, falling river levels, and rising temperatures. Washington Department of Ecology director Maia Bellon explains that "rain amounts have been normal, but snow has been scarce. And we're watching what little snow we have quickly disappear."  Like several counties in Oregon, Washington is experiencing a "wet drought," as winter snows that would have fed a snowpack fell as rain instead. According to Washington state's agricultural department, about 1.2 billion dollars' worth of crops could be lost as a result of the drought this year. State officials are working to mitigate the worst effects of the drought to help farmers, communities and fish survive.
Arizona is also preparing for the worst, as Lake Mead, on the border of Nevada and Arizona, hits record lows and water shortages loom. If Lake Mead's levels drop below 1,075 feet, the U.S. Bureau of Reclamation could declare an official shortage for the first time ever as early as this August. Arizona is first in line to receive water cuts, and in the event of a shortage, the state would receive a 20 percent cut in water in 2016. Due to water allocations, a 20 percent overall reduction would mean that Arizona farmers would receive half the amount of water they currently do. Robert Glennon, a water policy expert at the University of Arizona, says that if Arizona doesn't make changes to prepare for a dramatic shift in water usage now, it will be forced to soon enough: "Pretty dramatic cutbacks could happen relatively quickly. That will bring a new urgency to doing a lot of things." Read more to see who else is affected by a dwindling Lake Mead.
In addition to the serious drought issues states are facing like access to drinking water and growing food, how will drought affect recreational activities like skiing and snowboarding? One group of skiers illustrates what the future could look like in California for snow enthusiasts by skiing down mountains that would normally have snowcapped peaks. The effect is both jaw dropping and wince inducing:
Rebekah Olstad worked in the Communications Department at Earthjustice.