Tipping Point: Will Latinos Follow Pope Francis's Lead on the Environment?
A recent survey shows Latinos overwhelming support the pope's call to defend God's creation, since nearly 80 percent say they are already experiencing the effects of climate change.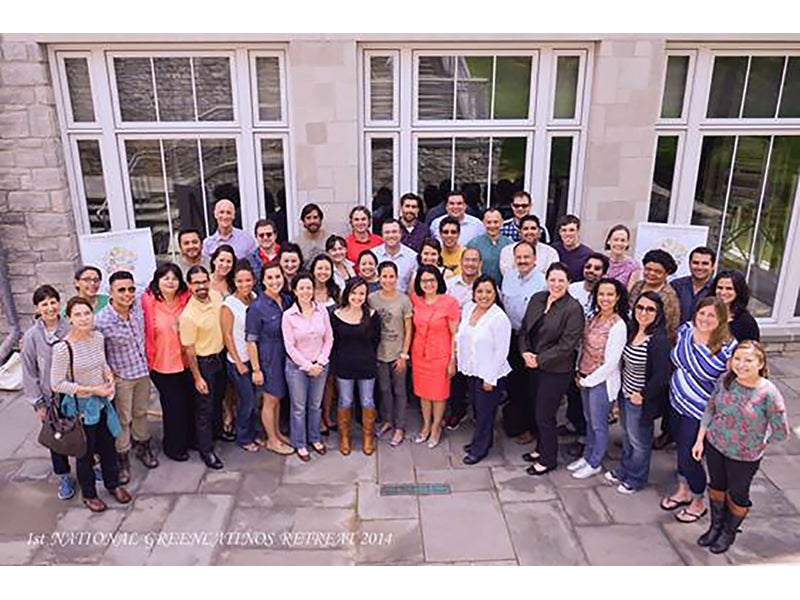 Este blog está disponible en español aquí.
History was made this week. The first-ever address by a pope to Congress filled the National Mall in Washington, D.C., as tens of thousands gathered to watch it be live-broadcast around the world. Pope Francis spoke to our nation's leaders on the moral responsibility for social action. Most notably for my work, the pontiff highlighted his call to defend God's creation set forth in his historic papal encyclical, Laudato Si, released this summer.
In my work with GreenLatinos, I see firsthand how the Latino community is emerging as a powerful ally in protecting our planet and the health of our communities. I, like others in this community, am eager to see if this visit will be the tipping point for Latino engagement on climate change and the environmental movement.
The U.S. Hispanic population now stands at over 54.1 million, making us the nation's second-largest racial or ethnic group. One in six Americans are Latino, and most of us (68 percent) are Catholic—the dominant religious tradition among Latinos. As an Argentinian-born pontiff who frequently communicates in Spanish, Pope Francis has a strong, unique bond with our growing community.
As a group, U.S. Latinos are disproportionately affected by environmental pollution. Almost 40 percent of the U.S. Latino population lives within 30 miles of a power plant. Nearly 80 percent of the Latino voters we surveyed said they are already experiencing the effects of climate change—whether in the form of deadly heat waves, more frequent and intense storms or flooding. 
According to recent polling undertaken by Latino Decisions in partnership with GreenLatinos and Earthjustice, Latinos are especially receptive to the pope's recent call to defend God's creation. The survey found:
Nearly nine out of ten (87 percent) are interested in what Pope Francis has to say about the environment.
More than three-quarters (76 percent) of Latino voters support Pope Francis's theology on environmental conservation.
The pontiff's environmental messages resonate even more with Latinas, immigrants and lower-income Latinos.
Latino concern for the environment matters.
The U.S. Latino population is growing and holds a lot of power to shape the future of our nation. Every 30 seconds, a Latino reaches voting age, and candidates for office at all levels of government are taking note and attempting to court the Latino vote.
The attitudes of U.S. Latinos about the environment are especially relevant to Pope Francis's visit.  Catholicism remains an important source of Latino cultural and political values and many major Latino cultural practices and celebrations include elements of it.
The pontiff's call matters especially for Latino workers that toil in the fields, at outdoor construction sites and on rooftops who will suffer from more heat-related illnesses, heatstroke and even death as the temperatures rise from climate change.
As a proud father of two young children, I understand even better the importance of Pope Francis's call to protect God's creations. It matters to Hispanic families whose children are 40 percent more likely to die from asthma than non-Hispanic whites.
And, I believe, it will matter to the overwhelming majority of Latinos who care about the environment.
As the Latino population grows and Latino voters wield increasing influence, it is important for the environmental community to embrace this natural ally and work to understand our common ground and common concerns.
Pope Francis's visit is a vital opportunity for the world to better understand what our families and communities already know—Latinos care about the environment. More important, it is a tipping point for Latinos to heed this call to action and help shape the future of the environmental movement.
Latinos and the Environment Survey
Latino Decisions in partnership with GreenLatinos and Earthjustice conducted a national survey of Latino registered voters and their attitudes toward the environment. The survey, fielded between June 24 and July 8, is based on a national sample of 1,200 Latino registered voters who were interviewed by landline, cell and online in English and Spanish. The survey was initially released on Aug. 18, 2015. The remaining questions regarding Pope Francis and Latino environmental values are being released in conjunction with the Pontiff's historic visit to the U.S. The survey has a nominal margin-of-error of +/- 2.8 percent. The full survey, including the polling memo and news release, can be found here.
This post is part of a series celebrating Hispanic Heritage Month. Earthjustice is serving as a co-presenter at the 2015 Americas Latino Eco Festival, a multicultural event that aims to unite Latino leaders in the environmental movement. The festival will take place October 15 through 17 in Denver, Colorado.
Punto crítico: ¿Los latinos le seguirán los pasos al papa Francisco en su camino para proteger el medio ambiente?
Esta publicación es de Mark Magaña, autor invitado y presidente y director ejecutivo del grupo GreenLatinos.
Esta semana se hizo historia. Fue la primera vez que un Papa habló ante las cámaras conjuntas del Congreso y llenó el National Mall en Washington, D.C., con cientos de miles de personas que se reunieron ahí para verlo mientras su presentación era transmitida a todo el mundo. El Papa Francisco se dirigió a los líderes de nuestra nación y les pidió responsabilidad moral y que realicen acciones en pro de la sociedad. Su viaje de hecho es muy importante para mi trabajo. El pontífice hizo un llamamiento a defender la creación divina que es parte tan importante de su histórica encíclica papal, Laudato Si, publicada este verano.
En mi trabajo con GreenLatinos, veo de primera mano cómo la comunidad latina está surgiendo como un aliado poderoso en la protección de nuestro planeta y en la salud de nuestras comunidades. Yo, al igual que otros en la comunidad ambientalista, estamos muy interesados en ver si su visita va a ser el punto crucial para lograr el compromiso sobre el cambio climático y el movimiento ambientalista.
La población hispana de Estados Unidos ahora suma más de 54.1 millones de personas, lo cual nos hace el segundo grupo étnico o racial más grande de la nación. Uno de cada seis estadounidenses es latino, y la mayoría de nosotros (68 por ciento) somos católicos—la tradición religiosa dominante entre miembros de nuestra comunidad. Un pontífice nacido en Argentina y que se comunica frecuentemente en español le brinda al Papa Francisco una cercanía especial con nuestra creciente población.
Como grupo, los latinos de Estados Unidos somos afectados por la contaminación ambiental de manera desproporcionada. Casi un 40 por ciento de la población latina de Estados Unidos vive en un radio de 30 millas de una planta generadora de electricidad. Casi 80 por ciento de los votantes latinos que encuestamos dijo que ya están sintiendo los efectos del cambio climático—ya sea por las olas mortales de calor, o por tormentas o inundaciones intensas y más frecuentes.
De acuerdo a un reciente estudio de opinión realizado por Latino Decisions en asociación con GreenLatinos y Earthjustice, los latinos son especialmente receptivos al llamado que el Papa hizo recientemente a defender la Creación de Dios. El sondeo reveló:
Aproximadamente nueve de cada diez (87 por ciento) está interesado en lo que el Papa Francisco tenga que decir sobre el medio ambiente.
Más de tres cuartos (76 por ciento) de los votantes latinos apoyan las creencias teológicas del Papa Francisco sobre la conservación del medio ambiente.
Los mensajes ambientales del Pontífice tienen un eco más fuerte entre las mujeres Latinas, los inmigrantes y los latinos de bajos recursos.
La preocupación de los latinos hacia el medio ambiente sí cuenta.
La población latina de Estados Unidos está creciendo y tiene el poder de conformar el futuro de nuestra nación. Cada 30 segundos, un latino alcanza la edad para votar, y los candidatos a ocupar cargos públicos de todos los niveles de gobierno están poniendo atención y ya empiezan a cortejar al voto latino.
Las actitudes de los latinos de Estados Unidos sobre el medio ambiente son especialmente pertinentes a la visita del Papa Francisco. El catolicismo sigue siendo una fuente importante de valores culturales y políticos para los latinos y muchas de las prácticas y celebraciones latinas incluyen elementos católicos.
El llamado del Pontífice es especialmente importante para los trabajadores latinos que laboran afanosamente en los campos, en sitios de construcción al aire libre y en las azoteas bajo el sol incesante que les causa enfermedades por golpes de calor, e incluso la muerte por las altas temperaturas causadas por el cambio climático.
Como orgulloso padre de dos niños pequeños, entiendo mucho mejor la importancia del exhorto del Papa Francisco a proteger la Creación Divina. Es importante para las familias hispanas, cuyos hijos tienen un 40 por ciento mayor de probabilidades de morir por asma que los niños blancos no-hispanos.
Y, yo creo, que será importante para la inmensa mayoría de los latinos que se preocupan por el medio ambiente.
Conforme la población latina crece y los votantes latinos ejercen más y más influencia, es importante que la comunidad ambiental abrigue a este aliado natural y que trabajemos para entender los intereses y preocupaciones que tenemos en común.
La visita del Papa Francisco es una oportunidad vital para que el mundo entienda lo que nuestras familias y comunidades ya saben: que a los latinos les importa el medio ambiente. Más importante, se trata de un punto crítico para los latinos el hacer caso a esta llamada a tomar acción y contribuir a darle forma al futuro del movimiento ambientalista.
Encuesta de Latinos y el Medio Ambiente
Latino Decisions en colaboración con GreenLatinos y Earthjustice condujo un estudio de las opiniones de votantes latinos registrados y sus actitudes sobre el medio ambiente. La encuesta, realizada entre el 24 de junio y 8 de julio, se basó en una muestra nacional de 1,200 votantes latinos registrados quienes fueron entrevistados por teléfono, celular o en línea en inglés y español. Los resultados del estudio fueron dados a conocer el 18 de agosto del 2015. Las últimas preguntas sobre el Papa Francisco y los valores ambientalistas de los latinos se estarán dando a conocer simultáneamente con la histórica visita del Pontífice a Estados Unidos. El estudio tiene un margen de error nominal de +/- 2.8%. *la encuesta completa, incluyendo las notas de la encuesta y el comunicado de prensa pueden encontrarse aquí.
Esta contribución es parte de una serie que celebra el Mes de la Herencia Hispana. Earthjustice va a servir como co-presentador en el Americas Latino Eco Festival, 2015 un evento multicultural que busca unir a líderes latinos del movimiento ambientalista. El festival se va a llevar a cabo del 15 al 17 de octubre en Denver, Colorado.
Mark Magaña is the President and CEO of GreenLatinos, a national non-profit organization that convenes a broad coalition of Latino leaders committed to addressing national, regional and local environmental, natural resources and conservation issues that significantly affect the health and welfare of the Latino community in the United States.