Trump Threatens to Bring Arctic Offshore Drilling Back from the Dead – and it's Still a Terrible Idea
Here are four reasons why throwing open the door to Arctic Ocean drilling would cause irreparable damage to people and the planet.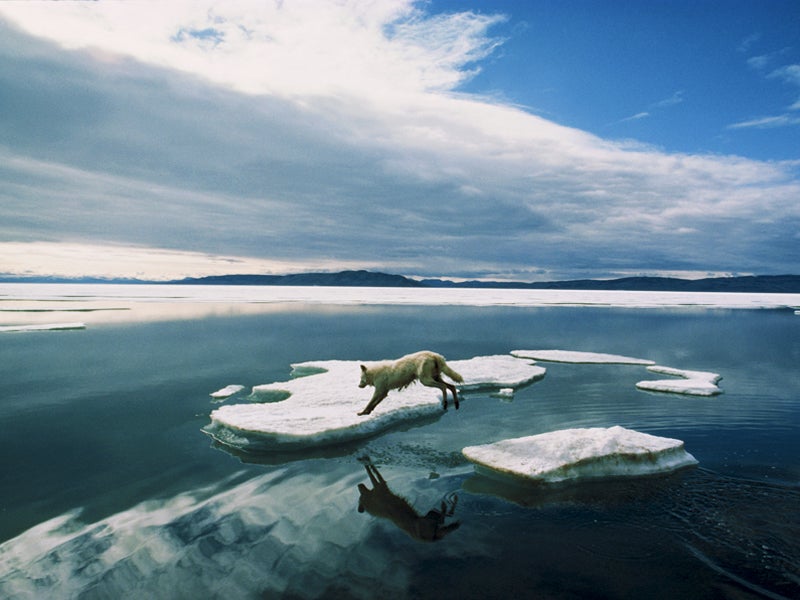 UPDATE: In a lawsuit filed today, Earthjustice is representing a coalition of conservation and Alaska Native groups in a lawsuit against President Trump, challenging his unlawful executive order to jettison a permanent ban on new offshore oil and gas drilling in the Arctic and Atlantic oceans. Trump's executive order, announced on April 28, 2017, could open up more than 120 million acres of ocean territory to the oil and gas industry, affecting 98 percent of federal Arctic Ocean waters and 31 biologically rich deepwater canyons in the Atlantic Ocean. This decision exceeds Trump's constitutional and statutory authority and violates federal law – so Earthjustice will go to court to enforce the law and ensure these seas remain protected for future generations.
It's not worth it. That is the only sane conclusion on whether new leasing should be allowed for oil and gas drilling in the irreplaceable, but remote and inhospitable, Arctic Ocean. Offshore drilling there would disturb an ecosystem unlike any other on Earth, affecting already-threatened wildlife such as polar bears, whales, and walruses. It would also thwart progress on addressing climate change.
In December 2016, citing unacceptable harm to the unique treasures of the Arctic, then-President Obama issued an executive order permanently protecting most of the Arctic and sensitive areas of the Atlantic oceans from offshore drilling. Earthjustice and other environmental organizations, members of Congress, prominent scientists, and hundreds of thousands of people across the country applauded Obama's bold action. Indeed, a poll last year showed that nearly 60 percent of Americans support permanent protection of the Arctic and Atlantic oceans from oil and gas drilling.
Yet President Trump is threatening to throw open the door to Arctic Ocean drilling again.  Here are four reasons why that's a terrible idea.
1. Offshore drilling in the Arctic would be catastrophic for climate change.
Extracting and burning oil and gas reserves from the U.S. portion of the Arctic has the potential to release as much as 15.8 billion tons of carbon dioxide into the global atmosphere. That's the equivalent of nine years' worth of tailpipe emissions from every car and truck on the road nationwide.
Yet the bigger picture on climate is even more staggering. Thanks to decades of study and international scientific consensus, we now know that in order to avert the worst impacts of climate change, global average temperatures must never be allowed to rise above two degrees Celsius. If all known fossil fuel reserves are extracted and burned—let alone additional, undiscovered reserves like those in the Arctic and Atlantic oceans—we'll cross this threshold, and even higher ones, without a doubt. If some fossil fuel supplies are left in the ground, or under the seafloor, there's a better chance of successfully meeting this goal by limiting greenhouse gas emissions. And scientific literature has identified development of Arctic fossil fuel reserves in particular as incompatible with efficiently meeting climate goals.
2. Offshore drilling in the Arctic is extremely dangerous.
The federal government concluded that if just one major lease sale in the Arctic Ocean were developed for oil and gas, there would be a 75% chance of a major oil spill in this sensitive region. The frigid Arctic marine landscape is one of the most hazardous places to drill in the world. Remote, stormy and inaccessible, Arctic conditions would make it nearly impossible for emergency responders to respond adequately to a disaster, such as an oil spill or rig fire.
Shell's exploratory foray into the Arctic in 2012 led to some close calls, highlighting how difficult it is to undertake drilling in the region. In the words of one government regulator, a containment dome—a contraption that acts as a response mechanism for uncontrollable spills—was "crushed like a beer can" during testing. That blunder occurred not in the tumultuous Arctic seas, where rapid changes in weather and sea ice can magnify the difficulty of virtually any operation, but in the placid waters of Puget Sound. Shell also lost control of a drillship, when stormy weather caused it to run aground off the Gulf of Alaska. The vessel ultimately had to be hauled off to Asia to be scrapped.
3. Offshore drilling would leave us addicted to dirty fossil fuel for decades.
With the administration's obsessive emphasis on fossil fuels, federal programs that promote energy efficiency and renewable alternatives are on the chopping block. But gambling on oil and gas reserves in the Arctic Ocean to power our future is folly. Even if discovered and developed without catastrophe, oil would not reach market for at least 15 years, well past the time we must be moving away from fossil fuel to avoid the worst effects of climate change.
Currently there's no infrastructure to support development that would occur dozens of miles offshore, hundreds of miles from the nearest pipeline, and thousands of miles from markets and would require ice-proof ocean technology that hasn't yet been developed or tested. The huge costs associated with the up-front infrastructure development would create strong incentives for industry to keep operating for decades, even after marginal profits have dipped, further locking in fossil fuel use. Arctic Ocean oil is not a wise investment for our future.
4. The Arctic is one of the most vulnerable places on Earth to the immediate effects of climate change.
Scientists have concluded that the Arctic is warming at twice the rate of the rest of the planet, triggering a massive decline in sea ice and snow with potential global effects, according to a recent report. Adding the effects of massive oil industry activity to the mix would further push this region and its wildlife to the edge. Even without spills, drilling introduces noise, air and water pollution into the environment, stressing marine mammals, fish and birds already suffering from climate change.
Local emissions of pollutants in the Arctic, like black carbon, have a much greater effect on climate warming than pollution released elsewhere because soot falling on white ice or snow absorbs more sunlight and causes a higher degree of melting than would otherwise occur. Meanwhile, the soot particles serve to heat up the air, further amplifying warming and sea ice melt. It's all part of a feedback loop that the region—and the planet—can sorely afford.
As the deputy managing attorney of Earthjustice's Alaska regional office, Erik's work focuses on the Arctic, working with conservation and native groups to fend off attempts by oil companies and the federal government to open new offshore oil and gas operations in the Beaufort and Chukchi Seas.