Government Agency Nixes Coal Photo on Public Lands Website After Public Outcry
The Bureau of Land Management pulled a coal photo off of its website after a public outcry, but the agency under President Trump still holds a grim vision for America's public lands.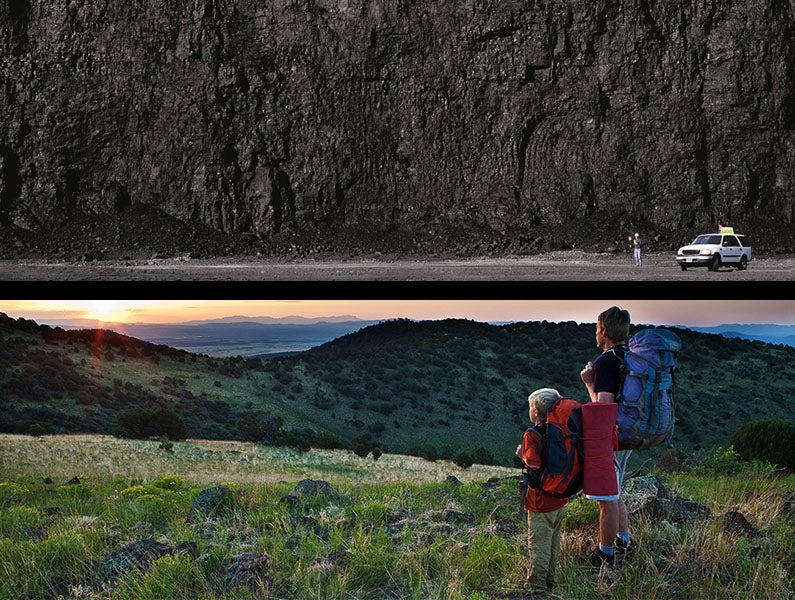 The Trump administration just got a harsh reminder just how strongly Americans feel about protecting public lands. A few days ago, the federal Bureau of Land Management (BLM), which oversees millions acres of public land under the Department of the Interior, swapped its homepage image of a beautiful park to a massive pile of coal at a mine in Wyoming. Everyone from Reuters to NPR picked up the story, and once the word got out, the public didn't react too kindly.
BLM home page goes black as coal – literally. It's not so much "1984" as "1884." Welcome back to the 19th century. https://t.co/govn9YuS3r pic.twitter.com/PeKoLw7P2G

— Hunter Cutting (@HunterCutting) April 6, 2017
In '98 I spent 7 wks on BLM land in WY. This is a cruel joke. THIS is the face of OUR lands? #EPAxRThttps://t.co/s0PLLQ02SL

— deevah76 (@SculDiva) April 7, 2017
Though Trump has been pretty clear that he doesn't value the protection of our nation's lands, the visual reminder about how Trump views our public lands as merely places to drill, mine and extract really hit home for the public. The BLM manages about one-eighth of the land mass of the country. These 240-plus million acres are enjoyed by people from all walks of life—from hikers and mountain bikers to fishermen and river rafters, not to mention countless wildlife species.
After the public outcry, the Trump administration replaced the coal mine image to a man fishing in a river. The move signaled the power of the public to take the Trump administration to task when it goes against our values. After all, no one voted to pollute our public lands, air or drinking water in the last election, yet the Trump administration is making the bidding of powerful polluters a high priority. 
Nevertheless, the coal photo gave a glimpse of the grim vision this administration has for public lands owned by all Americans. On March 28, President Trump issued an executive order directing the Department of Interior to resume giving away tens of thousands of acres of public lands to the coal industry, overturning a coal-leasing moratorium put in place by the Obama administration. Less than 24 hours later, Earthjustice sued the Trump administration for overturning the moratorium on leasing public lands for coal extraction. More than one-tenth of all U.S. greenhouse gas emissions, the pollution driving climate change, come from coal extracted from public lands. And internal Interior Department and independent Government Accountability Office audits have recently concluded that the current leasing system shortchanges taxpayers while subsidizing the coal industry.
The Trump administration's decision to resume federal coal leasing will lock in these wasteful subsidies—in addition to harmful environmental impacts. 
Join us in the fight to protect public lands from a dark and dirty future. 
Jessica is a former award-winning journalist. She enjoys wild places and dispensing justice, so she considers her job here to be a pretty amazing fit.