Trump's Consumer Advocate Nominee Often Fights Consumers
Industry attorney Dana Baiocco is just the latest in a series of Trump picks that put people at the helm of regulatory agencies they have spent their careers attacking.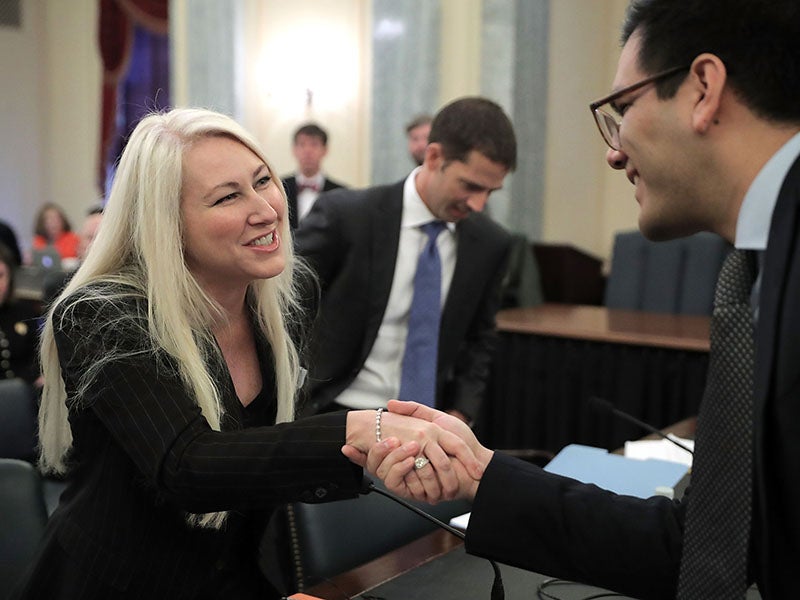 Most people probably don't think or hear much about the Consumer Product Safety Commission—that is, unless their Samsung Galaxy Note 7 ignites or loose blade pieces from their Cuisinart end up chipping their teeth.  
But the commission best known for product recalls plays a far bigger role than many likely realize in ensuring the products we buy don't threaten our health and safety or that of our loved ones. By setting federal regulations, developing safety standards and conducting research into product-related illnesses and injury, the commission serves as one of our strongest bulwarks against unscrupulous corporations and their harmful products.
That's why Trump's recent pick for a spot on the commission, Dana Baiocco, is so alarming. As a partner at the law firm Jones Day, she's devoted her career to defending defective or dangerous products in lawsuits filed on behalf of people either severely injured or killed by these products. Her former client list reads like the who's who of crooked corporations that includes Big Tobacco and Lehman Brothers, and several of the products she's defended have been the subject of the commission's scrutiny.
Given Trump's contempt for government regulations, it's no surprise he picked Baiocco for a seat on the commission. In fact, she's just the latest in a series of Trump appointments that put people at the helm of regulatory agencies they've spent their careers attacking. The current head of the EPA, Scott Pruitt, for example, is a former Oklahoma attorney general who sued the agency 14 times to fight public health protections.
"Putting people in charge of attacking the very agencies they serve on is a chilling reminder of the extent to which the Trump administration is willing to stack the deck on the side of industries, at the expense of public health and safety," says Earthjustice policy advocate Andrea Delgado.
Take Action! Tell your senators: Baiocco should not be confirmed for this crucial public safety role
One of the biggest decisions Baiocco could make as commissioner is whether to implement the commission's recent, groundbreaking decision to call for a ban on an entire class of flame retardants known as organohalogens. These chemicals, which don't protect against most fires and can even make fire smoke more toxic, have been linked to endocrine and thyroid disruption, immune system impacts, reproductive toxicity and cancer. Worse, they're turning up everywhere, from sofas and sperm whales to Tasmanian tree bark, children's toys—and even our own blood.
Because these chemicals are unsafe and they serve no purpose, a broad coalition of people including health, safety, consumer and civil servants, represented by Earthjustice and Consumer Federation of America, petitioned the commission in 2015 to ban them from four categories of consumer products.
Over years of proceedings before the commission, the only people who supported the continued use of these flame retardants were from the chemical industry itself. That's because the commission's steps to ban an entire class of flame retardants, if implemented, could signal a major shift in how chemicals are regulated in this country. For decades, after regulators have banned a harmful chemical, the chemical industry has simply swapped in a different chemical within the same class that often turns out to be just as harmful as the banned version. The commission's ban could put an end to this regulatory whack-a-mole, sending ripple effects across the chemical industry.
First though, the commission's staff must begin working out the details for a full-on ban. If Baiocco is confirmed, the commission will flip to a 3-to-2 Republican majority, making it less likely that the ban will ever come to fruition. In the meantime, consumers are stuck figuring out for themselves whether the mattresses, couches, kids' toys and electronics they buy contain harmful flame retardants—and many products are not labeled.
During Baiocco's hearing on Wednesday with the Senate Commerce, Science and Transportation committee, Senator Richard Blumenthal (D-CT) pressed Baiocco about her previous clients and whether, if appointed, she would be willing to recuse herself from commission matters involving companies that she's represented in the past.
On the question of recusing herself during matters involving one of her past clients, R.J. Reynolds, Baiocco deflected, replying that she didn't "see it being an issue." But as a Chicago Tribune investigation in 2012 has made clear, it is very much an issue, since R.J. Reynolds was among the tobacco companies that pushed regulators to require chemical flame retardants in furniture rather than require the development of fire-safe cigarettes.
These types of concerns are exactly why the Senate should continue to take a close look at Baiocco, demand that she recuse herself from commission matters involving her clients and not rush this nominee forward.
Take Action! Tell your senators: Baiocco should not be confirmed for this crucial public safety role
Jessica is a former award-winning journalist. She enjoys wild places and dispensing justice, so she considers her job here to be a pretty amazing fit.
Established in 2008, Earthjustice's Northeast Office, located in New York City, is at the forefront of issues at the intersection of energy, environmental health, and social justice.
Established in 1989, Earthjustice's Policy & Legislation team works with champions in Congress to craft legislation that supports and extends our legal gains.