Trump's Monumental Deception Unravels
Thousands of pages of Interior Department documents show that mining and drilling interests were at the center of Trump's attack on national monuments.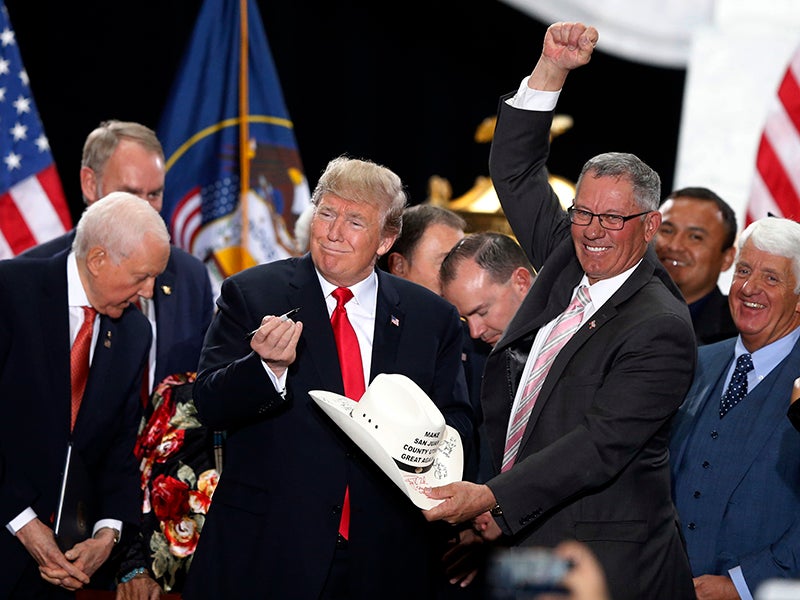 A version of this piece originally appeared as an op-ed in The Hill.
The Trump administration and Utah lawmakers have spun a web of deception around the role oil and mining interests have played in public lands decisions. To hear Interior Secretary Ryan Zinke tell it, the administration decided to gut two national monuments in Utah earlier this year for no other reason but to strike an ideological blow against federal overreach in protecting the nation's public lands.
"This is not about energy. There is no oil and gas assets [sic]," Zinke claimed the day after President Trump  signed the largest rollback of federal lands protections in the nation's history.
But the Trump team's deceptive web is unraveling fast.
Thousands of pages of Interior Department documents now reveal how mining and drilling interests were indeed at the center of Trump's attack on national monuments. Among the documents is a series of maps submitted to the Interior Department by Sen. Orrin Hatch in March 2017, a month before Interior Secretary Ryan Zinke began his monument review. Hatch recommended that stripping monument protections from the lands in the map would "resolve all known mineral conflicts." When Trump flew to Salt Lake City to gut Grand Staircase and Bears Ears, his maps were nearly identical to Hatch's. Indeed, Trump indicated at the outset he was going after the monuments in Hatch's honor.
The documents also reveal compelling letters from the Native American tribes, conservation groups, and outdoor recreation voices calling on the Trump administration to keep these monuments intact. An internal report of a May 14 meeting between Zinke and tribal representatives noted that tribal leaders provided "inconvenient" information about the importance of Bears Ears, which have revered the area for eons for its sacred sites, burial grounds, and ceremonial sites. 
In the end, the pleas of monument advocates, along with the overwhelming support expressed in nearly 3 million public comments, could not counter the powerful influence that the mining and drilling industry have over the Trump administration.
Utah has a long and successful history with monuments. The towering cliffs of Zion National Park were first protected by President Taft as a monument in 1909. In fact, four of Utah's five iconic national parks were first protected as national monuments. Yet Utah politicians continue to oppose protecting magnificent public lands in the state. In doing so, they are clearly shooting themselves in the foot, attacking the very foundation of Utah's $12 billion outdoor recreation and tourism industry and the 110,000 Utah jobs it generates. By comparison, Utah's floundering coal mining industry employs a mere 2 percent of that number.
After these chilling revelations, more deceptions about the real motives behind the monument attacks came to light, and this time at the state level. An eye-opening investigation by the Western Values Project reveals that Utah state Rep. Mike Noel has owned 40 acres of land within Grand Staircase-Escalante National Monument's boundaries while at the same time advocating against protecting the monument. His parcel was carved out of the monument in President Trump's new map. He also owns ranchland near the monument's boundaries. All of this was held in the name of a company he failed to disclose on conflict of interest forms. In total, the lands owned by this company are estimated to be worth a hefty $1.29 million.
This is the state representative who also sponsored a muzzle bill barring local Utah officials from voicing support for national monuments and introduced a resolution in the Utah legislature asking the president to shrink Grand Staircase. Lately, he's been angling to lead the Bureau of Land Management, which would put the fate of iconic public lands and wilderness across the country in his pro-drilling hands.
Rep. Noel's constituents — and all of us — had a right to know of his personal interest in paring the monument.
And what about our interests?
Bears Ears and Grand Staircase contain priceless cultural and wilderness riches that are the very definition of what the Antiquities Act was designed to protect. This sandstone landscape is undeniably valuable and beautiful — and it belongs to all of us. Efforts to convince the federal government to preserve Bears Ears date to the 1930s.
Our national monuments were never meant to be held hostage by self-interested politicians. Their treasures are the birthright of generations of Americans, offering us a window into the past and holding our wild heritage into the future. Now, it's up to Congress and the courts to protect what should have always been protected. 
Tracy was part of the Policy & Legislation team in Washington, D.C., from 2016–2018. Her work covered public lands—including national monuments, national forests, national parks—and hardrock mining issues.
Established in 1989, Earthjustice's Policy & Legislation team works with champions in Congress to craft legislation that supports and extends our legal gains.