Trump's Insurrection Shows We Must Strengthen Protection of Our Democracy
Congress must immediately remove Trump from the office of the presidency.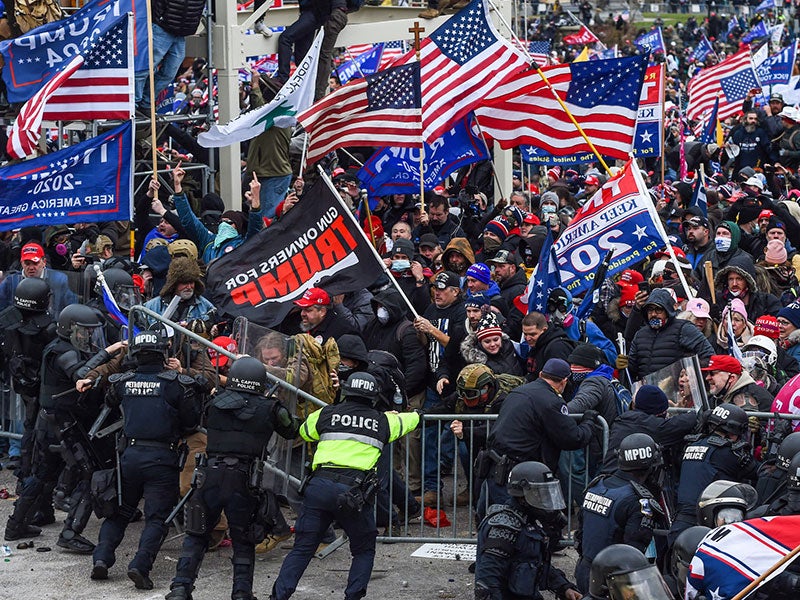 Wednesday, January 6th was a day when we expected political theater, with Vice President Pence certifying the November election results over the baseless objections of lawmakers who continue to make dangerous false claims about its legitimacy — claims that have now been rejected by the courts in over 62 lawsuits. Instead, the nation witnessed an unprecedented attack on our democracy, spurred on by Donald Trump, when a mostly white mob stormed and ransacked the Capitol, terrorizing members of Congress.
The failure of law enforcement to prevent these terrorist acts, much less arrest and detain the criminals is inexplicable. In some instances, it appears that police even encouraged the mob. The absence of any serious coordinated plan to secure the Capitol Building is inexcusable. Permitting the mob to simply disperse without consequence, letting the participants freely walk away as if they had done nothing wrong, sends a message that future terrorism is welcome.
When I contrast this response with the response to Black Lives Matter protests this year, with the police killings that give rise to those protests, with the response to protesters who stood in solidarity with the Standing Rock Sioux Tribe, whom we have been deeply privileged to represent, I am revolted along with millions of other Americans. The logic that leaves law enforcement completely unprepared for, even conciliatory toward, a white insurrection, while mounting a violent militarized opposition to First Amendment protests led by people of color, is the logic of white supremacy. It's the malignant cancer in our nation that we have never cured, and it is killing us, literally and figuratively. It's essential that our leaders, including President-elect Joe Biden, name the racism at the heart of Trumpism, its enablers, and its latest set piece in the Capitol.
Of course, Donald Trump bears special responsibility for these actions. He has used his singular platform to spread disinformation and conspiracy theories grounded in hate. He has used his singular power to pressure election officials to "find votes" and deployed the Justice department to pursue his own personal interest in undermining our democracy. Inciting a mob to engage in domestic terrorism can leave no further doubt that he must be removed from office immediately and permanently disqualified from ever again holding office.
There must also be accountability for everyone else who aided, abetted, and participated in Tuesday's insurrection. The Federal Bureau of Investigation and Justice Department must take swift, aggressive action to ensure that justice is served and deter future attacks that could have even more deadly consequences.
More broadly for the incoming administration, we need to see a genuine sense of urgency and commitment to racial justice and ending white supremacy. Institutions including Earthjustice must demonstrate that same commitment. As disruptive as this week has been, it holds up a mirror to the parts of this country that too many people try not to see.
As we look forward, with enormous relief, to the transfer of power to a new administration, I will carry with me the indelible experience of this week, as I imagine we all will. It is up to all of us to hold our leaders accountable for repairing and strengthening our democracy and the civic institutions that make it work, for upholding the constitution and the rule of law, and for doing the unfinished, imperative work to achieve the aspirational ideals of justice that animate the idea of America but not its reality.
Abigail Dillen serves Earthjustice as our President, leading the organization's staff, board and supporters to advance our mission of using the courts to protect our environment and people's health.