We're Fighting to Keep Coal out of a Kentucky Lake
Represented by their lawyers at Earthjustice, Kentucky Waterways Alliance and Sierra Club just filed an appeal to force Kentucky Utilities to clean up toxic coal ash pollution in Herrington Lake.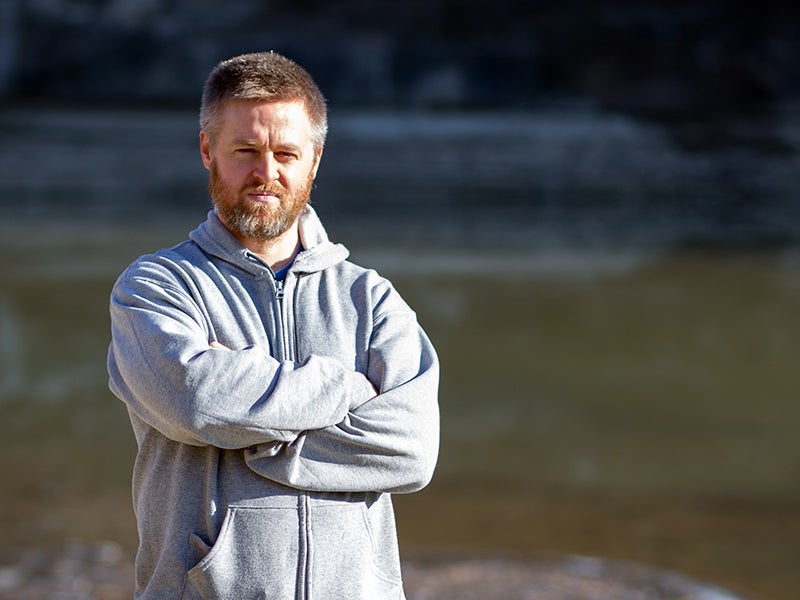 Although Pamla Wood has lived and farmed a few miles from the E.W. Brown Power Plant near Harrodsburg, Kentucky, for 13 years, she never knew much of what went on at the plant's sprawling industrial site.
She was shocked to learn that Kentucky Utilities, an affiliate of Louisville Gas & Electric Company, has at least 6 million cubic yards of buried coal ash – the toxic residue that is left after burning coal – sitting in contact with groundwater that flows into Herrington Lake.
"I looked at it on Google Earth and I thought: My God, it's huge!" says Wood, who is a longtime member and currently serves on the board of the directors of Kentucky Waterways Alliance. "People recreate in that lake. My partner fishes in that lake. It's disturbing."
"The judge in the most recent decision said the Clean Water Act doesn't cover this," Wood adds. "It's like: 'What do you mean? How can the Clean Water Act not cover discharges into streams?' In this case, I feel it's a no-brainer to appeal."
Herrington Lake's shores are dotted with homes, private docks and marinas. It is also the source of drinking water for tens of thousands of people. Kentucky Waterways Alliance and Sierra Club, represented by Earthjustice, have sued Kentucky Utilities to make it clean up the coal ash contaminating the lake.
Brett Werner, a 37-year-old college professor, moved to a home along the lake two-and-a-half years ago, but soon realized he wouldn't be catching and eating fish there because the power plant's waste was contaminating the area.
"I grew up fishing and eating the fish I caught in South Dakota," Werner says. "I would love to fish in Herrington Lake, but I'm not going to do that because of the pollution."
Kentucky Utilities' own tests show that contaminants such as selenium, arsenic, and boron have leached out of the coal ash into groundwater that is flowing into Herrington Lake. Separate tests by the Kentucky Division of Water found that nine out of 10 fish samples collected from Herrington Lake near the E.W. Brown plant had high levels of selenium—high enough to violate Kentucky water standards.
The results of a study published in Ecotoxicology and Environmental Safety, a peer-reviewed scientific journal, show that Herrington Lake has alarming numbers of young fish with spinal and craniofacial deformities, which are telltale signs of coal ash contamination.
In July 2017, Kentucky Waterways Alliance and Sierra Club filed a lawsuit seeking to compel Kentucky Utilities to clean up the coal ash pollution in Herrington Lake.  Represented by their lawyers at Earthjustice, KWA and Sierra Club informed the court about the extensive contamination at the site and the harm to the lake, the fish and wildlife that live there, and the people who cherish it.
But in December, a district court judge dismissed the lawsuit, stating that the groups lacked standing, and that federal law does not prohibit the kind of pollution that is taking place at Herrington Lake. Last Friday, the groups filed their appeal of the judge's decision.
"It's unconscionable for a utility to let something like that leak and not do something about it immediately," Wood says. "Dealing with waste issues is part of corporate responsibility. It's my impression that the utility and the state are looking for even more proof than the ample evidence that's already there, rather than looking for solutions to stop this coal ash from leaking."
Werner, who teaches his students at nearby Centre College about the interplay of science and policy and the impacts that government decisions have on environmental problems, says that's why KWA and Sierra Club are going back to court.
"At this point, it looks like it is up to a citizen lawsuit to get the government to enforce environmental protections," Werner says. "Do I think this is absolutely necessary? Yes. We need to deal with it and make sure it doesn't keep polluting."
Julie Hauserman is an environmental writer and advocate who lives in Tallahassee, FL. She is a former national commentator on National Public Radio's Weekend Edition and The Splendid Table. She has written for many publications, including the Tampa Bay Times, Family Circle, the Florida Phoenix, the Book of the Everglades, the Wild Heart of Florida, and Between Two Rivers. Her latest book, Drawn to the Deep, about National Geographic explorer/cave diver/photographer Wes Skiles, won a 2019 National Outdoors Book Award for biography.
Earthjustice's Clean Energy Program uses the power of the law and the strength of partnership to accelerate the transition to 100% clean energy.