We Resist: Peoples Climate March Will Fill the Streets of D.C.
Join Earthjustice at the Peoples Climate March on April 29th to denounce the Trump administration's dangerous executive actions and heated rhetoric, which threaten our air, water and local communities.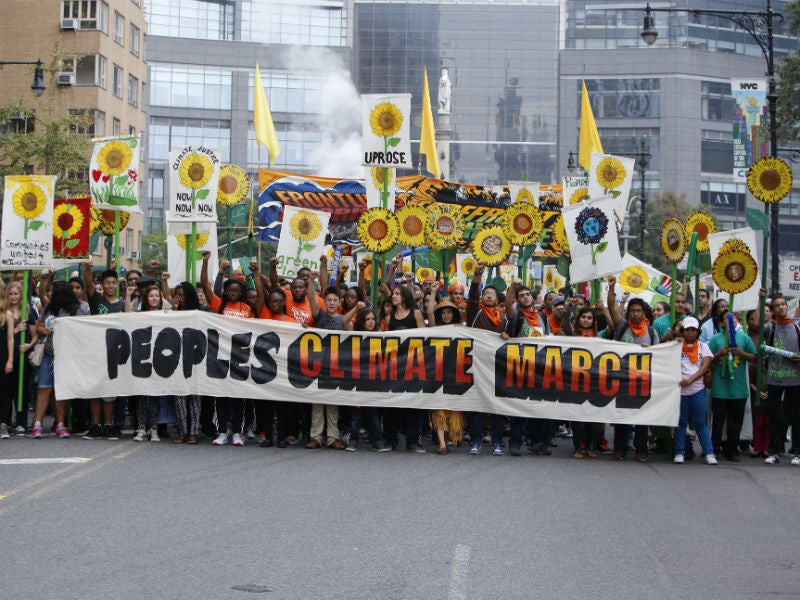 Update: President Trump's attempted assault on climate progress continues with his decision to fast-track the Keystone XL pipeline—a move that defies the wishes of 75 percent of Americans, who want their leaders to regulate climate changing pollution. The Keystone XL project would spur oil extraction from Canadian tar sands, located in sub-Arctic boreal forest. And, if built, the pipeline would undermine efforts to curb America's reliance on fossil fuels. This is the latest in a slew of presidential and congressional attacks on the environment.
In the current political landscape, it's more important than ever for the public to take a stand for the planet—and environmental advocates, including Earthjustice, will join with the people to do just that at the upcoming Peoples Climate March in the nation's capital. The ongoing litany of actions and comments by President Trump, his administrators and leaders in Congress attacking the environment and endangering public health has been disturbing, to say the least. And media is reporting that Trump is readying for an all-out assault on climate progress with a raft of executive orders taking aim at protections for the climate, including the landmark Clean Power Plan and a moratorium on coal leasing on our public lands. The list of environmental threats from this administration is as long as it is grave.
To carry out his anti-environment agenda, the president has elevated Scott Pruitt to head the EPA. Pruitt has a record of open hostility toward protecting the environment and human health and recently denied that carbon dioxide emissions are a primary contributor to climate change. (The scientific consensus is that carbon dioxide from human activity is a key driver of climate change.)
Proposed cuts to the EPA's budget under Pruitt would slash community grants for environmental clean-up and weaken EPA enforcement against corporate polluters. So de-funding the EPA would disproportionately impact communities of color and low-income communities, which already bear the brunt of our country's industrial pollution. The new administration's actions threaten the health and safety of all of us and attack the core values of Americans who want clean air, clean water and a healthy environment for their families.
The time to stabilize our climate and build a thriving, sustainable global community is now. We cannot afford to wait. Even as those who hold political office deny the reality of climate change and strip away vital environmental protections, scientists say that the past three years have been the hottest ever recorded. A report by the World Wildlife Fund predicts that we could lose two-thirds of global wildlife populations by 2020, largely due to habitat loss and degradation. And local communities continue to suffer as the fossil fuel industry pollutes their neighborhoods with sludgy oil, toxic coal ash and choking methane pollution.
The time to stabilize our climate and build a thriving, sustainable global community is now. We cannot afford to wait.
That's why Earthjustice will be joining the Peoples Climate Movement for an April 29th march in Washington, D.C. When the federal government threatens our health and well-being, Earthjustice fights back, both in the courtroom, and now, in the streets. We will march with our supporters to show those in office that they can no more ignore the will of the people than they can ignore the dire consequences of climate change.
We will stand in support of communities facing off against big polluters and creating innovative solutions for a more sustainable future. Continued victories on the state and local levels give us hope for the future, including a state-wide community solar pilot project in Maryland that makes renewable energy more accessible and affordable; a city-wide ban on coal handling and storage in Oakland, California; and the cancellation of illegal oil and gas drilling leases in the Blackfeet tribe's sacred Montana homeland.
Earthjustice is proud to march as part of the Peoples Climate Movement. We have hope, we will resist and we will never stop fighting for a healthy, sustainable future.
Will you join us?
Click here to learn more about the Peoples Climate March and find out how you can join the march in Washington, D.C., or in a sister city near you. 
Rebekah Olstad worked in the Communications Department at Earthjustice.
Earthjustice's Clean Energy Program uses the power of the law and the strength of partnership to accelerate the transition to 100% clean energy.
Earthjustice's Washington, D.C., office works at the federal level to prevent air and water pollution, combat climate change, and protect natural areas. We also work with communities in the Mid-Atlantic region and elsewhere to address severe local environmental health problems, including exposures to dangerous air contaminants in toxic hot spots, sewage backups and overflows, chemical disasters, and contamination of drinking water. The D.C. office has been in operation since 1978.