Who Gets the Water and Who Gets Hung Out to Dry?
Fishermen, farmers, ranchers and river guides are struggling to divvy up California's dwindling water supply as the state's historic drought stretches into its fourth year.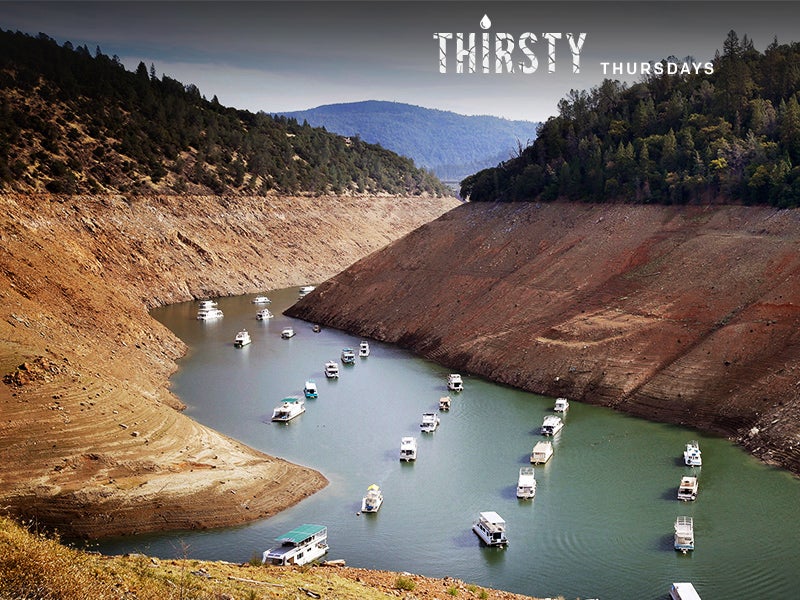 California's record-breaking drought has reignited old feuds about who can lay claim to water in the thirstiest state. In 2014 Earthjustice published a photo essay highlighting the stories of state residents left high and dry as Big Ag lobbies for more water to be pumped to industrial-scale farms in arid regions of the San Joaquin Valley.
In our recently released update, we investigate how San Francisco Bay-Delta farmers, fishermen and politicians are wrangling with a declining Delta. Governor Jerry Brown is championing a massive tunnel proposal that would divert water directly from the Sacramento River—bypassing the Delta—sending it directly to farms further south. But residents and ecologists worry that reducing the amount of fresh water flowing through the Delta would further degrade an already taxed ecosystem, jeopardizing both native animal species and the local economy.
bar ↔ sideways to reveal before/after comparison.]
Brett Baker, a sixth-generation farmer in the Delta, says plans like Brown's Twin Tunnel proposal and a congressional bill that could roll back protections for salmon and smelt under the Endangered Species Act will only lead to a saltier Delta. A saltier Delta is a sicker Delta, he says, with saline water poisoning crops and displacing native species (including the Baker family).
"When you've been some place for 150 years, you don't really want to pick up and move. You kind of grow fond of a place," Baker says. (Read more about Baker in A Pear Farm on the Frontlines of California's Water Wars.)
The updated multimedia essay on the drought also tracks how the oil and gas industry sucks up precious resources even in extreme drought conditions.
"California is facing twin crises: One is water and the other is climate. Fracking takes us in the wrong direction for both of those," says Hollin Kretzmann of the Center for Biological Diversity, an Earthjustice client in a case challenging the illegal injection of fracking wastewater into protected groundwater aquifers.
"It uses a tremendous amount of fresh water that once used for fracking can't be used for anything else," Kretzmann adds. "It all ends up in underground disposal wells after it becomes mixed with chemicals—it becomes contaminated and [is then] taken out of the water cycle."
While the water crisis has had serious negative effects on the state, for some it's been a catalyst for positive change. We already have several role models of healthy water conservation and sustainability. 
Noel Ledesma is one such person. Noel's father owns Ledesma Farms, an organic operation with acreage in the South Bay Area and near Fresno in the San Joaquin Valley. The Ledesma family has operated for years using a lean water system, primarily relying on drip irrigation and water recycling technology.
"We only use what we need. We don't spill," Ledesma says. When the family uses sprinklers on crops that demand more of a soaking, such as squash or cucumbers, the farmers "either use it really late at night after everything has cooled down or really early in the morning so that the water can penetrate the soil without evaporating … My father has been doing it for 15 years because for him, it's commonsense. Why waste if you don't have to?"
To hear more stories about how Californians are adapting to the unprecedented drought, check out the full photo and video essay. 
About this series
Thirsty Thursdays is a weekly blog series exploring the historic drought in the western United States. In the ongoing series, we'll share expert opinions, breaking news, compelling articles and the work Earthjustice is doing to protect water resources in a time of extreme water scarcity.
Don't miss last week's post: "New House Bill Blames Historic California Drought on Endangered Fish."
Rebekah Olstad worked in the Communications Department at Earthjustice.