Who Protects the Protectors like Berta Cáceres?
The brutal murder of Honduran indigenous and land rights defender Berta Cáceres brings into focus the dangers that activists face worldwide. (Spanish language version available.)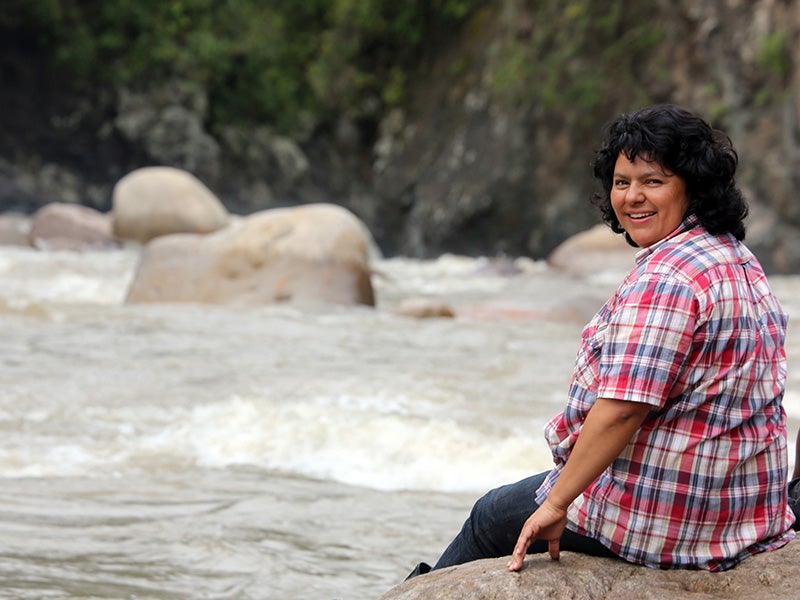 Este blog está disponible en español aquí.
In the early hours of March 3, 2016, gunmen forcibly entered a home where Berta Cáceres, a well-known Honduran indigenous and land rights defender, was staying in La Esperanza, Honduras, and brutally murdered her. Cáceres' inspirational leadership created and sustained one of the country's most powerful grassroots social and environmental justice movements. Her murder, though shocking and devastating, was not surprising.
In 1993, Cáceres, a member of the indigenous Lenca people of Honduras, co-founded the National Council of Popular and Indigenous Organizations of Honduras (COPINH) to advocate for indigenous peoples' right to their lands and resources. In 2003, at the request of community members from Rio Blanca, COPINH began a campaign, spearheaded by Cáceres, against the proposed massive Agua Zarca hydro-electric dam in the Gualcarque River basin. Through a remarkable domestic and international campaign, COPINH has managed to stall the project until now. In 2015, Cáceres received the prestigious Goldman Environmental Prize in recognition of her work.
But this campaign has not come without its dangers. Cáceres, her fellow campaigners and the communities involved have received countless threats and faced many acts of violence, repression and intimidation. In an eerie foreshadowing of her murder, the 2015 Goldman Prize profile of Cáceres explained: "What haven't stopped are death threats to Cáceres. Her murder would not surprise her colleagues, who keep a eulogy—but hope to never have to use it."
Unfortunately, Cáceres' assassination is not an isolated problem in Honduras or throughout the world. Environmental and land defenders are among the most threatened groups of people on Earth. A 2015 report by Global Witness estimated that between 2002 and 2014, at least 908 land and environmental activists were killed worldwide—109 in Honduras alone. Even more troubling, Global Witness estimated that of these 908 murders, only 10 perpetrators are known to have been tried, convicted and punished.  And as Global Witness acknowledges, these statistics almost certainly underestimate the scale of the problem. In many cases, information regarding the murders of land and environmental defenders is not available. Nor do these figures include the innumerable threats and other physical abuse confronting these activists. The main driver of this level of violence against environmental and land defenders is that they are usually seeking to disrupt the flow of money to powerful and well-connected interest groups. Due to systemic corruption, local police and government officials often turn a blind eye to illegal acts, and in many cases also act as the perpetrators of violence.
However, the law protecting environmental and land defenders is clear. Countries are obligated under international human rights law to respect and protect the rights to freedom of expression and assembly. As the United Nations Special Rapporteur on human rights and the environment has explained, nations also have obligations to "protect the life, liberty and security of individuals exercising those rights." In addition, the 1998 United Nations Declaration on the Protection of Human Rights Defenders says that nations have a duty to prevent threats, assaults and harassment, to investigate and respond to threats or acts of violence and, where appropriate, to punish those responsible and provide an adequate remedy for victims. The declaration, though not binding in the same way a treaty is, was approved unanimously by the UN General Assembly and reflects widely accepted legal norms.
The problem is that governments are systematically failing to carry out their obligation to guarantee the human rights of environmental and land defenders. Honduras, in particular, appears to be failing miserably. Global Witness has concluded that Honduras is the second most dangerous country in the world for environmental and land defenders, after Brazil. In the case of Cáceres, just last year the Inter-American Commission for Human Rights requested that the government take measures to ensure Cáceres' safety. Yet, even though the government was supposed to be providing Cáceres with police protection, her protection detail was mysteriously absent the night of her murder.  
Until governments around the world take seriously their obligation to protect land and environmental defenders, many more acts of intimidation, threats and deaths will take place. But it is also incumbent on all of us to carry on the legacy of Cáceres and the countless other land and environmental defenders who have been killed or who continue to risk their lives daily in their struggle for justice. The international community must coordinate its efforts to better raise awareness of the dire situation land and environmental defenders face and to implement strong and effective protections.
As Cáceres said, "Our Mother Earth—militarized, fenced-in, poisoned, a place where basic rights are systematically violated—demands that we take action."
In memory of Berta Cáceres: 1971-2016
Editor's note: On March 15, 2016, less than two weeks after the murder of Berta Cáceres, Nelson Garcia, also a member of the indigenous Lenca people of Honduras and an outspoken member of COPINH, was murdered by unidentified gunmen near his home. Garcia's murder re-affirms the dire situation in Honduras facing these activists and reflects a systematic effort to silence the right to protest within the country. The Honduran government must immediately comply with its human rights obligations by taking all necessary steps to protect these defenders and to investigate and bring to justice the perpetrators of these senseless and brutal acts.
¿Quién Protege a los Protectores Como Berta Cáceres?
En las primeras horas del 3 de marzo, 2016, varios hombres armados entraron a una casa en La Esperanza donde se estaba quedando Berta Cáceres, una conocida defensora de los derechos humanos y agrarios de los indígenas, para asesinarla brutalmente. El inspirador liderazgo de Cáceres creó y sustentó uno de los movimientos sociales y ecológicos comunitarios más poderosos del país. Su asesinato, aunque impactante y devastador, no es sorprendente.
En 1993, Cáceres, miembro de la comunidad indígena Lenca de Honduras, cofundó el Consejo Cívico de Organizaciones Populares e Indígenas de Honduras (COPINH) para defender los derechos de las comunidades indígenas a sus tierras y recursos. En 2003, por petición de miembros de la comunidad de Río Blanca, COPINH comenzó una campaña, encabezada por Cáceres, en contra de la presa hidroeléctrica masiva propuesta para Agua Zarca, en la cuenca fluvial del Río Gualcarque. A través de una destacable campaña doméstica e internacional, COPINH ha logrado detener el proyecto hasta ahora. In 2015, Cáceres recibió el prestigioso premio ecológico Goldman Environmental Prize en reconocimiento por su labor.
Pero esta campaña no se ha dado lugar sin sus peligros. Cáceres, sus compañeros activistas y las comunidades involucradas han recibido incontables amenazas y enfrentado numerosos actos de violencia, represión e intimidación. En un inquietante presagio de su asesinato, el perfil de Cáceres para el premio Goldman 2015 explicaba: "Lo que no han cesado son las amenazas de muerte contra Cáceres. Su asesinato no le sorprendería a sus colegas, quienes guardan una elegía—pero esperan no tener que usarla."
Desafortunadamente, el asesinato de Cáceres no es un problema aislado en Honduras, ni en el mundo entero. Los defensores ecológicos y agrarios se encuentran entre los grupos de personas más amenazados de la Tierra. Un reporte de 2015 por Global Witness estimó que entre 2002 y 2014, por lo menos 908 activistas agrarios y ecológicos fueron asesinados alrededor del mundo—109 en Honduras solamente. Aun más desconcertante, Global Witness estimó que de estos 908 asesinatos, solo se conocen de 10 de los perpetradores que hayan sido sometidos a juicio, condenados y sancionados. Y como Global Witness reconoce, estas estadísticas casi seguro subestiman la escala del problema. En muchos casos, la información acerca de los asesinatos de los defensores agrarios y ecológicos no está accesible. Ni tampoco estas figuras incluyen las incontables amenazas y otros abusos físicos que confrontan estos activistas. El conductor principal de este nivel de violencia en contra de los defensores ecológicos y agrarios es que ellos usualmente intentan interrumpir el flujo de dinero a poderosos grupos de interés muy bien conectados. Debido a la corrupción sistémica, la policía local y los oficiales gubernamentales a menudo se hacen de la vista gorda hacia actos ilegales, y en muchos casos actúan como perpetradores de la violencia.
Sin embargo, la ley que protege a los defensores ecológicos y agrarios está clara. Los países están obligados bajo la ley internacional de derechos humanos a respetar y proteger los derechos a la libertad de expresión y reunión pacífica. Como explica el Reporte especial sobre  derechos humanos y ecológicos de las Naciones Unidas (United Nations Special Rapporteur on human rights and the environment) las naciones tienen obligación de "proteger la vida, la libertad y la seguridad de los individuos ejerciendo esos derechos." Además, como dice la Declaración Acerca de la Protección de los Defensores de Derechos Humanos de 1998 de las Naciones Unidas (United Nations Declaration on the Protection of Human Rights Defenders), las naciones tienen un deber de prevenir las amenazas, los asaltos y el acoso, de investigar y responder a amenazas o actos de violencia y, donde apropiado, a castigar a aquellos responsables y proporcionar un remedio adecuado para las víctimas. La declaración, aunque no tan obligatoria como un tratado, tuvo aprobación unánime por parte de la Asamblea General de las Naciones Unidas y refleja normas legales aceptadas extensamente.     
El problema es que los gobiernos están fracasando sistemáticamente en cumplir su obligación de garantizar los derechos humanos de los defensores ecológicos y agrarios. Honduras, en particular, parece estar fracasando estrepitosamente. Global Witness ha concluido que Honduras es, después de Brasil, el segundo país más peligroso del mundo para los defensores ecológicos y agrarios. En el caso de Cáceres, justo el año pasado, la Comisión Inter-Americana por los Derechos Humanos solicitó que el gobierno tomara medidas para garantizar su seguridad. Sin embargo, aunque el gobierno estaba supuesto a proporcionarle protección policiaca a Cáceres, su personal de protección se ausentó misteriosamente la noche de su asesinato.
Hasta que los gobiernos de todo el mundo tomen en serio su obligación de proteger a los defensores agrarios y ecológicos, muchos más actos de intimidación, amenazas y muertes se darán lugar. Pero también nos corresponde llevar adelante el legado de Cáceres y el de un sinnúmero de defensores agrarios y ecológicos que han sido asesinados o que continúan arriesgando sus vidas a diario en su lucha por la justicia. La comunidad internacional debe coordinar sus esfuerzos de mejor forma para crear conciencia sobre la grave situación que enfrentan los defensores agrarios y ecológicos, y para implementar protecciones fuertes y efectivas.
Cómo Cáceres dijo, "Nuestra Madre Tierra—militarizada, entre rejas, envenenada, un lugar donde los derechos básicos se violan sistemáticamente—demanda que tomemos medidas."
En memoria de Berta Cáceres: 1971-2016
Nota del editor: El 15 de marzo, 2016, menos de dos semanas luego del asesinato de Berta Cáceres, Nelson García, también parte de la comunidad indígena Lenca de Honduras y miembro destacado de COPINH, fue asesinado por hombres armados no identificados cerca de su hogar. El asesinato de García reafirma la grave situación que enfrentan estos activistas en Honduras y refleja un esfuerzo sistemático de silenciar el derecho a protestar dentro del país. El gobierno hondureño debe cumplir inmediatamente con su obligación con los derechos humanos de proteger a estos defensores, y a investigar y llevar a justicia a los perpetradores de estos actos brutales y sin sentido. 
Ramin works in the International Program in San Francisco. He has previously worked for the United Nations Office of the High Commissioner for Human Rights, United Nations Environment Programme, and New York City Law Department's Environmental Law Division.
The International Program partners with organizations and communities around the world to establish, strengthen, and enforce national and international legal protections for the environment and public health.