Why I Skipped School for Clean Air
This blog was contributed by Kim Garcia, a high school senior, who traveled from Reno to Sacramento last month to testify at the EPA's proposed ozone rule hearings.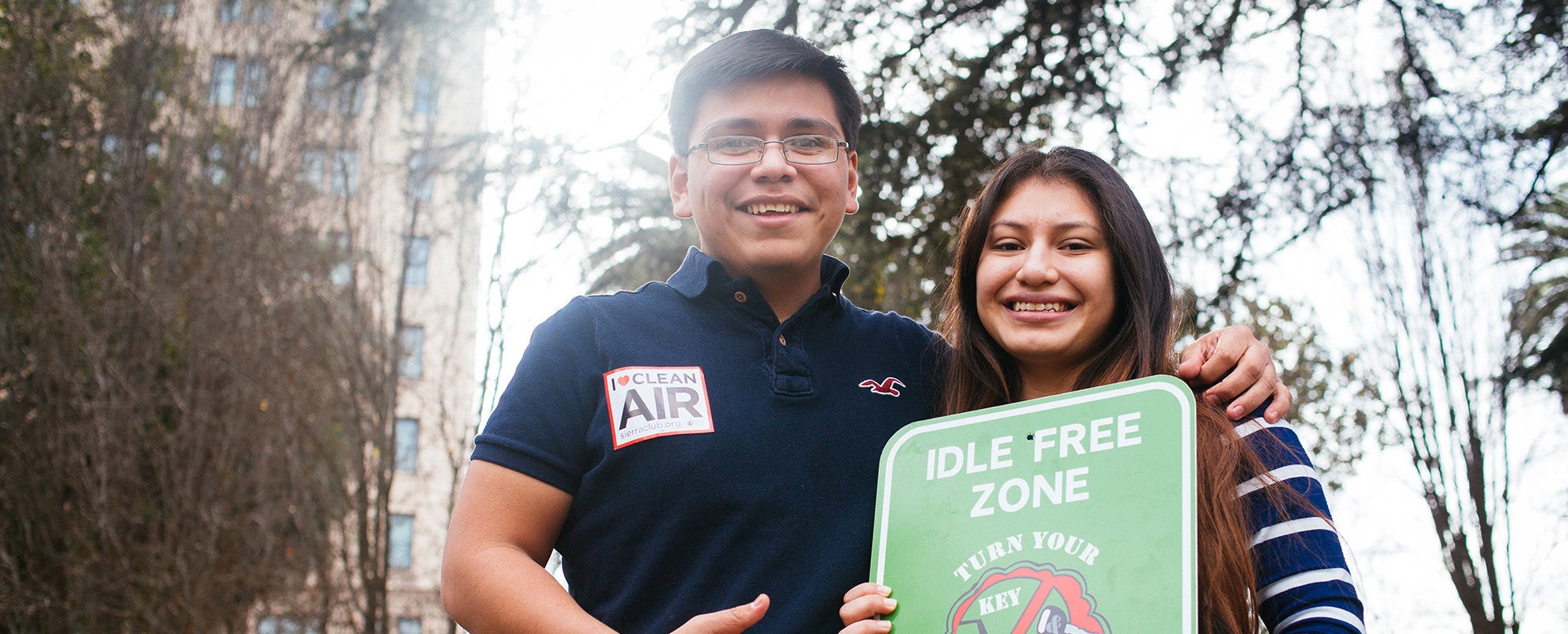 This blog was contributed by Kim Garcia. She is a senior at Innovations High School in Reno, Nevada, and an Alliance for Climate Education action fellow.
Last month, my classmate Oscar Garcia and I traveled from Reno, Nevada to Sacramento, California to tell the EPA that we want cleaner air. The EPA has proposed lowering the current ozone standard of 75 ppb (parts per billion) down to 65-70 ppb. Oscar and I were two of many people who spoke in favor of the strongest possible standard of 60 ppb. After we testified, we also had a chance to speak at a rally for clean air held by the Sierra Club in Cesar Chavez Park, across the street from the EPA headquarters.
As I headed to Sacramento earlier that morning, I was pretty scared and nervous. Before I knew it, we had arrived and I was walking into a very elegant room filled with women and men in fancy suits.
After waiting inside the building for a long time, one of the EPA panel members called my name. I was shaking as I walked to the front, but one thing that gave me more confidence was all the work I had done as part of the Idle Free Schools campaign, which works to reduce or eliminate engine idling on school campuses in our school district. We've made 17 schools idle free so far, with the hope of making the whole district Idle Free this year.
Testifying in front of the EPA was probably my biggest accomplishment in life so far. I have never felt so empowered. The EPA panelists listened to everything I had to say, and I left Sacramento feeling like a role model for speaking up for myself, my school, my community and for young people across the country.
Best of all, I wasn't alone. Many people spoke in support of clean air. And listening to the people that were against stronger ozone standards, like the American Chemistry Council, only hardened my resolve to show them that I am just as capable of standing up for my beliefs just as they are.
But I wasn't done yet. Something even more nerve-wracking was about to happen—speaking at the Sierra Club rally for clean air. I am a very shy person, and I felt like I wasn't ready to speak to a crowd, especially with the use of a bullhorn! I was filled with fear, but other students who understood and were standing up for the same thing I believed in surrounded me, and in the end it was a huge success.
Now that I have overcome my fear of public speaking, I have more confidence to speak up for what I believe in. I may even want to explore the environmental field as a career in the future.
I also learned that I really do have a lot of potential as a young woman. People have always put me down and told me I would never be capable of doing something big. In Sacramento, I proved to myself and to those who doubted me that there is something amazing in me. As a result, I am no longer the same person I was before. This experience made me realize that I am capable of doing anything if I believe in it and, most importantly, if I believe in myself.
Jessica worked at Earthjustice from 2012–2018. She was based in the Washington, D.C., office, and worked with Earthjustice clients, partners and communities affected by dirty air to increase support for stronger national air standards.