Over the past few decades, Earthjustice legal victories have been working to shape an ecosystem-based approach to fisheries management in New England.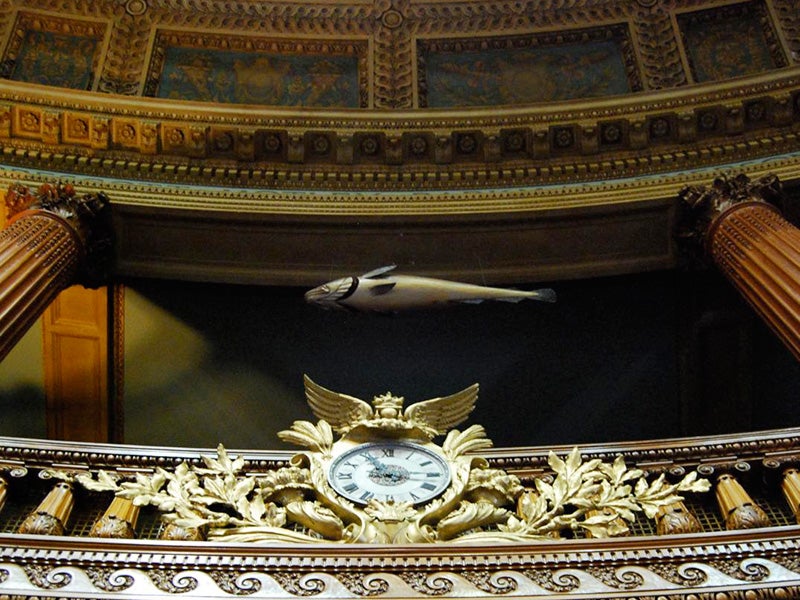 In Massachusetts, a wooden carving of a 5-foot long codfish known as the "Sacred Cod" hangs above the entrance to the State House's Hall of Representatives, right in the House Speaker's line of sight. It's a reminder to all of the importance of the fishing industry to the area, which once overflowed with Atlantic cod and halibut, ocean perch, haddock and yellowtail flounder, but has since been decimated by overfishing, loose regulations and a failure to sustainably manage the ocean ecosystem.
Last week, a U.S. District Court took an historic first step towards restoring not only the Massachusetts fishery but the entire ocean ecosystem by requiring the government to protect Atlantic herring and shad—bottom-of-the-food-chain species that are the basis of the ocean food web for the Northwest Atlantic. This decision, achieved through Earthjustice litigation, will help shape future fisheries management around the nation.
Known as forage fish, these species are a significant food source for cod, striped bass, tuna, ospreys, killer whales, river otters and countless other marine creatures. Their numbers have declined by 90 percent over the last two decades due in significant part to industrial trawlers that clear-cut the ocean floor and wipe out entire runs of river herring with a single net haul. Without these critical links, the entire ocean food chain is weakened.
Research and experience shows that managing our ocean resources, much like our terrestrial resources, by considering each species in a vacuum simply doesn't work. That's why Earthjustice is working to shift the paradigm of federal fisheries management to a more ecosystem-based approach that manages fish stocks by considering the health of both predator and prey fish together. For example:
In New England, our work helped put science-based catch limits in place to rebuild legendary groundfish populations, while rebuilding the forage base they need to thrive.
In Alaska, our work to address overfishing of Atka mackerel and Pacific cod, which are primary food sources for Steller sea lions, highlighted the importance of leaving enough food in the ecosystem for the entire marine web.
On the West Coast, we're working to protect Pacific forage fish like herring, anchovies and sardines that are vital food for Chinook salmon, albacore tuna, blue whales, sea lions and California brown pelicans.
Over the past few decades, Earthjustice legal victories have been working to shape an ecosystem-based approach to fisheries management in New England. The area, often considered the poster child for bad fisheries management, may end up leading the nation in requiring federal fisheries managers to protect fish at the bottom of the food chain. The result will be healthier oceans, rivers and fisheries for everyone.
Trip Van Noppen served as Earthjustice's president from 2008 until he retired in 2018. A North Carolina native, Trip said of his experience: "Serving as the steward of Earthjustice for the last decade has been the greatest honor of my life."
Established in 2008, Earthjustice's Northeast Office, located in New York City, is at the forefront of issues at the intersection of energy, environmental health, and social justice.