Winter is Coming: 5 Wonderlands Under Threat
These five winter wonderlands are facing multiple threats, but Earthjustice attorneys are hard at work to protect and preserve their beauty for generations to come.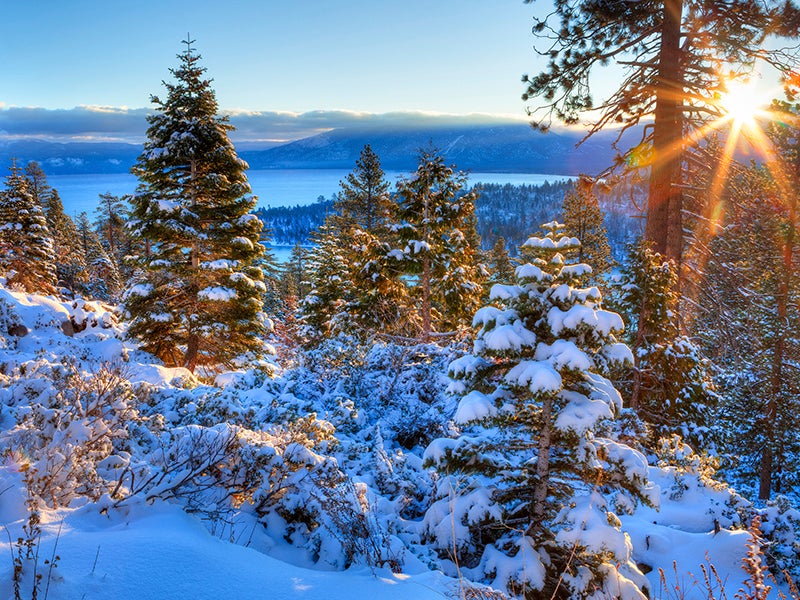 Grand Canyon National Park, Arizona
The Grand Canyon is one of our country's most beloved natural wonders. During the winter, snow decorates the canyon's upper rim and mesas. Over 4 million tourists and outdoor enthusiasts flock to this awe-inspiring National Park every year for its beauty and serenity, but real estate developers and mining companies threaten its largely untouched landscape. The Forest Service is currently weighing a road-widening proposal from the small town of Tusayan, Ariz. that will literally pave the way for the development of a sprawling commercial resort complex on the doorstep of the Grand Canyon. Earthjustice is providing the legal muscle to the team that is pushing the Forest Service to reject this proposal, and you can help.
Tongass National Forest, Alaska
The Tongass, located in southeast Alaska, is America's largest national forest. It is filled with centuries-old towering trees, ice fields and glaciers, and rivers and fjords flowing among thousands of islands. Earthjustice has been working since its inception to protect the old-growth forest from unsustainable logging. Earlier this year, the Ninth Circuit ruled that a Bush-era action exempting the Tongass from the Clinton-era Roadless Rule was invalid—a resounding victory for forest protection. However, the fight is far from over. We are currently encouraging the U.S. Forest Service to adopt a stronger forest management plan that quickly phases out large-scale logging of old-growth trees.
Badger-Two Medicine, Montana
For more than 10,000 years, the Badger-Two Medicine area near Glacier National Park in Montana has provided strength, subsistence and cultural identity for members of the Blackfeet Nation. But the Blackfeet aren't the only ones who value the region. The oil and gas industry also have their eyes on the area—and for more than 30 years, they've been fighting to drill it. Recently, the U.S. Department of the Interior announced its intention to cancel the Solenex LLC oil and gas lease in the Badger-Two Medicine area. More than 110,000 acres of leases in this region have been relinquished. However, a handful of companies have declined offers to buy-out or swap their leases, and there is much work to be done before all of the remaining leases are finally canceled, once and for all.
Buffalo River, Arkansas
The Buffalo River was the first river in the United States to become a National River in in 1972, and it is one of the few remaining undammed rivers in the lower 48 states. Traveling freely for 135 miles, the river winds its way through striking ravines and bluffs, hosting more than 300 species of fish, insects, aquatic plants and endangered species, including the snuffbox mussel—a triangular shaped freshwater mollusk with a yellow, green or brown shell displaying green rays, blotches or chevron-shaped lines.
This year, Earthjustice won an important case to protect the river when the Department of Justice abandoned its defense of $3 million in federal loan guarantees for an Arkansas hog facility. This Concentrated Animal Feeding Operation (CAFO) houses 6,500 hogs in the Arkansas Ozarks, jeopardizing waterways, community health and the local economy. 
Lake Tahoe, California
Located in the Sierra Nevada mountains on the border of California and Nevada, scouring glaciers shaped Lake Tahoe more than a million years ago during the Ice Age. Not only is it the largest alpine lake in North America, but it is the second deepest lake in the U.S. (after Crater Lake) and 10th deepest in the world.
The natural beauty of Lake Tahoe draws three million tourists and outdoor enthusiasts to the region every year, as well as zealous developers hoping to capitalize on the area's beauty. Earthjustice is working to prevent damage to the lake's ecosystem by stopping excessive urbanization of the area. We are appealing a U.S. District Court decision upholding the Tahoe Regional Planning Agency's Regional Plan Update, which failed to analyze the negative impacts of further development on soil conservation, water quality and air quality. We are currently waiting for the Ninth Circuit to set a hearing date for oral arguments on this case.
Have a beautiful winter photo? Email it to magazine@earthjustice.org for a chance to have your work featured in the next issue of our magazine, Earthjustice Quarterly!
As a communications strategist, Miranda covers Earthjustice's Mid-Pacific and California regional offices. She has campaigned to defend public water resources in North America and is a graduate of the Master's in Global Studies program at the University of California, Santa Barbara where her research focused on climate change.